The steelhead trout, or steelhead, are some of the most sought-after game fish in North America. They are quite a curious species, as they are actually migratory rainbow trout with an anadromous life history. They are larger than their rainbow counterparts. The rainbow trout weigh, on average, up to 11 lbs, while there are some steelheads that weigh up to 55 lbs. Not only are they huge; they are also known among anglers as the "fish of a thousand casts" because of how challenging they can be to catch.
Some of the best steelhead fishing can be found in New York where this unique fish species move back to fresh water after spending their adult lives in the ocean. This migration happens in two runs - winter and summer. In New York, the winter run strain is called the Washington Steelhead, while the summer run strain is called the Skamania steelhead. Both strains primarily enter through the tributaries of Lake Erie and Lake Ontario. What makes Steelhead fishing in New York even more popular, though, is the number of public access it has for anglers, as detailed on the many Public Fishing Rights (PFR) map that you will find all over the fishing streams.
The Washington steelhead, or the winter run, begin migrating by the middle of September, and by October they are in full blast, with the waters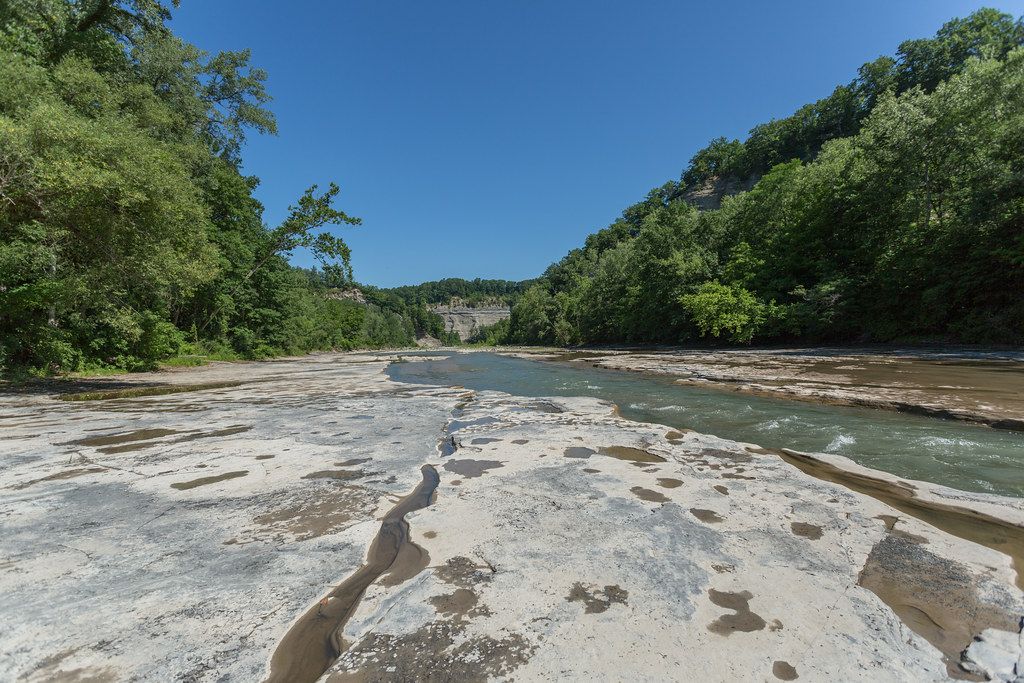 reaching the optimal temperature 45-58 degrees Fahrenheit. The best time to target them is around November when the waters are just warm enough and the Steelhead's feeding frenzy is at its height. After spawning, they come back around the lakes' downstream to feed around May, at which point anglers will begin to get some bite on their baits once again.
On the other hand, the Skamania steelhead, or the summer run, enter the tributaries around May, but become more active come June, until well into September. Currently, though, they are only stocked in the Salmon River and the Cattaraugus Creek, so they may be a little more rare than the Washington strain. You can watch out for them when there's increased flow or rising water levels in these waters, as this stimulates a Skamania steelhead run.
Indeed, steelhead trout fishing in New York is unlike any other state. Seeking to challenge yourself with a few of these rare sea trouts? We've got just a few of the best Steelhead runs in New York, waiting for you to explore:
1. Chautauqua Creek
Chautauqua Creek, a Lake Erie tributary, has been reported as the stream with the highest steelhead trout catch rate, producing 1.2 steelheads per hour. This tributary flows through the village of Westfield and is popular among locals. It ices up a little too early, so be sure to check with the authorities before making a trip.
2. Cattaraugus Creek
Cattaraugus Creek is popular among fly fishers, with six miles of public access in the Zoar Valley Multiple Use Area which gets active starting spring. You can seek out the smaller streams of this major tributary, such as Derby Brook, Clear Creek, Coon Brook, Utley Brook, Waterman Brook, and Spooner Brook. It's also good for troll fishing at the height of August until September, when anglers can target them in waters 70 to 90 ft.
3. Niagara River
Around January to February, angling for steelheads at the Niagara River is productive. There are various access points for the Lower Niagara River, but local anglers recommend targeting them at the Devil's Hole, Whirlpool, and Lewiston Art Parks. The waters here are strong, wide, and deep.
4. Genesee River
Steelhead runs are strong here come April and then during winter. This picturesque tributary is located in Rochester, with water coming from Mt. Morris before it reaches Lake Ontario. Steelhead runs in this water are primarily active downstream. Your best and safest bet for fishing here is on the east side of the river, on a trail off Seth Green Drive.
5. Salmon River
This scenic river is known for its 20-lb steelheads, though it's not as abundant as it once was. But not to worry, because conservation efforts around this area are strong, where loyal anglers have practiced catch and release in an effort to bring it back to its former steelhead glory. Steelheads are actively feeding here around December, and anglers will successfully hook one around the Schoolhouse Pool, Douglaston Salmon Run, or in Altmar which is primarily for fly fishing.
6. Oak Orchard Creek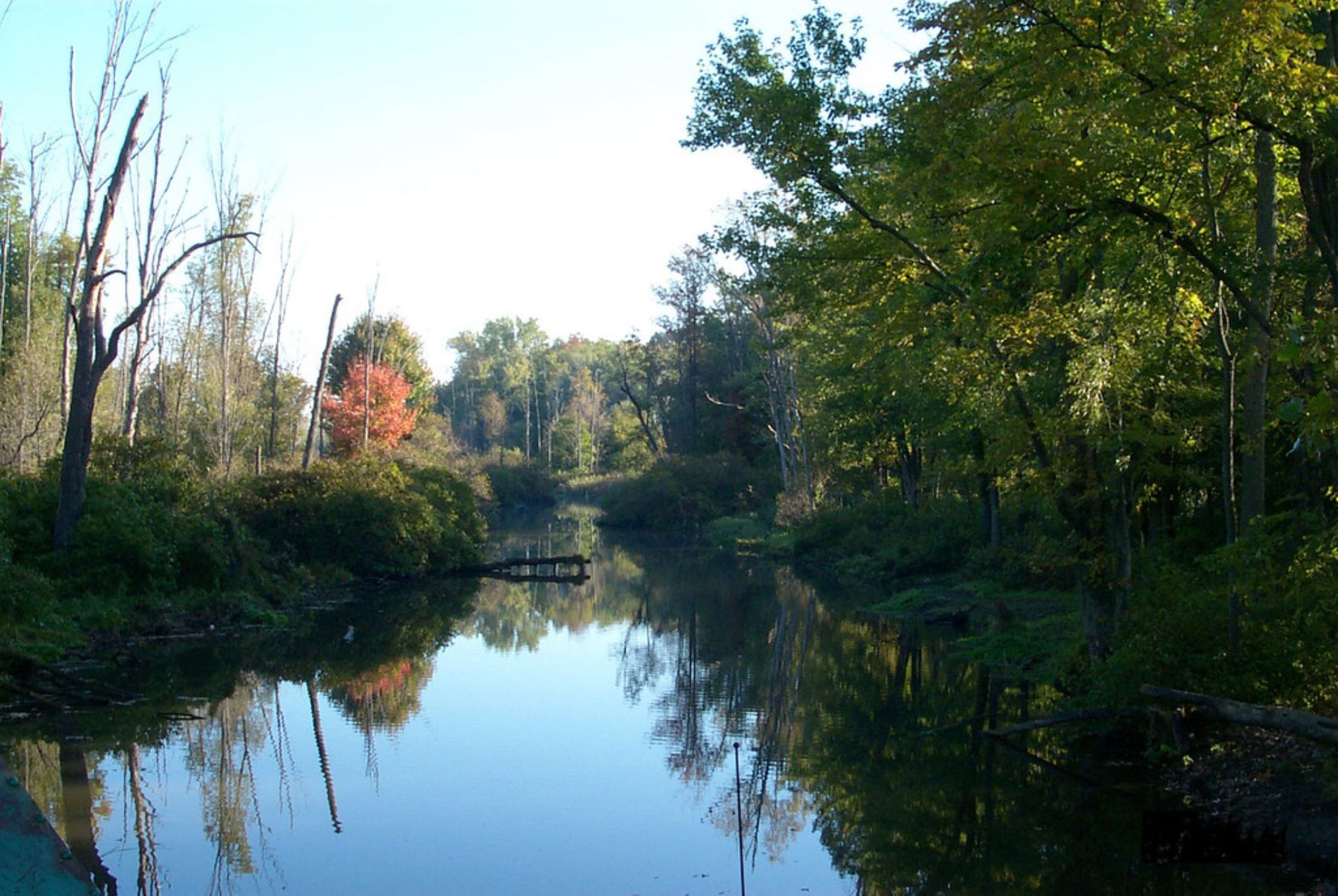 The Oak Orchard Creek, or the Oak, and its tributary, Marsh Creek, are known for their abundant cold water fishing. Around winter, the Oak remains ice-free because it receives water from the nearby Niagara Mohawk hydro plant, making this particular season a great one to catch some steelheads without competing with a crowd.
7. Eighteen Mile Creek
Another popular Lake Erie tributary, Eighteen Mile Creek, along with its South Branch, offers some of the best steelhead runs for a medium-sized stream, starting mid-October. Anglers can access it from the Fisherman's Park which is downstream from Burt Dam, and at Olcott, where anglers can target them through pier fishing.
8. Oswego River
The Oswego River offers opportunities for wade fishing and shore fishing for steelheads from September up to May. This large Lake Ontario tributary offers 11 miles of fishable water and is annually stocked with steelheads.
9. Canadaway Creek
Another major Lake Erie tributary, Canadaway Creek is also known for its high catch rate, second only to the famous Chautauqua Creek. Offering up a mile of public fishing, anglers have the best chance to fish for trophy steelheads from the mouth up to Laona Falls, starting mid-October and well into December.
10. Skinner Creek
With wide and deep waters, Skinner Creek receives wild steelhead runs from other streams but is not stocked annually. However, it is a good alternative spot when it receives Steelheads around November, with many public access.
11. South Sandy Creek
Anglers who want to get away from crowds love South Sandy Creek. Public fishing is open here from downstream of Ellisburg to South Landing. It receives a substantial number of steelheads from Ellisburg downstream to South Landing which are active starting November. With open stream banks, it makes a great spot for fly fishing.
12. Black River
The Black River waters are vast and strong, making it stimulating for steelhead runs. Here are your short fish for steelheads at the Van Duzee Street, upstream from the Glen Park hydro project and on Fish Island in Dexter. Downstream of the Dexter Dam, anglers can fish from boats or on the shore.
Targeting steelheads can truly be rewarding both for their size and the challenge they pose. And in New York, anglers have a lot of opportunities to catch this fish. However, to keep the steelheads alive and well, you should learn to practice catch and release for this well-loved species, so that anglers can partake in the great tradition of steelhead angling for years to come.