If you've decided that you want to try tying your flies, buying a fly-tying kit can be a great way to start. These are usually pre-made "starter packs" with tools and materials you'll need to begin crafting your first fly. Whether you're a veteran angler or new to the world of sport fishing, let's take a look at the features to consider when purchasing a fly-tying kit.
Think About Your Craft
Before you contemplate purchasing a kit, you'll need to ask yourself two essential questions: what species are you targeting, and what environment are you fishing in? These two things are vital to determine what type of fly you'll be crafting. A large part of what makes fly-tying a popular endeavor is because it pushes anglers to increase their knowledge about their fishing environment and the species they are going after.
Do I Need a Kit?
You'll want to consider a kit that has a balance between your angling needs and your skill level at fly-tying. There are four main types of kits with different prices and offerings:
Basic tool kit and no materials
Material-only kits
Complete kits with both tools and materials
Any of the kits above that also prioritize storage
Beginners will probably want a complete, all-in-one fly-tying kit that includes tools, materials, and a vise. Complete kits are useful because they can set you up to tie flies immediately. A detailed instruction manual and a bonus DVD may be included, which often has exclusive interviews or recipes that you won't find on the internet.
Fly-tying kits are also useful for experienced anglers. Several kits on the market have sturdy, portable cases with organization compartments to keep things tidy. These "emergency" kits can hold all the necessities to create and/or adjust flies on the go. You may want to consider one that includes a lightweight vise that can work even when you're out in the wild.
Price & Durability
If you're just entering the waters of fly-tying, it would be wise to start with cheaper entry-level options. However, keep in mind, cheaper kits are usually made of less durable quality. Some of the tools may not be as sharp, and wires may be more fragile. Using a budget-friendly kit at the start gives you leeway to make mistakes or have tools break along the way without hurting your wallet. You can always upgrade your tools and materials as your skills improve, and you can set aside your beginner's kit as a second set of hardware.
Tools & Materials
When shopping for a kit, keep in mind what's included. Some kits may only have tools but not materials or vice versa. Others may not have all of the essentials. If you're a beginner, you'll want to look for a kit that contains all or most of the following:
Vise
Hooks
Bobbin
Bodkin
Hackle Pliers
Threads and Wire
Half-Hitch or Whip-Finish Tool
Adhesive (Head Cement or UV resin)
Beads, feathers, dubbin
If you don't know what any of these tools are, we suggest reading our beginner's introduction to fly-tying here. Otherwise, look out for how many of these tools or materials are provided since this number can vary across different brands of kits. To reiterate, beginners looking for a complete fly-tying kit should look for one that includes tools, materials, and a vise.
The vise deserves the most important component of fly-tying. You'll want one that is stable and can firmly keep your hook stationary as you attach materials to it. The vises included with kits are usually not optimal, and it's highly recommended to purchase this separately. However, for beginners, the vise included with a kit will perform well enough to learn on.
Case and Compartments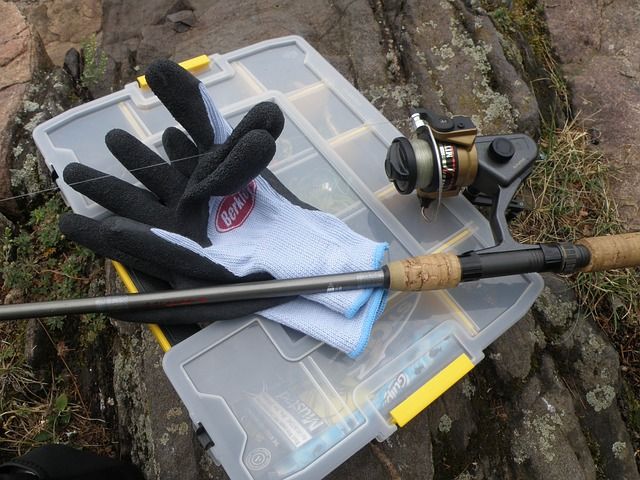 If you're an experienced angler and fly-tier and are looking for a kit to take with you on a trip, you'll want to focus on something with a durable case. Some kits have hardshell cases but do come at an extra cost. Others come in a slimmer form factor that can roll up and fit into a backpack.
If you plan on fly-tying at home and/or have a dedicated station for it, the need for an actual case may not be necessary. Some kits focus on organization, with compartments for all the materials and tools, including the vise. Others are similar to a portable tabletop desk that you can put on any surface and may even fold up like a Pack 'n Play for easy storage.
Recipes and Patterns
As mentioned earlier, identifying what flies you'll be crafting is essential to know before purchasing a kit. You'll want to assess which of your store-bought flies work in the aquatic system you're fishing in since you'll want to emulate tying those flies first. When perusing the included materials of a kit, you'll want to constantly take note of what you need for your flies are included. It makes no sense to buy it if only one or two components you need are there.
Tie 'em Flies
Whether you're starting to tie your flies to save money, want to customize your fly arsenal, or just want a hobby during the winter, fly-tying is a satisfying endeavor. If you're ready to pursue this hobby, always try to get the best quality materials that you can afford.
Pre-made fly tying kits may end up being more expensive in some instances, but it offers a quick all-in-one solution. As a beginner, it can set you up to tying your flies right away and gives you a summary of what you'll need in a box. You can easily upgrade later on when you've gained more experience and have mastered certain techniques.
Happy fly-tying!