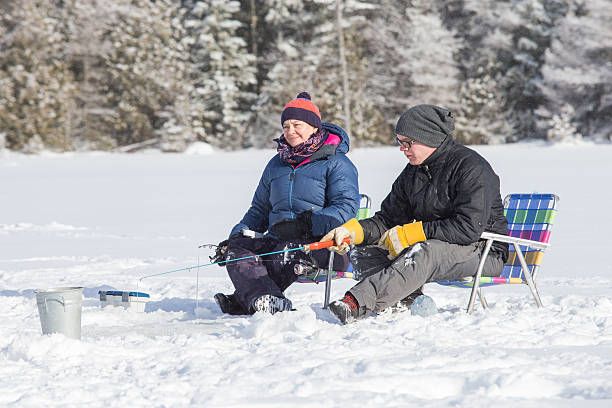 Ice Fishing with the Fam!
Ice fishing is one of the best ways to introduce the joy of fishing to the entire family, especially children. It's relatively simple, requires minimal gears, and if you prepare well for it, a lot of fun and even a change of pace, especially if you've been angling for sport for quite a while.
However, ice fishing involves ice, and ice can be quite dangerous. So before you bring your entire family for a fun day of ice fishing, here are just a few FUNdamentals to keep in mind: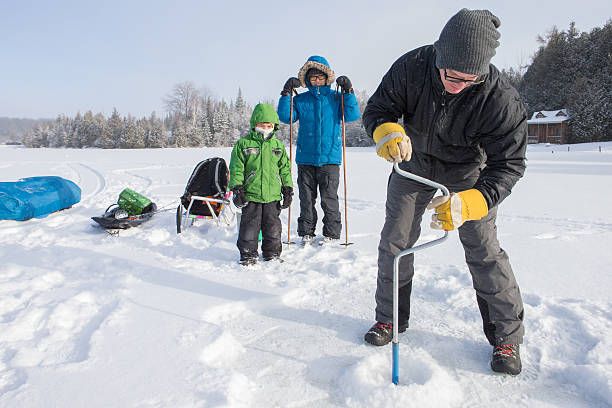 Safety first
Always go for thick ice.
Make sure that the ice is thick enough for safe treading. Experienced ice fishers recommend a minimum of 4 inches for people. To check, pierce the ice with an auger, a spud bar, or a chisel.
Avoid rotten ice. You can easily spot it by checking for color. Cracks and holes are also telltale signs. Avoid rivers as well, unless in protected coves, as moving water generally does not make strong ice.
The key here is to look for strong and stable ice. You should also check its condition with the authorities prior, especially if you're not familiar with the area.
Create a proper hole.
Now that you've found a great spot, time to make a hole. Most people nowadays use a gas-powered auger, as they are easier to use on thick ice and are especially handy if you're thinking of moving around and making multiple holes. They are, however, heavier compared to the manual auger. The manual auger, on the other hand, is slightly lighter but requires more work.
After drilling a hole (less than 10 inches if you're ice fishing with small kids), make sure to remove any remaining ice in it with an ice skimmer. You can ask your older kids' help with this. And if you're moving around, flag or mark the hole you've previously drilled for the safety of your fellow fishers.
Dress for the weather, four times over
Ice fishing is no occasion for braving the weather, so be sure that you and your entire family are protected with layers.
First, wear sunscreen, preferably one with broad-spectrum protection against UVA and UVB rays. Even if it's wintertime, the sun is still out there and can still cause sun damage, especially when combined with the glare from the ice.
For the first three layers of your clothing, make sure that you wear materials that do not retain moisture and instead help you retain your body heat. Your outer layers should do the same, but with an added layer of water resistance.
Make sure your hands and feet are well-protected. For your hands, bring extra mittens as mittens are more surely likely to fall into water no matter how careful you are. For your feet, choose wool or synthetic socks, and it would be great if you could get your feet in a sock liner.
And finally, protect your walkers with insulated boots with non-slip rubber soles. If you can, invest in ice traction cleats as well. If you cannot, then make sure to tell your kids not to run on ice to prevent slipping.
A few extra safety measures
It won't hurt to bring a few more safety gears. Get your hands on life preservers (if you can, have your kids wear their flotation devices), a whistle, handspikes, and a rope attached to a buoy just in case anyone falls through. Know the contact information of nearby fishing centers, clinics, or hospitals, in case of emergency.
Go for Comfort and Accessibility
Choose a more accessible fishing spot.
If you're fishing on your own, perhaps you can always go farther out as you'd like, but since you're fishing with your entire family, choose a spot that you can easily get to. This is especially important if you have kids, as kids tend to have very short attention spans and may get bored driving through hours and hours of ice and snow.
Snacks, snacks, snacks - and some hot cocoa, too.
Bring plenty of sustenance for the kids. Not just full meals but small nibbles in between. It's a great way to keep them occupied and warm as well. You should also bring a thermos of hot chocolate to keep them warm and full.
Go on a package trip.
While you're probably used to going DIY on your fishing trips, perhaps consider going on a package trip that can help you with all the necessary gear and precautions.
Keep Fishing Fun and Playful
Go where there's plenty of sure catch.
Before your fishing trip, check with the authorities about the best spots to catch plenty. You're teaching your kids the joy of fishing — no need to confront them with the harsh realities just yet, as this might turn them off from fishing in general.
Make It Simple
Keep your complicated gears at home. Ice fishing can be fun with just the most basic gear and fishing techniques. The two most popular options are jigging and tip-ups.
For jigging, you can use a short 28-inch rod and bucket of live bait. Artificial lures will do, but live bait ensures better success. They can also be something to keep your kids' attention on as well. You might also want to use a spring bomber along with your rod when jigging as it is sensitive to even the slightest pull, which can be exciting to watch for kids.
Ice fishing tip-ups can be fun to assemble. And while waiting for the flag to be triggered with a fish bite, you and your kids can do other fun ice activities along the way.
Play and Celebrate
If you're used to fishing for sport, you might be too used to targeting a big catch. But when ice fishing with the family, especially kids, keep in mind that the size or number of the catch here is not important. So be sure to celebrate whenever your kid manages to catch anything at all. It's the journey, not the destination — and you can say the same about ice fishing with family. The important thing here is the activity itself, and spending time with the people you love.