Tournament fishing can be one of the best ways to determine how you have improved your fishing skills as an angler. It also promotes a healthy and fun sense of competition as well as camaraderie with fellow anglers. Whether you're in it for upscaling your fishing career or to get experience, or even in it for the competition factor, participating in fishing tournaments requires lengthy and constant practice, acquiring good equipment, enthusiasm for travel, and of course, the willingness to take any challenge. Tournament bass fishing is probably the most popular and accessible way to get yourself into the tournament fishing circle and spirit.
5 Things You Need to Know about Tournament Bass Fishing
1.Tournament Bass Fishing History
Modern tournament bass fishing can be traced back to as early as the late 1960s, where on Beaver Lake in Arkansas, the first-ever Bassmaster event, known then as the All-American Invitational Bass Tournament, was held in June of 1967. It became the forerunner of Bassmaster tournaments held today. Tournament bass fishing has continued to expand across North America, with some places hosting their own local events. There are also numerous organizations that run tournaments that either cater to the local level or professional anglers' careers at a larger scale.
2. General Guidelines of Tournament Bass Fishing
The basic determining factor in winning bass fishing tournaments is the weight of the fish. Normally, most events have a set limit in the number of anglers and fish one can hook to avoid overfishing. Culling is also done within the body of water they are holding the tournament in.
Some tournaments last for just one day, and others go on for longer periods. Some events also give out separate awards for specific categories like the biggest fish caught overall.
Major League Fishing has also popularized a format that counts every catch. There are kayak tournaments that determine the winners based on the length of the fish, measured by inches, and not solely on the weight.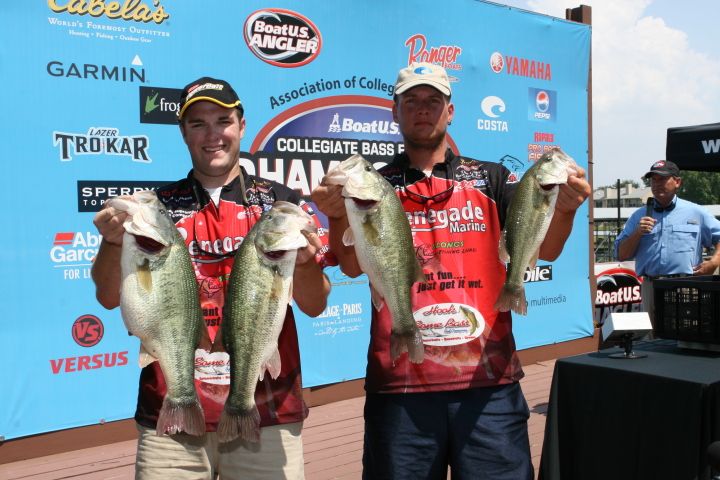 3. How to Start Getting Involved
The easiest first step is to do some research on the internet as most bass fishing tournaments and clubs advertise online. Willing anglers can look up events that are held in their area. Another way to begin your participation in tournaments is to join a local bass fishing club. Most cities should have one and they offer benefits to members such as more access to local fishing and resources. They may also offer the opportunity to learn from more experienced anglers and gain more friends. Bass clubs will let you know about tournaments that will be happening. Starting out in your bass fishing endeavor, it's best to start out at the back of the boat. Being at the back won't let you worry about operating the vessel and it will provide you more time to focus on learning from a more experienced angler. The most common and tested tip is to learn from a pro and soak up all the information you can to get a grip on how bass fishing tournaments work.
For younger anglers, high school and college fishing events are now gaining traction and can offer them the chance to obtain a beneficial fishing experience. They can also fish against their peers to hone their skills.
If you're worried about not having a boat to take part in bass fishing tournaments, you don't have to worry. Most tournaments allow those that have a status as a non-boater. Anglers without a vessel can still sign up for events which can reduce one's entry fee but would also reduce the prize money they can win compared to what one would win if they entered as a boater or a professional. Entering as a non-boater also requires you to heed to parameters set by the one handling the boat you use while in the tournament. It's advisable to communicate what you want, need and expect with your boater so you're prepared for the tournament.
If you want to participate in a bass fishing tournament with a friend or colleague, you can enter tournaments that have teams of two sharing a boat competing against other teams. Most of those team events are open and standalone tournaments, but there are custom circuits that have anglers needing to qualify for championships at the end of the tournament season. Tournaments at the regional level can allow you to enter as either a boater or a co-angler.
4. What You'll Need
If you're just starting out, it's best to stick with the basics first. You can always upgrade your equipment if you decide to pursue tournament bass fishing more fervently.
Rod - A good medium action rod and medium-heavy action rod should cover what applications you'll use to catch bass. You can opt for spinning

equipment if you prefer it or are more proficient at using it over

baitcasting

equipment.

Reel - Consider the gear ratio. You would want a ratio that won't exhaust you while you keep your lure moving. If you're using a spinnerbait or crankbait, you would want something with a higher ratio. If you want to do some jig fishing

or are using lures that won't need constant retrieve, something with a fast ratio will help you quickly pick up slack.

Line - Something that can be enough to do around four reels and something that can withstand up to eight-pound tests is more than good enough.
Tackle - The best ones to use differ depending on where the tournament is held as bass in different environments prefer different targets. Ask someone who is experienced in bass fishing about what the fish there often go for.
5. Tips for Winning
Being aware of some factors before entering a bass fishing tournament can help you get in that winning mindset.
Practice - This is self-explanatory as it's very important to know how to efficiently hook bass if you're planning on winning a tournament. It's important to note to keep an open mind when it comes to fishing in general, but overdo it.
Weather - Knowing what the approximate weather will be can be very helpful as you can practice in places with similar conditions.
Organization - Being organized will provide you with more time and focus to fish. Knowing where your equipment is will help you have a smoother experience.
Attentiveness - With bass fishing, you should be able to adapt to how to catch them as they can be found in different parts of the water. Capitalize on what you know about catching them and apply the proper method.
Anglers looking to reach and take part in tournament bass fishing at the highest level, whether it be the Major League Fishing Bass Pro Tour, Tackle Warehouse Pro Circuit, Bassmaster Elite Series, and the National Professional Fishing League, should hopefully find the information discussed useful. For younger anglers, ask your school athletics department if the state holds bass fishing events or if your school has a team- if not, form your own club. Everything starts out at the local level, and hopefully, you get to a place where you nab a large payout, discover a new facet to fishing, improve your fishing skills, or maybe even acquire bragging rights!