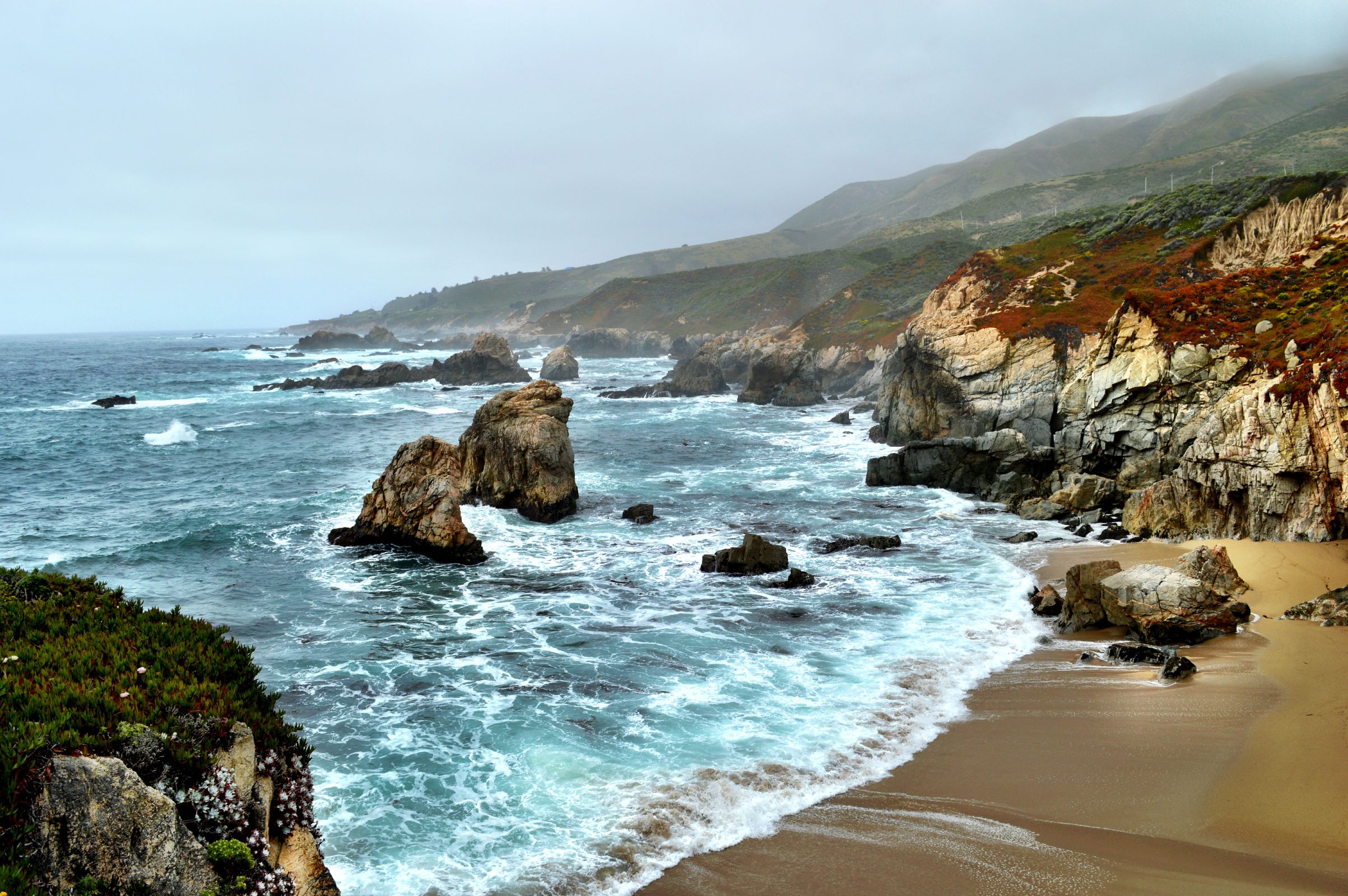 Carmel-by-the-Sea Fishing
Carmel-by-the-Sea has a rugged coastline, featuring both sandy and rocky beaches, and cypress-covered outcroppings. It offers a different fishing location that gives you access to an abundant number of fish per species around the town. Coming to Carmel-by-the-Sea to fish means experiencing some of the most fantastic inshore and offshore fishing in all of California!
One place you could fish is Carmel City Beach. Carmel City Beach is a long, wide, white sand beach that is one of the most iconic spots on California's central coast. The north end of this beach is protected from northwesterly winds, making the weather often cool and cloudy. Historically, Carmel City Beach is a popular surfperch fishing location with the locals.
The surfperch, also known as silver perch or seaperch, frequents the sandy surf zones, making Carmel City Beach a perfect habitat. This species of fish is available year-round. However, spring and early summer (September to May) would be the most productive time to fish for them as they school up along sandy shorelines for spawning. To maximize an angler's fishing experience, it is best that you fish an hour or two before an incoming high tide. While waiting, it is advised that you take advantage of the shallow waters and look for places that have deep holes. Steeply sloped beaches where the waves break hard, rocky areas in the sand or sandy areas near jetties are often the best spot to catch a surfperch. Due to the dwelling nature of this species, an angler's goal is to be able to handle the heavy surf these fish live in. Thus, heavy tackles are best to use when bait fishing. A 9-11 foot rod capable of handling 2-6 ounce weight and a spinning reel large enough to hold 200-300 yards of 15-30 lbs monofilament line would be a good surfperch gear for starters. The popular baits used for surfperch include mole crab, marine worm muscles, clam necks, and sand shrimp. However, nowadays, more and more anglers prefer plastic baits like Berkley Gulp because it is more convenient as it stays on the hook well.
Another place anglers would want to visit is the Carmel River State Beach. The Carmel River State Beach is a large sandy beach located south of Carmel-by-the-Sea California. Though just a mile long, it features a bird sanctuary in a lagoon just before the Carmel River empties into the sea. It also features a wide variety of waterfowl and songbirds.
Carmel River State Beach offers fishing opportunities not far away from its shores. Some of the most common fish species are perch, small rockfish, and jacksmelt.
Aside from surperf fishing, rockfish fishing is also something to try if you are looking to explore the coasts of California. Rockfish is a broad name for over 70 varieties of fish. They have a bass-like appearance- large eyes and mouth, compressed body, and jutting lower jaw. These opportunistic predators are often found in shallow waters, rocky areas, and even in reefs down to 120 - 1200 feet deep. Their diet mostly includes zooplanktons, mid-water fish, crabs, octopi, and shrimp. This makes the Carmel River State Beach a perfect dwelling place. Traditionally, California's rockfish season begins on the 1st of April for Central California.
To start, catching a rockfish means looking for jagged rocks. The more jagged it is, the better as this is most likely where rockfish inhabit. You would also want to make sure that the wind is low and the swells are calm. When all is set, angles can use a 7-8 ft rod that has enough backbone. This is to ensure that rockfish will not be able to dive back into a hole. A 30-40lb braid is the perfect strength for this type of fishing.
Another species present in Carmel River State Beach is the jacksmelt. Jacksmelt are schooling fish that prefer shallow waters less than 100 feet. Bays, nearshore, shallow waterfront and near rocky areas are the most common places where Jacksmelt are located. For an angler's maximum experience, it is best to go fishing for this species during the month of April to August as this is the time where they are most common. Two main outfits that can be used when fishing for jacksmelt would be a simple snag line made with several small hooks and a leader made up of six to eight small hooks spaced every six inches apart. Each hook is baited with a very small piece of pile worm, bloodworm or shrimp. Allow the outfit to drift with the current, and catch 3-6 fish, one time.
Other fish species present in the Carmel River State would be small cabezon and lingcod. During summers and falls, Pacific mackerel, jack mackerel and sardines move through the area.
Carmel-by-the-Sea also features different protected areas which you can check and visit. These include the Carmel Pinnacles State Marine Reserve, Carmel Bay State Marine Conservation Area, Point Lobos State Marine Reserve and Point Lobos State Marine Conservation Area. These marine protected areas help observe wildlife and marine ecosystems around Carmel.
Top 10 Fish Species in Carmel-by-the-Sea, CA
The top fish species to catch in Carmel-by-the-Sea are: surfperch, striped bass, California halibut, jacksmelt, yellowfin croaker, spotfin croaker, California corbina, rockfish, sanddab, mackerel