Lake Okeechobee Fishing
We spent a great day bass fishing on Lake Okeechobee in March 2020 just as the Covid-19 pandemic was starting but before there were any lockdowns. Armed with bacteria sprays we felt safe going out on "Okeechobee" for the day, little did we know that wasn't the smartest option. What a beautiful day, spectacular lake and great fishing. If this is how we were going to enter our lockdown period, a week fishing in Florida then so be it, I say we went out in style!
Many anglers can agree, the state of Florida could easily be considered the fishing capital of the world. A huge reason for this is the famous Lake Okeechobee, one of the greatest largemouth bass lakes in the country. With over 730 square miles of pristine water to fish, it is the second-largest freshwater body of water in the contiguous United States and the largest lake in Florida.
In addition to being home of some of the largest bass known to man, Lake Okeechobee spawns plenty of crappies, bluegill, and catfish. All of these fish are found in great numbers and are generally easy to catch. Found 40 miles northwest of West Palm Beach at the northern edge of the Everglades, Lake Okeechobee is the perfect vacation spot for anglers looking for their next adventure!
The lake itself is around 35 miles long and has around 135 miles of shoreline. It has an average depth of 10 to 12 feet, perfect for spawning big bass. The lake has been given plenty of different nicknames, like the Inland Sea or the Big O, but Okeechobee's official name comes from the Hitchiti people, an indigenous community that lived in the area on the Chattahoochee River until the early 19th century. In their language, Okeechobee means "big" (chubi) and "water" (Oki). There are a number of fishing guides in the area along with full-service fishing charters. Booking a fishing charter or a Lake Okeechobee fishing guide is simple, just click over to Guidesly.com and look today.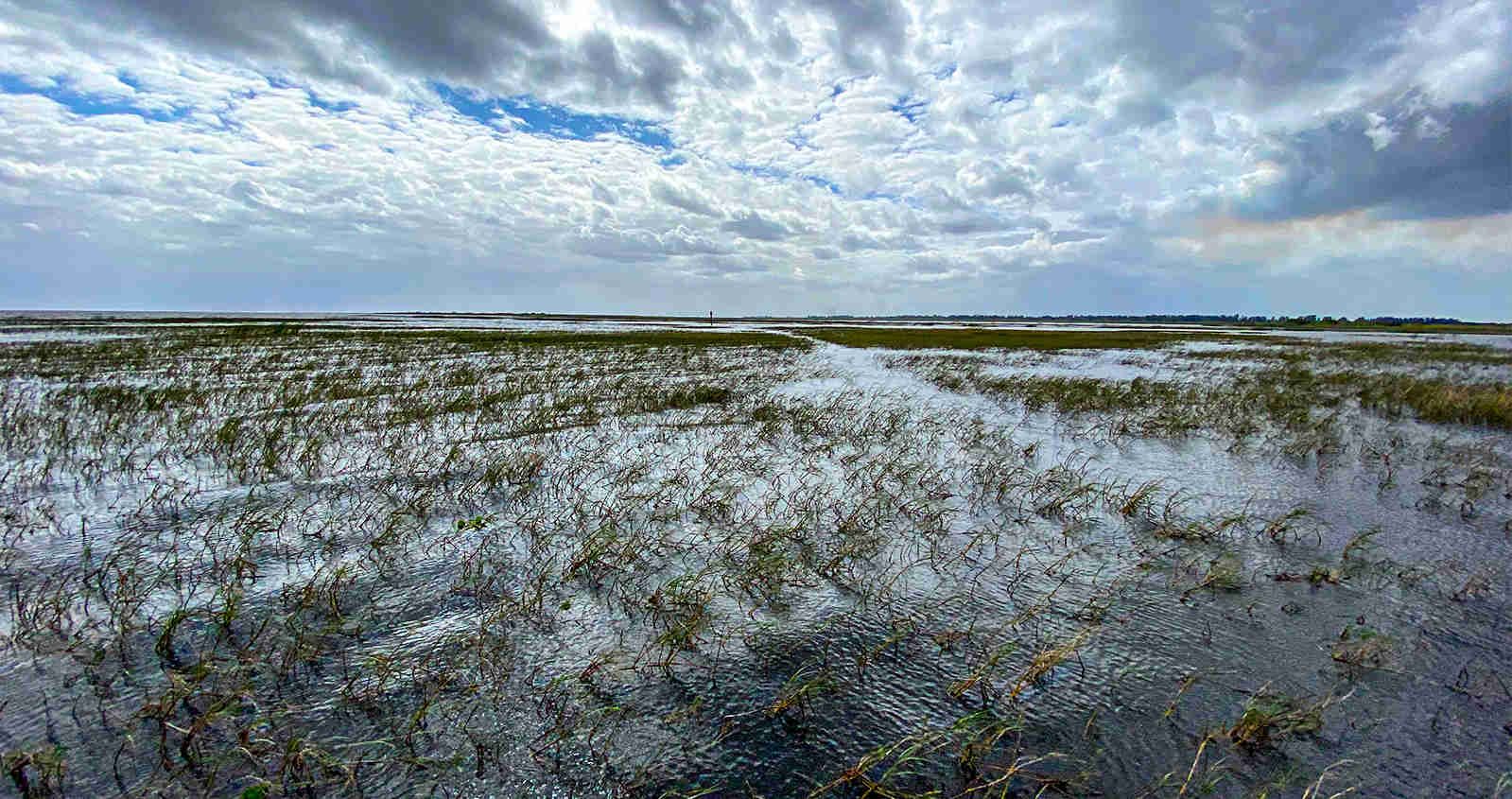 Best Bass Fishing Spots at Lake Okeechobee
A giant benefit that this lake offers anglers is how easy it is to access. For anglers staying in West Palm Beach, it is just a short hour and 45-minute drive west along SR-80 E. Once you arrive, however, it can be a little overwhelming trying to figure just where to get started on this massive lake. Luckily there are a few popular hot spots that always seem to produce a fish or two!
A great place to get started is called South Bay. Found on the southern end of the lake, this area is known for its large hayfields of wiregrass that can be a little tricky at times to fish in but hide some big bass. I suggest focusing on Rita Island, East Wall, and Coots Bay. Another great spot, although not as popular, is called the Shoal. It is found about halfway up the west side of Lake Okeechobee and can be known to produce some big fish, especially if there are shad in the area.
Another big hot spot is called the Monkey Box. This spot has been popular for years and there are plenty of areas to explore in this area, especially with higher water. Anglers could be able to reach areas that you usually can not, and exploring new areas could produce great results. Even though there is less hay than South Bay, the Monkey Box is a great area for spawning bass and is full of all types of vegetation.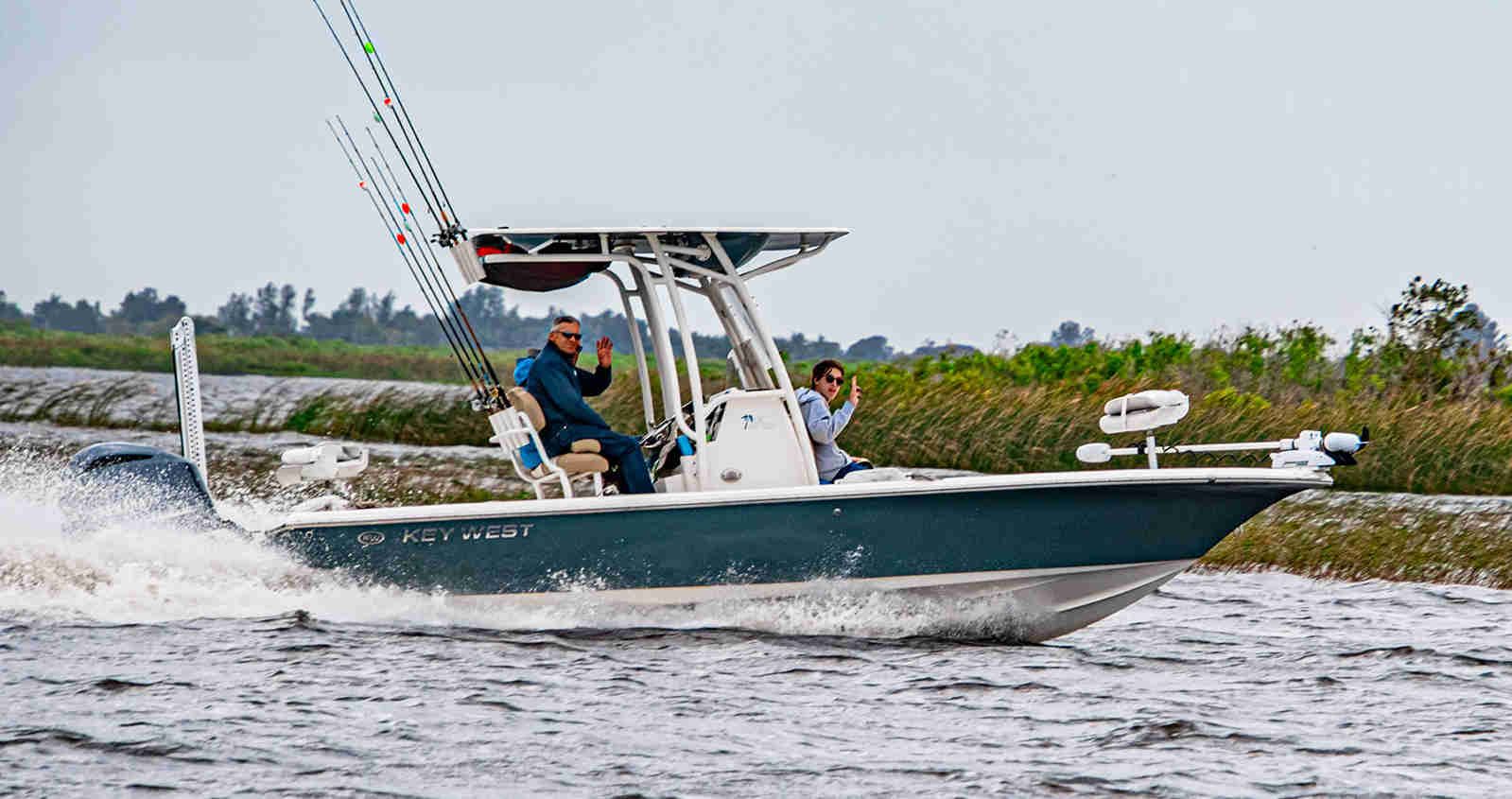 The North Shore is another big bass hotspot that includes long stretches of cattails that hide a lot of big fish. The area is found on the northern end of the lake (as the name implies) and gives anglers a wide array of vegetation and water types to fish. Any general area here can be really good, but a couple of consistent areas include Eagle Bay Island, Little Grassy Island, and King's Bar. The thick cattails can sometimes be a challenge to fish, they hold good numbers of big fish, especially trophy bass and crappie.
A few other popular locations for trophy bass on the west and southwestern shores, there's West wall, Uncle Joes, Blue hole, and Moonshine bay (when water permits).
No matter where you decide to fish, it can still seem a little overwhelming. It feels that way because much of the lake all looks the same. Finding the perfect area that has the right water and vegetation can take some time, but once you find it, focus your efforts on a trophy bass because Florida fish grow large and Okeechobee is no exception.
Even if you own your own boat, hiring a guide can be a quick and easy way to find and fish some of Lake Okeechobee's best areas. If you like to explore yourself, this lake offers an endless amount of water to explore and you will no doubt have plenty of adventure to find the best bass fishing you can!
Florida Fishing Regulations and Fishing License
Be sure to have a valid fishing license to enjoy a fishing trip on Lake Okeechobee. Okeechobee has a 5 bass limit per angler, and only one can be over 18-inch in length. Check online to get a Florida fishing license at Florida Fish and Wildlife
Baits and Fishing Lures at Lake Okeechobee
We talked to the good folks at Jolly Roger Marina and Rolands Marina to get a local perspective. If you want big largemouth bass then start with live wild minnows and use a circle hook. Depending on the time of year you can also use crickets, worms and shiners. If you are looking for lure options, plastics such as a Zoom, Culprit, Charlie's Worms or lures like Rattle Traps, Heddon Rattle Traps, or similar. Flipping artificial lures into vegetation often produces larger bass. You can pick up all you need locally at the Marinas.
Top Activities and Other Things To Do at Lake Okeechobee
Besides fishing, Lake Okeechobee offers many other great activities for the avid angler and their families. On the southern shore, the small town of Clewiston is very popular among travelers and anglers alike. Here you can find plenty of local fishing guides for the lake, and even some great spots to throw in a line as well. There are several marinas in the area to rent a boat for wildlife viewing or just take in the views. A trip to Clewiston should include a stop at Scotty's Tiki Bar at Roland & Mary Ann Martin's Resort & Marina. Another great marina is the Jolly Roger Marina, we rented a boat from the great folks at Jolly Roger right as the pandemic was starting for a day out on the lake and I can tell you the team was great.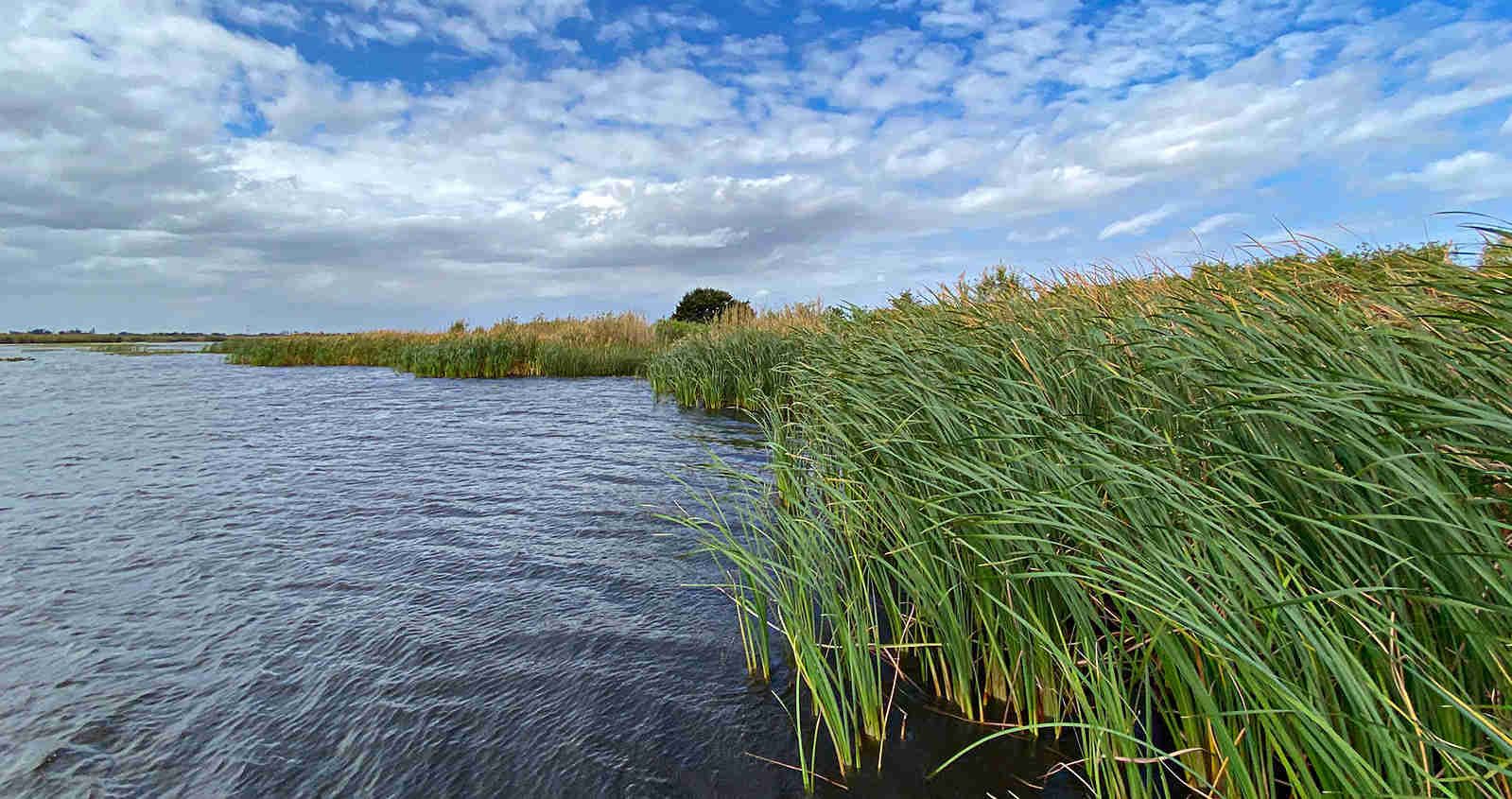 Onshore there many things to see and do, like taking a tour of the local sugarcane farm, or biking or hiking along the 110 miles long Lake Okeechobee Scenic Trail, or many times referred to as the LOST trail system. This path, which is part of the Florida National Scenic Trail, is a great place to view wildlife such as manatees, alligators, hogs, turkeys, and too many species of birds to list.
To the south of Lake Okeechobee is the Big Cypress Seminole Reservation, the largest Seminole reservation in the state of Florida. There you can find a Smithsonian-affiliated museum called Ah-Tah-Thi-Ki Museum that showcases more than 180,000 pieces of art and artifacts, all of which tell the story of the native Seminole people of South Florida.
If you like to do other things besides just fish, Lake Okeechobee is the perfect place to visit. Bring the entire family along and you can all experience many of the diverse and amazing attractions and places that south Florida has to offer!
Visiting Lake Okeechobee & Southern Florida / Palm Beach Area
There is a reason that Lake Okeechobee is as famous as it is. Many anglers flock to this lake in pursuit of its trophy largemouth bass. While many would agree that this lake is the best bass fishing lake not only in the country but in the entire world.

Lake Okeechobee is truly a special place. It is a dream fishing location for many anglers across the world, and you never know what size of bass you might pull from its waters. Throw in plenty of vacation and fun outdoor activities to do while visiting this lake, and you have the perfect destination for anyone wanting to truly experience the adventure of a lifetime!
Lake Okeechobee Bass Fishing Records
Anglers catch 5 to 10-pound bass routinely and 10 to 12-pound bass occasionally. The great lake is a freshwater fishing giant. Lake Okeechobee largemouth bass record is 15 pounds 5 ounces. The trophy bass was caught on a guided fishing trip using live golden shiners and casting into the vegetation.
Fishing Guides at Lake Okeechobee
You will find the best fishing guides for Lake Okeechobee bass fishing at Guidesly.com or download the app. Lake Okeechobee fishing charters feature a number of local professionals who will teach you the best way to land a champion bass. A trusted fishing guide will know the seasonal baits, hiding spots, and have a boat to get you where you need to go. The best tool available to find trusted guides is the Guidesly app, download today to book fishing guides on Lake Okeechobee.