Fish
Sanibel Island is also well-known for the number of fish species available for anglers. The healthy water environment enables fish to thrive so anglers can catch many species throughout the year. Fort Myers fishing charter services are available in most areas to improve your fishing trip.
The top 10 species you will find in Sanibel Island and Fort Myers fishing are: - Snook - Redfish - Tarpon - Sea Trout - Pompano - Snappers - Grouper - King Mackerel - Hogfish - Permit
A lot of inshore fishing occurs here because of the Sanibel and Fort Myers fishing-friendly shoreline, with many species such as Florida pompano, snook, tarpon, snapper, redfish, and grunts caught easily by anglers. Similarly, the offshore fishing list is abundant as well, with anglers able to get fishing charters to catch groupers, snappers, hogfish, shark, and mackerel throughout the year. The beautiful houses, docks, and blue waters make it a scenic fishing trip.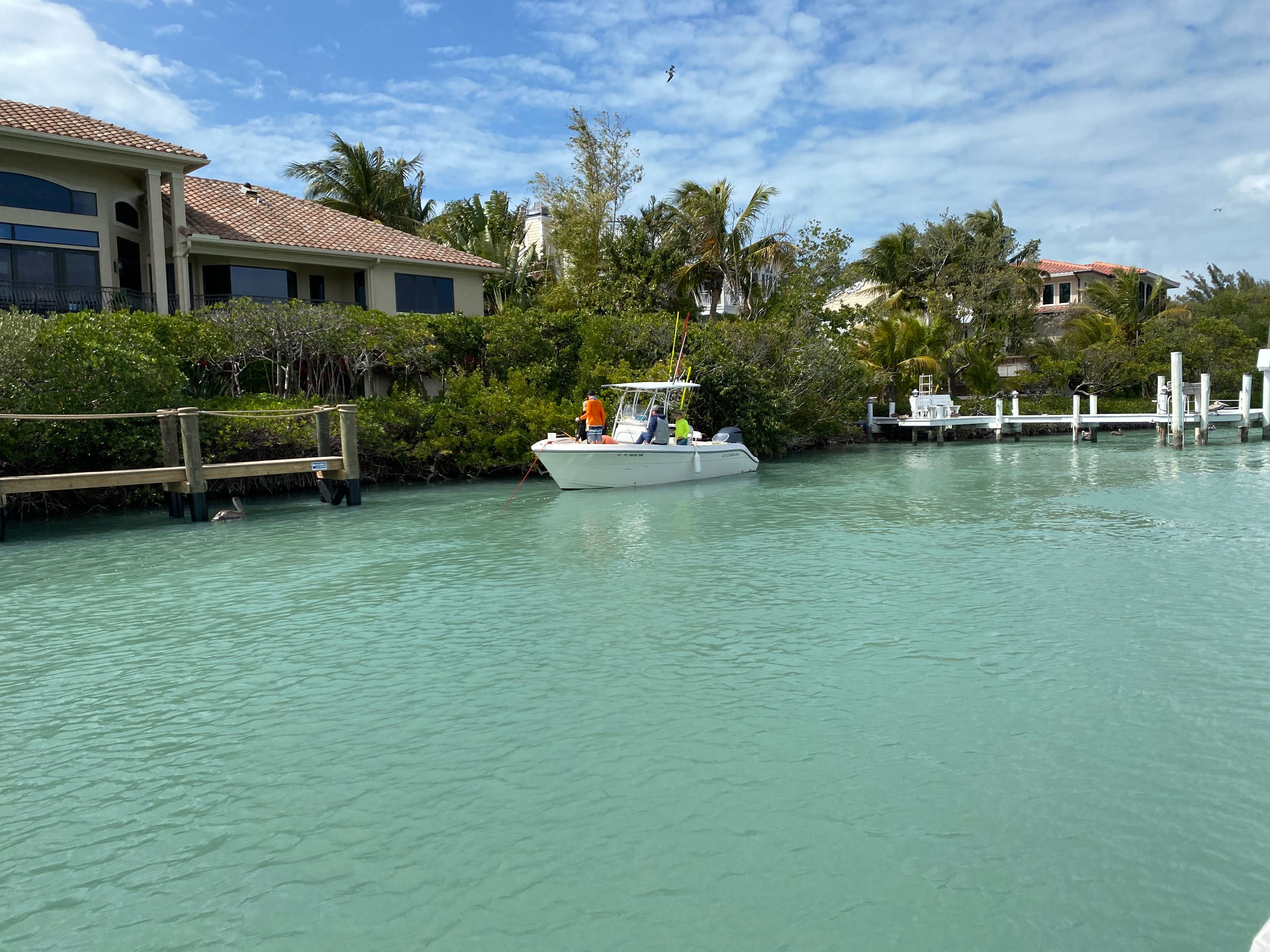 Baits and fishing type
Having suitable gear for fishing is very important. Anglers should use lighter lures, baits, and fly rods when fishing in shallow water, near the Sanibel and Fort Myers beach. However, for fishing in deep offshore areas, try heavy baits to attract and catch feisty, big fish. Baits also depend upon what you are looking for. Use shiners for redfish and tarpon fishing. If your target is cobia and sharks use catfish. Ladyfish and shrimps are also very effective.
Sanibel Island does not require a boat to enjoy world-class fly fishing but it is certainly helpful. Sanibel Island fly fishing features tremendous opportunities from shore and wade fishing in very shallow waters. Because Sanibel Island is a subtropical barrier island, good angling opportunities exist throughout the year and in most weather and wind conditions. The fish habitats around Sanibel Island range from sandy Gulf of Mexico beaches to mangrove estuaries, grass flats, tidal creeks, bayous, rocky groins, and oyster bars. Common game fish species in the waters around Sanibel Island include snook, redfish, spotted seatrout, tarpon, pompano, ladyfish, Spanish mackerel, bluefish, jack crevalle, false albacore, tripletail, and cobia.
Only a few of the species -- i.e. tripletail, false albacore -- are not commonly fishable from shore. Sanibel Island is most renowned for fly fishing for snook. Snook fishing on Sanibel is some of the best in the world. Sight fishing for snook from our beaches during the warm months -- May through October -- provides one of the greatest thrills in fly fishing. These magnificent game fish are fast and powerful. They are also spectacular jumpers. In addition to the myriad shore fly fishing opportunities on Sanibel Island, there are hundreds of square miles of excellent angling water accessible by boat around Sanibel and its nearest sister island, Captiva. These waters include the Gulf of Mexico, San Carlos Bay, the Caloosahatchee River, Pine Island Sound, Matlacha Pass, and Charlotte Harbor.
Sanibel Island can be a fly fisherman's dream with the quantity and quality of fishing. The Snook and Seatrout are very common fly fishing species. Anglers can catch them offshore or inshore. You can always get a Sanibel Island fishing charter by clicking here.
Sanibel Island Fish Species Seasonality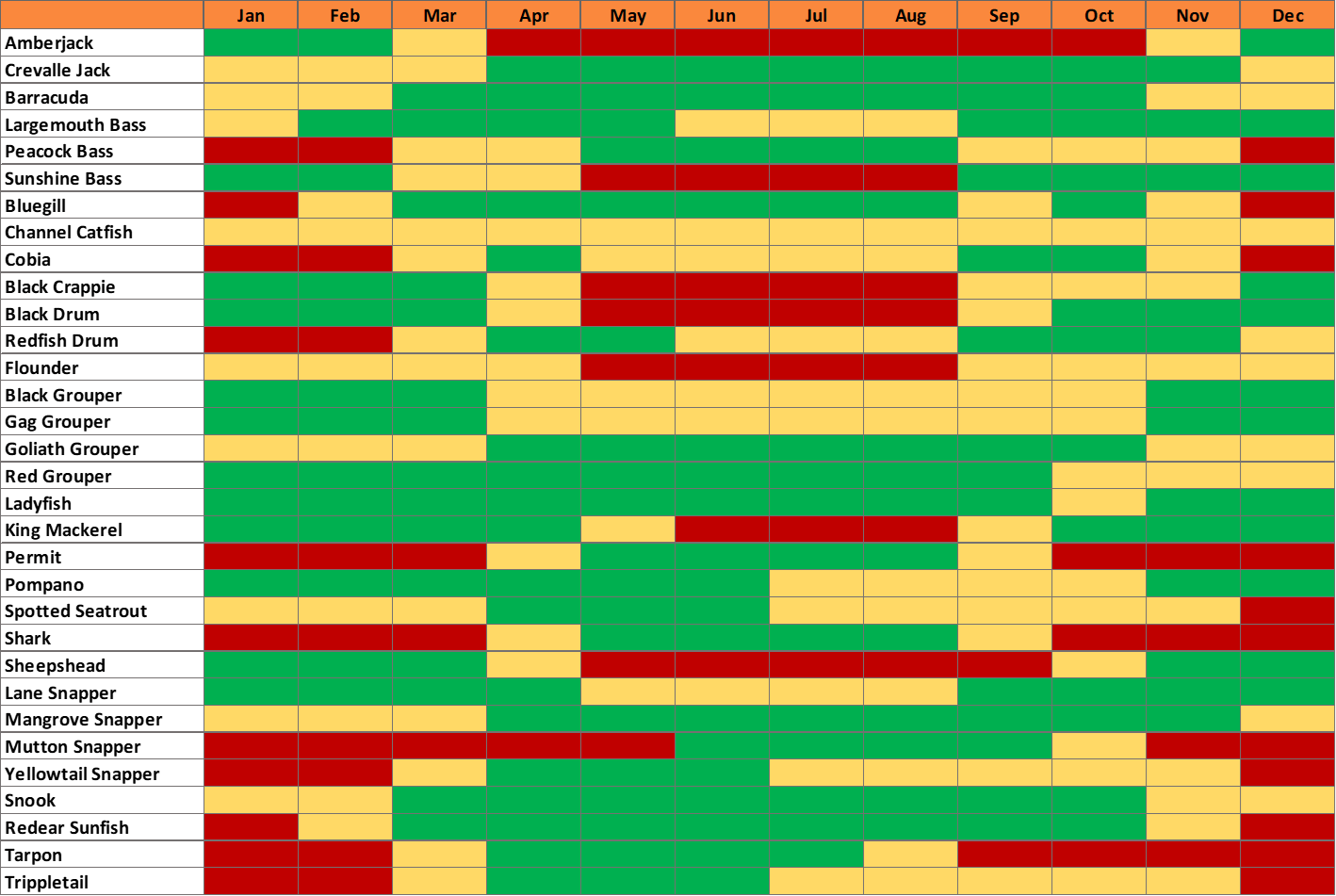 Best spots
The island is packed with fish but a few areas are very productive such as - Sanibel Fishing Pier - Algiers Beach - Lighthouse Beach - Blind Pass Bridge Dixie Beach Rd - The Rocks - Bowmans Beach - Ding Darling Sanibel Island is waiting for you to enjoy unlimited fun and world-class Fort Myers fishing.