St. Augustine Fishing
St. Augustine fishing charters are renowned for superb saltwater fishing. St. Augustine boasts world-class inshore fishing as well as phenomenal offshore fishing. There's great freshwater fishing, too. In fact, the FLW held the 2020 Toyota Series Southern Division Opener on the St. Johns River just thirty miles away. The St. Johns River is one of the highest-rated bass fishing lakes in the country- ranked number four in the Southeastern United States by Bassmaster in 2019.
The Tolomato River and the Matanzas River meet the ocean at the St. Augustine Inlet right next to town and the Matanzas Inlet further south. Along with the Guana River, their flats, bays, creeks, and marshes hold an amazing quantity and variety of saltwater fish.
Inshore, the oyster beds, which can be seen poking out of the water at low tide, is a big contributor to the ecosystem. In fact, so big that conservationists recently underwent a mass effort to build a man-made oyster reef in 2012 to restore lost shoreline and lure oysters into rebuilding where they once thrived in the past. Oysters are so important because they act as a filter for pollutants, and as a result, they are crucial for maintaining good water quality. Their beds also serve as a cover for game fish.
Floodtide fishing is unique to St. Augustine. With tides influenced by the moon cycle and the wind, the late springtime and early fall bring extremely high tides over five feet. This means water floods the grass flats during high tide. Generally, in St. Augustine, high tides of five and a half feet cause enough water to reach the dry areas of the march, allowing big redfish to feed on fiddler crabs. But each flat and each fishing spot reacts differently to the tide, so local knowledge is key. Floodtide fishing can be some of St. Augustine's most productive, but it's also extremely nuanced, so a local fishing guide is recommended to take advantage of the opportunity fully. A high-quality technical poling skiff with a low draft and a quiet hull is a huge advantage over your average boat. St. Augustine charter fishing does boast some of the most experienced captains in the world, so you'll be in good hands.
The nearshore waters up to ten miles from the coast of St. Augustine are home to plenty of reefs, ledges, and wrecks that allow for easy deep access to deep-sea fishing for various species of snapper and grouper throughout the year. Other migratory fish like cobia are also found in nearshore waters, and amberjacks and black sea bass are frequently caught, too.
The offshore fishery is stand-out as well. In fact, the Northeast Florida Marlin Association holds its prestigious Bluewater Tournament at Camachee Cove in St. Augustine. With two divisions for billfish and gamefish, the tournament has been going on annually for almost fifty years. Pelagic fish, which are often highly sought after, like kingfish, tuna, wahoo, mahi-mahi, and sailfish, all move through the area, targeted by highly skilled fishing captains.
St. Augustine Weather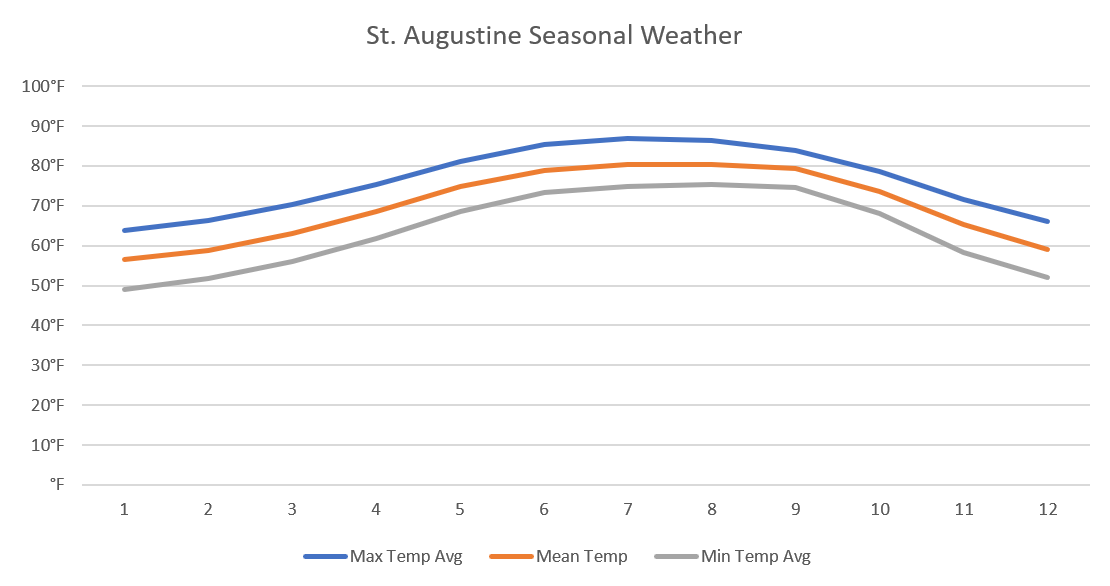 The seasonal weather above is the average maximum temperature, average minimum temperature, and average temperature for each month of the year. Below find the average rainfall amount for the month, average wind speed, average heat index, average relative humidity percentage, average cloud cover percentage, and miles of visibility. The chart below details the possible impact of a high Heat Index temperature.

St. Augustine Fishing Tips:
In general, when you think about inshore fishing or backwater fishing in St. Augustine, one rule of thumb is to make a ton of casts to cover water. With so many locations to try and spots to cover, it can be difficult to locate fish if you don't know the area. So keep moving until you find an area that works and then fish it hard.
There are five types of spots you should fish in the marshes. First of all, you should concentrate on bottlenecks, or chokepoints, where water drains out during the ebb tide. When you know exactly where the game fish need to pass through, you put yourself at an advantage as the angler. The next category is flooded shorelines. When there's high water, redfish, black drum, and sheepshead move up to hunt in waters that were previously dry when the tide was lower. Beating the bank here can be productive. Next are deep holes, which you can never go wrong with no matter the time of day, season, or tide. Providing shelter from larger predators, any major depth fluctuations are always a good bet. Creek mouths are another great spot where hungry redfish and seatrout, as well as flounder, will ambush baitfish. These predatory game fish will set up right outside the current so their prey gets taken along right past them.
Finally, oyster bars are home to lots of bait, so they're always hotspots for feeding fish. One tip for fishing the oyster bars, which is especially relevant for fishing the Matanzas River (where there are a ton), is to target the oyster bars with the most potential ambush spots for fish, not the bars with the most oysters packed together. Working near the oyster bars often can drastically improve anglers' hookup rates. You can never go wrong throwing live or dead shrimp on jigs or popping cork anywhere in a backcountry marsh but especially by an oyster bar. This is a great bet to catch trout, reds, sheepshead, flounder, and many other species. At first light, redfish often crush topwater lures, which can be an incredible sight in the marshes at any of the five types of fishing spots identified above. Really any low light conditions, a spook or jerk bait, is a great option for exciting fishing.
St. Augustine fishing is popular because it's possible to sight fish big redfish, cobia, and tarpon. The flats and flood tides provide crazy sight fishing opportunities, and it's also possible to sight fish these trophy fish on the fly right off the beautiful beaches. You need a little bit of luck landing the fish, and you've got the story of a lifetime. There's nothing cooler than spotting a fish fifty to a hundred feet away and having the ability actually to catch it. Light tackle and fly fishing make every fight exciting, and that's why it's so popular in St. Augustine. There's nothing better than watching a tarpon burst out of the water while you fight it on light tackle!. Salt Run Inlet on the northern side of Anastasia Island is particularly popular among fly fishermen targeting big redfish. Even locals often opt to go with a fishing charter for these specialty trips. Most deep-sea fishermen use frozen squid or mackerel when bottom fishing for grouper or snapper at the abundant nearshore structure. Still, many don't realize that throwing a live bait on top can also yield tuna or cobia as well.
Offshore anglers in St. Augustine have the rare opportunity to target blue marlin, arguably the most sought-after game fish in the ocean. When trolling offshore, you can use a big spread, but most St. Augustine captains instead use the approach of skirted and naked ballyhoo since it gives you great hookup chances with other pelagics like mahi-mahi, tuna, and wahoo. Huge quantities of sailfish also can be found twenty-five-plus miles from the inlet in the fall, and naked ballyhoo on circle hooks are your best bet if you're lucky enough to run into them.
Freshwater fishermen are only a short drive away from where FLW's tournament was based in Palatka, Florida. Not as grassy as many of the southern Florida Lakes, St. Johns is a unique fishery. It's possible to make long runs down to Lake George, but you don't need to do that to catch fish. You can never go wrong throwing worms, either Texas rigged or wacky rigged, though. Oftentimes simplicity pays off, especially for Jason Blair, who had great success throwing one bait all-tournament in February 2020: a Texas rigged stick worm.
St. Augustine Seasonal Fishing:
Fishing is hot year-round, and there are always St. Augustine fishing charters running. Redfish, snapper, and grouper bite throughout the entire year, even in the winter months. The summer brings offshore fishing for marlin, while sailfishing remains hot into the fall. Wahoo and cobia fishing is hot in the winter through the spring. Of course, late spring and early fall are the times that St. Augustine's unique flood tide fishing comes to life.
Top St. Augustine Fishing Spots:
Matanzas Bay
Tolomato River
Guana River
St. Johns River
Salt Run Inlet
St. Augustine Fish Species Seasonality: