Estimated Time to Complete: 5 minutes
Number of Steps: 5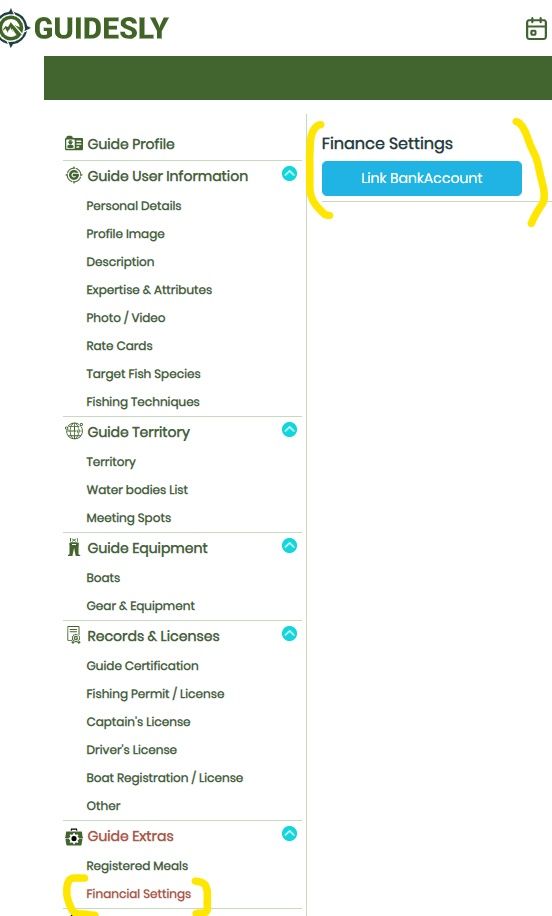 To receive payment from Guests, create a new Stripe account or link an existing Stripe account to the Guidesly platform. Head to your 'Profile', scroll towards the bottom of the list and find 'Guide Extras', click on 'Financial Settings', then click on "Link Bank Account".

You will be taken through 5 Easy Steps:
Get Paid by Guidesly

Fill out entity type, mobile number, and Email
You will receive a 6-digit verification code texted to the mobile number provided immediately after clicking "Next". Input this code on the next screen to complete next steps


Personal Details

Fill out all fields
Social Security Number: Your SSN is for identity verification ONLY; Stripe is federally required to officially know someone connected to the account. This is intended to promote transparency and prevent individuals from using complex company structures to hide terrorist financing, money laundering, tax evasion, and other financial crimes.
Guidesly never holds your money, not even for 1 second. Stripe payments are made directly to Guide's once funds clear from the Guest (credit card processor)


Business Details

Industry: Entertainment and Recreation > "Other Entertainment and Recreation"
Website (optional)


Payout Details

Choose Bank Account or Debit Card


Review & Submit
Done!