Cape Cod, MA is a compilation of different towns and fishing pockets rich in fishing history that stretches out 65 miles from the mainland into the Atlantic Ocean. Over the years, anglers have flocked to the Cape to experience some of the best fishing Massachusetts has to offer. Cape Cod has an incredibly diverse fishery ranging from consistent inshore action for iconic species like striped bass, bluefish, and albies to rod-bending offshore fishing for tuna. Cape Cod also has a number of extremely productive ponds for freshwater anglers. Whether you're looking for an exciting fight or tasty tablefare, the waters of Cape Cod have something to offer for every angler.
Let's look at the four main reasons why Cape Cod is an amazing fishing spot.
1. Rich in Fishing Spots
No matter where you look on Cape Cod, you'll be able to find a productive fishing spot. The Cape Cod Canal is world-famous for producing trophy stripers. Each year, as the bass migrate north through the canal, anglers have a chance to catch the fish of a lifetime from the surf. Cape Cod Bay is another top fishing spot where anglers can catch stripers, blues, and more. Buzzards Bay is home to an incredible black sea bass bite as well as stripers, bluefish, and fantastic fishing for false albacore. There's nothing quite like the way an albie peels drag, and these exciting fish are well-worth the effort it sometimes takes to find them. Many of the cape's beaches provide awesome surf fishing, with exciting bluefish action during the day and a chance at huge striped bass after dark.
Anglers in search of tuna have plenty of great options as well, with the ability to run south of the Vineyard, east of Chatham, or to Stellwagen Bank. Battling a giant tuna is a once in a lifetime fight that everyone should experience, and smaller recreational-sized tuna are a blast to catch. Stellwagen Bank is also a well-known hotspot for groundfish like cod, pollock, and haddock, while the Nantucket Shoals have some of the best fluke fishing in the world, giving you a great chance at a ten pound doormat.
2. Diversity of Fish Species
The Cape is known for popular sportfish like the iconic striped bass, feisty bluefish, and delicious bluefin tuna, but the diverse ecosystem and variety of bait around the Cape mean you can catch a myriad of fish species.
Black Sea Bass, Tog, Haddock, Pollock, and of course the Cape's namesake – Cod – make for delicious meals. Bonito and albies provide drag-peeling inshore action in the late summer once the water warms up. Exciting species like white marlin, mahi-mahi, bigeye tuna, yellowfin tuna, and swordfish can all be caught far offshore. Bonito and albies provide drag-peeling inshore action in the late summer once the water warms up.
Jaws is on the table too! The Cape has some great shark fishing, with mako sharks, thresher sharks, and blue sharks all potential targets for anglers. While you can't fish for them, if you're lucky you might get a chance to see a Great White shark too.
In addition, the variety of ponds on the Cape are home to some of the best largemouth bass fishing in the state. Kayak fishing and bank fishing provide easy access to trophy bass, and it's not uncommon to catch 5 lbers.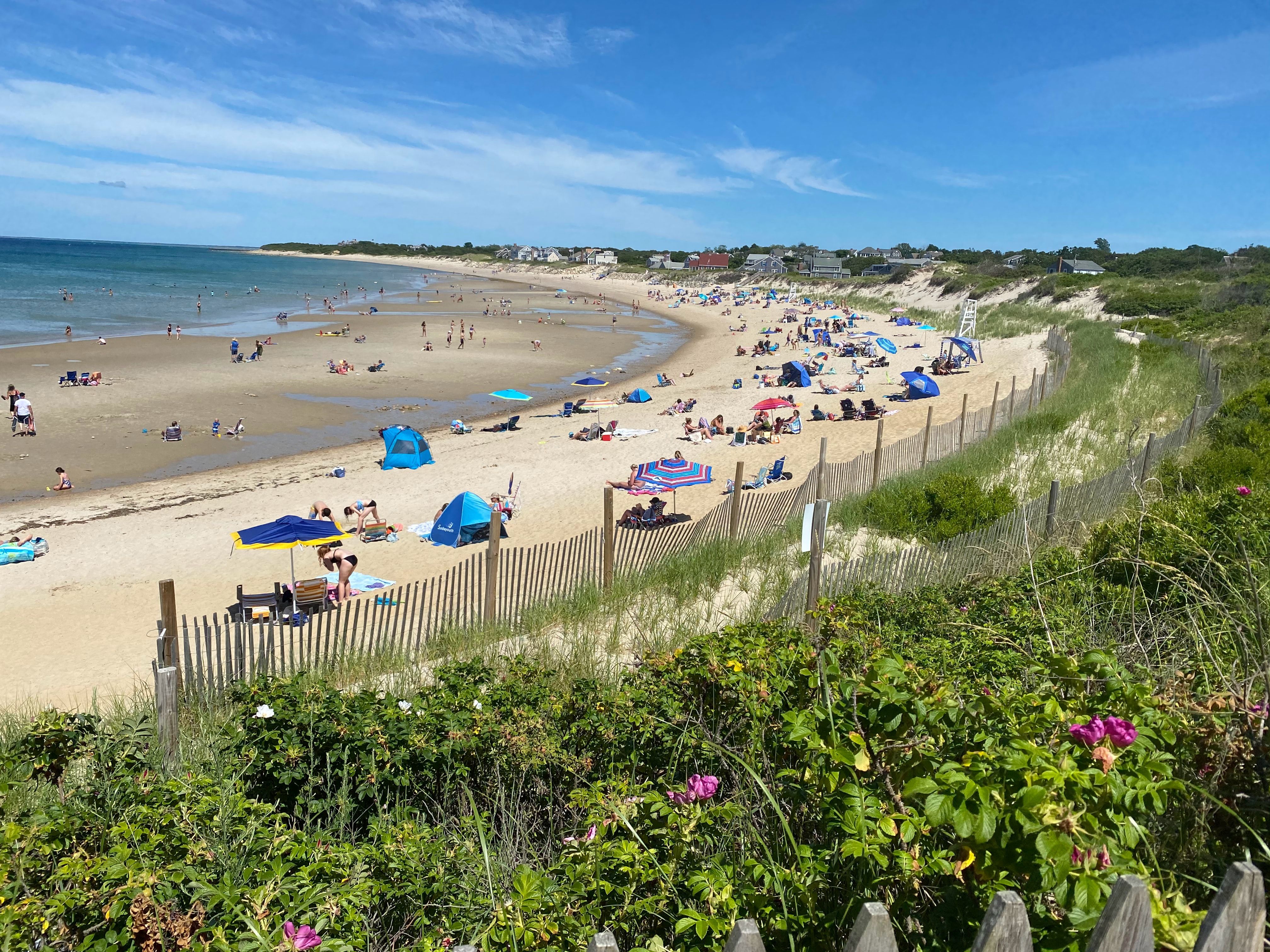 3. Long Fishing Season
From early spring stripers to albies in the late fall, you'll always have a shot at catching fish on the Cape. Throughout tourist season in the summer, the fishing is always hot. No matter where or when you're fishing on the Cape, you'll have options. Inshore or offshore, topwater or jigging. When the bite for one species turns off, the fishing for another species is just beginning to heat up.
With such a variety of popular fish species around, there's always something biting, and local fishing charters operate from spring to fall.
4. Top Tier Fishing Charters
Whether you're a new or experienced angler, the Cape is home to some of the best fishing charters in the world. With highly experienced charter captains and easy access to great fishing spots, Cape Cod fishing charters are unmatched. Many tourists and new anglers book fishing charters to experience Cape Cod fishing for the first time, while it's not uncommon for locals to book a charter every year to give themselves the best chance at catching fish (and continue to learn the waters)!
The Cape Cod Experience
While Cape Cod is known for its sportfish, it also gives you a chance to enjoy the historical roots that made it what it is today. Many people enjoy the beach, biking, and hiking trips. Music festivals are another popular option. But fishing is what makes Cape Cod iconic. As the gold mine for many anglers in Massachusetts, Cape Cod is a bucket list fishing spot no matter what species you're after!