Nowadays, more and more anglers are getting into a new hobby—tying their own flies. It's really not that surprising since catching a fish can be a lot more rewarding using a fly you've crafted yourself than using a store-bought one. Another reason why fly tying is such a hit among fly anglers is compared to being limited to what's available at the stores; you are only limited by your skill, imagination, as well as the fly tying tools you have. The first two "limitations" can be addressed through practice—lots of it. As for the third one, you can easily avoid it by investing in a kit that comes with all the necessary tools for replicating them buggers, worms, and zonkers.
Now, if you've been crafting your own flies for quite some time now, you'll probably think: wouldn't it be better if I build my own kit rather than buy a set? Yes, of course, you can always put together a customized kit tailored to your fly tying and fly fishing preferences. Doing this, however, will definitely take some time, and it would surely burn a hole in your wallet as buying each tool separately will cost you more. On the other hand, buying a ready-made set may be a bit risky as there are so many out there that are just… well, to put it nicely, subpar.
That said, this is what this article is all about—minimizing that "risk." If you're looking to replace your old kit or if you're in the process of upgrading your fly tying kit.
Best Pro Fly Tying Kits Available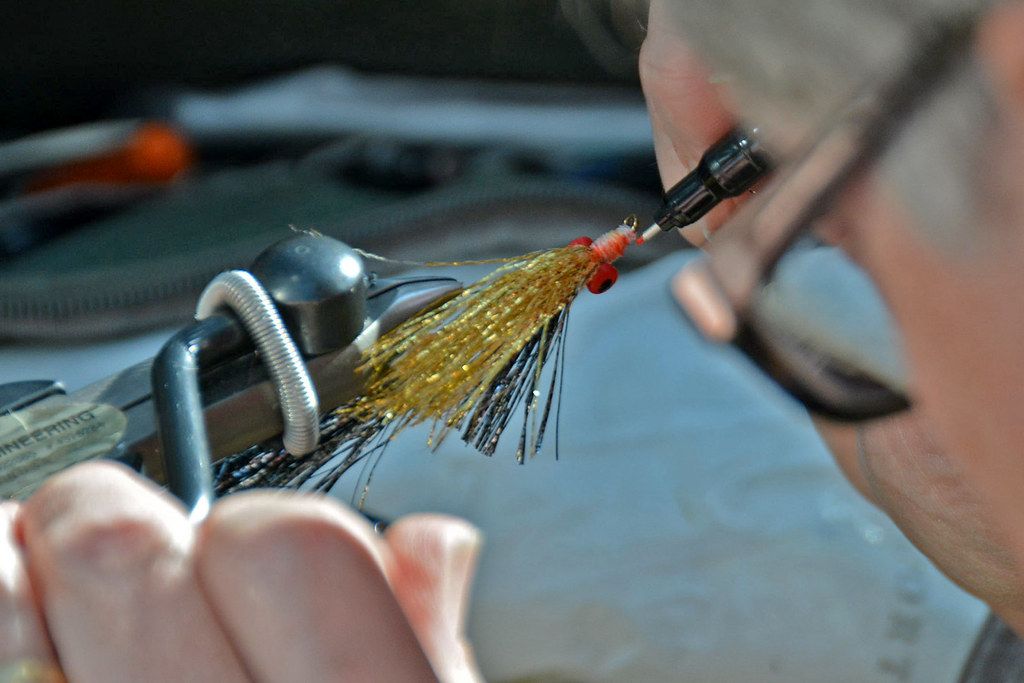 1.Hareline Fly Tying Material Kit
This kit offers a complete setup that a fly tying pro would certainly appreciate. It comes with tools, some essential materials, some hooks, and a 60 page 20 fly pattern book with step-by-step instructions. So yeah, even if the price tag is a bit steeper than most, it's going to be more cost-effective in the long run as you wouldn't have to shell out more money to get the materials you need.
This kit includes premium tools such as a C-clamp vise, a bobbin, scissors, hackle pliers, hair stacker, bodkin, half hitch tool, and a whip finisher—all of which are made to last. The kit also comes with a wide range of high-quality materials, including several threads of different colors, dubbing in several colors as well, marabou feather, rabbit strips, hare's mask, peacock herl, pheasant tail, partridge feathers, turkey feather, elk hair, deer hair, chenille in multiple colors, hackle, some hooks (wet and dry fly in various sizes), beads, and some wires.
2. Wapsi Deluxe Fly Tying Starter Kit
Yes, this one is technically a starter kit, but because it comes with high-quality tools and materials to tie 17 of the most popular fly patterns, not to mention an instructional DVD that gives detailed steps to tie each pattern, a pro would definitely appreciate this kit.
Tools included in this kit are a C-clamp vise, bobbin, bodkin, hackle pliers, head cement, and scissors. With the materials and the step by step guide that comes with this kit, you can make a wide range of fly patterns such as bead head caddis, foam beetle, woolly bugger, stretch tubing scud, poly caddis, brassie, fur ant, San Juan worm, poly spinner, all-purpose nymph, cone head rabbit streamer, CDC emerger, soft hackle wet, green weenie, cone head leech, deer hair bug, and Clouser minnow to name a few.
3. Creative Angler Deluxe Fly Tying Kit
This fly tying kit is also a great option if you're looking to enhance your fly tying game. Why? Besides the essential tools and the materials, it also features an instructional DVD and illustrated book that teaches some basic fly tying techniques on how to tie several fly patterns that can be useful not just for a novice fly tier but to an experienced one as well.
The kit comes with high-quality materials, including grizzly and brown hackle, dubbing, marabou feather, peacock herl, pheasant tail, elk hair, chenille, poly yarn, black thread, copper wire, and several hooks. As for the tools, it includes a rotary vise, scissors, a bobbin, a bodkin, a bobbin threader, hackle pliers, a hair stacker, and a whip finisher.
4. Orvis Premium Fly Tying Kit
As one of the most trusted fly-fishing gear companies in the country, it's really not surprising that Orvis offers some of the best fly tying kits out there. This kit, for instance, is perfect for both the beginner and the pro as it comes with high-quality tools that are proven to be durable that include a vise, a ceramic-lined bobbin, scissors, bodkin, half-hitch tool, hackle pliers, hair stacker, and a whip finishing tool.
The best thing about this kit is that it also comes with a lot of materials and instructions that allow you to tie 16 patterns—8 basic patterns 8 "guide proven" ones—from the most basic woolly bugger to the fairly intricate black rubber leg stone.