Thinking about your childhood and the memories of the first time you went fishing makes you wonder if now is the right time to try to pass down the hobby to your kids. It is something that you love to do, and doing it with your kids makes fishing even more fun and worthwhile.
Fishing teaches kids many great values, such as environmental conservation, survival skills, and patience. It helps them value companionship and conversations - something that gadgets take away from them.
Another reason to encourage your children to fish is it promotes good health. They will be exposed to sunlight and fresh air, known to boost the immune system and help improve mood in general. As they learn complex fishing techniques along the way, they'll be more active - one of the best ways to improve physical health.
Teaching your kids how to fish is a great way to bond with them. You can even turn it into a teachable moment about things that they can't learn inside the classroom. However, taking your kids fishing entails a lot of work and patience. Kids are not going to be anglers overnight, so you have to do your homework and take it one step at a time. Here are ways to teach your kids the art of fishing sans the whining, especially if it's your first time.
10 Tips to Teach Kids to Fish
1. Learning starts at home.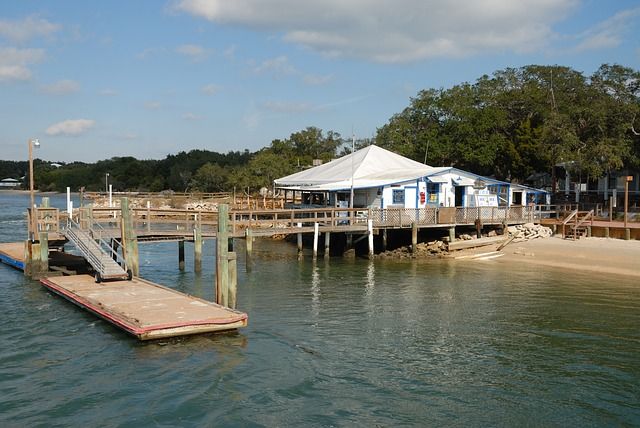 Start the teaching and learning at home. Give your children lessons on fishing basics - from names of fishing gear to basic fishing techniques. When they are ready, you can progress to casting and fishing regulations. Make sure to simplify the terms and use visuals to help them understand everything better.
The learning is not exclusive to just fishing lessons. Teach your child how to buy tackle and other gear. Bring them with you to the nearest shop and let your kid listen to the questions you ask. That way, they would know all the right questions when it's their time to buy their own equipment.
The key to teaching is to get them involved in every step.
2. Practice the basics.
Before you go into the water, practice the basics in an open area. You can do it in your yard or a park, as long as there are no trees nearby where your line can get caught.
Practice how to tie the knot, set the bobber, hook the bait, and cast the line. Demonstrate and go through the process with them so you can correct any mistakes made along the way.
3. Preparation is key.
Make sure you have everything ready for your fishing trip. It's not just gear and equipment that you need to prepare, but other things to make your child comfortable during your trip. Remember always to begin your fishing trip with a mood-boosting breakfast.
Bring lots of snacks with you. You can bring a bucket of ice for refreshments and include some health juice pops. Snacks can make or break a trip - any parent of young kids knows this for sure.
Include a comfortable chair or mat on your checklist. Always check the weather to know whether you need hats and portable fans or raincoats and boots.
Bring some sunblock and insect repellent. You never know when you're going to need them.
4. Choose simple equipment.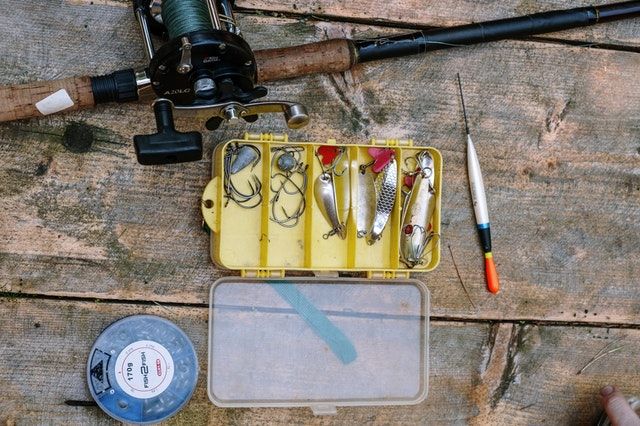 Teaching your children how to fish does not mean they are ready for your level of fishing. Avoid buying complicated adult fishing equipment and use simple ones instead.
A spin-casting tackle or cane pole is simple enough for them to use. Give them that bit of confidence by letting them have their own tackle box.
5. Safety first.
Always put the safety of your children first. The first thing you want to do is use barbless hooks or de-barb them if you don't have any. Some bobbers cover the barb of the hooks to avoid injuries among inexperienced anglers.
Prepare a fishing outfit for your kids that's both comfortable and safe. Make sure that they don't trip or slip while fishing. It is important to bring a life ring or vest with you just in case.
Fishing can cause many injuries, so it's best to bring a first aid kit. Anticipate the common fishing injuries. You don't want injuries happening during your trip, but it's best to be always prepared.
6. Look for the best locations.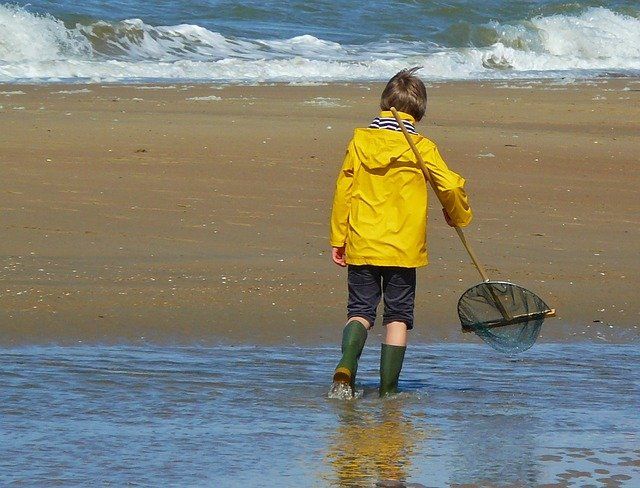 Consider the distance for your fishing location. Driving far to teach your kid how to fish may not be a good idea. Any nearby water body you know for sure has fish is good enough for your first session.
Next, the fish in the area. There are fish ideal for kids to catch, especially if they don't give much of a fight or not too big. Fish like pumpkinseed, redbreast sunfish, green sunfish, and bluegill are great for beginners. Basically, fish that weigh 1 - 2 pounds and 16 inches in length are best for your young anglers.
Lastly, if possible, ditch the boat and fish inshore instead. Try to go to nearby lakes or piers. Getting into a boat may add up a lot of stress and danger for you and your kid.
7. Use live bait and bobber.
Make this experience easy and fun for your child by using live baits and a bobber. Live baits such as worms, crickets, minnows, or nightcrawlers can attract lots of fish. This can help your little one catch a fish immediately. Bobbers also add a bit of excitement for kids. They get giddy when they see it dance or bounce around.
8. Don't fish.
You're probably excited to go fishing with your kid and hope to fish as well. However, it is better if you don't. Leave your tackle and focus your attention on them.
Be their assistant as they're trying to learn and stay involved in what they're doing. Help in baiting hooks, untangling lines, and removing the fish. Show every ounce of support to boost their confidence. You can even cheer them on, especially when they catch a fish!
9. Make It Fun.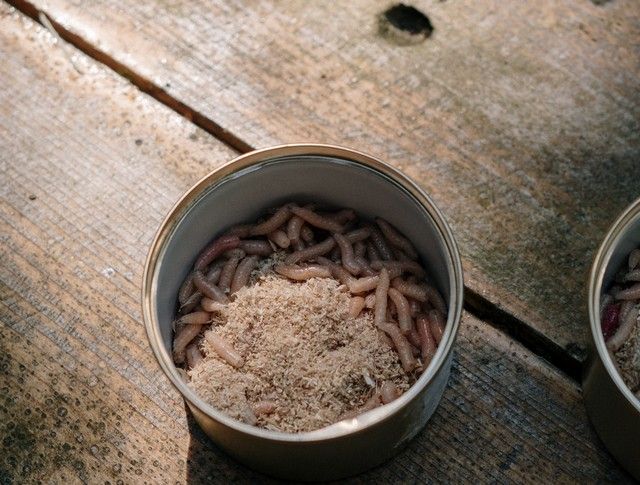 Again, stay involved. Waiting for your child to catch a fish might seem like a long wait, but don't let that dampen the mood. The point is to make it fun.
Talk to them. Answer their questions. Tell them stories about your fishing experiences. You can talk just about anything – school, their favorite cartoon show, their best friends. You can even play a game while waiting for a fish to bite. It could be as simple as counting cars that pass by or an "I Spot" game. If you want to bring out their competitive spirit, make friendly bets like how many fish they can catch or which species. Give them an enticing prize to pique their interest.
10. Leave when it's time.
Keep your first session short. When your kids lose interest in what they're doing or if they say they want to go home, leave. You would want their first experience to be memorable, not dreadful.
If you leave on a high note, they will remember the good times and want to return for the next trip.
Remember that you're fishing with your kids and not your buddies. Their catch may not be as big or as many as your typical day in the water, but one good catch already means a lot to them.
Support them in every way and make sure they have fun with what they're doing. Don't pressure them; the process takes time. It will take several trips, but the bond you create with them each time is priceless.