Florida has a reputation for producing trophy largemouth bass, from its legendary lakes and even from smaller bodies of water like golf course ponds. In the hunt for the next world record largemouth, Florida is one of only a handful of locations in the world where there's a chance at breaking the record. Florida strain largemouth grow bigger than their counterparts, northern strain largemouths, and if you're fishing a big bass lake anywhere in the world, it was most likely initially stocked with Florida-strain largemouth.
While bigger fish have been documented in Florida (but not certified), the Florida state record largemouth bass is 17.27 lbs. Let's take a look at the best lakes for Florida bass fishing where you'll have the best shot breaking that record, or at least breaking your personal best!
1. St. Johns River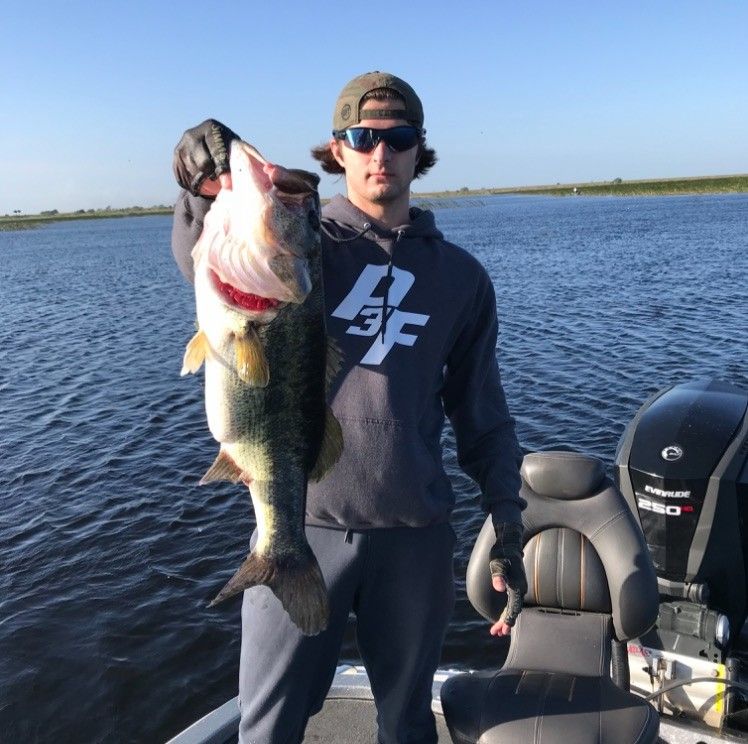 The St Johns River ranked number four in Bassmaster's most recent list of the top twenty-five lakes in the southeastern United States. The longest river in all of Florida, across its lazy, 310 - mile long flow, the St Johns River system also includes significant lakes such as Lake George and Lake Poinsett. In pro tournaments, it is not uncommon to see thirty pound bags of fish. In the 2019 Power-Pole Bassmaster Elite event, twenty-five pound bags weren't rare, and there were four thirty pound bags, including Rick Clunn's 34 – 14 day to seal the victory with 98 – 14 over four days, almost reaching the centennial mark. All that after Clunn caught a ten-pounder in practice on a lipless crankbait!
2. Rodman Reservoir
Also known as Lake Ocklawaha, Rodman Reservoir is a 9,500 acre artificial reservoir in the northeast of Florida. While Rodman Reservoir may not be as consistent of a body of water for numbers as some of the other lakes on this list, it is definitely the most consistent lake for big bites. According to TrophyCatch Florida, the state's incentive-based catch and release conservation program, Rodman Reservoir has yielded by far the most lunkers in 2020, classified as 8+ lbs, with 102 largemouth bass caught over eight lbs. In fact it's not uncommon to catch two or more of these giants in one day! There have even been thirteen ten pounders this year, with the biggest weighing in at 12 – 8. So if your goal is catching trophy bass, Rodman Reservoir may be the best place to start.
3. Lake Okeechobee
When most people think about Florida bass fishing, they think about Lake Okeechobee. At almost 450,000 acres Lake Okeechobee lives up to its nickname, "the Big O." One of the most famous bass destinations in the entire world, Okeechobee remains relevant despite rumors of a fall from grace. While it's true that catch rates have declined since Okeechobee's heyday, it still took twenty pounds per day for Matt Robinson to win the 2020 B.A.S.S. Nation Southeast Regional. Shiners and artificial lures can both be productive, and Okeechobee remains a primetime big bass destination. After all, it only takes one bite to catch a new personal best. I know from experience… I caught my current personal best of 6 lbs 7 oz on Okeechobee in 2018. Lake Okeechobee Bass Fishing is world famous for good reason.
4. Lake Seminole
Right in between Florida and Georgia, near Chattahoochee, Lake Seminole is a reservoir kept up by the U.S. Army Corps of Engineers. This 37,500 acre lake is widely recognized as a top tier bass fishery, and Bassmaster recently ranked it number five in its list of the top twenty-five lakes in the southeastern United States. It took an 80-15 bag for Brian Latimer to win an FLW event on Lake Seminole in 2019, and there is a healthy bass population of fish in the 5+ pound range to be caught.
5. Lake Kissimmee
Lake Kissimmee is another staple of Florida bass fishing. This 35,000 acre lake is the namesake of the Kissimmee chain of lakes, the headwaters of the Everglades. In 2015, Kissimmee gained a lot of publicity after a nineteen pound bass was reportedly pulled from its waters. This would have beaten the current Florida state record by two whole pounds. Unfortunately, however, angler David Ochs did not have access to a certified scale, and the bass didn't fit in his livewell(!), so he rightly prioritized the fish's health and released it after weighing it in at 19 – 2 on his uncertified scale and snapping a picture. This year, there have been twenty-one 8+ pounders caught on Lake Kissimmee according to TrophyCatch.
6. Lake Istokpoga
North of Okeechobee lies the 27,500 acre Lake Istokpoga. While it garners much less publicity than its nearby world-famous neighbor, Lake Istokpoga is just as relevant today. Bassmaster Elite Series Pro Bobby Lane said, "If there was one lake that I had to pick to catch a 10-pounder or bigger in the spring time, it would be Lake Istokpoga… You're not just going to get one or two good bites a day; you're going to get 10-15 quality bites a day about any time of the year." It's hard to match Lake Istokpoga's consistency for sure, especially with regards to big bites.
7. Lake Tohopekaliga
Often referred to as simply "Lake Toho," this central Florida lake spans 22,700 acres. It took Buddy Gross 85 - 12 to win a 2019 FLW event on Lake Toho, after he pulled ahead of John Cox, who'd caught a thirty-one pound nine ounce first-day bag. Although it can sometimes be on the streaky side, trophy bass abound, and that's backed up by the twenty-eight lunkers over 8 lbs reported by TrophyCatch just this year alone. Lake Toho, like Rodman Reservoir, is a phenomenal destination for trophy hunters.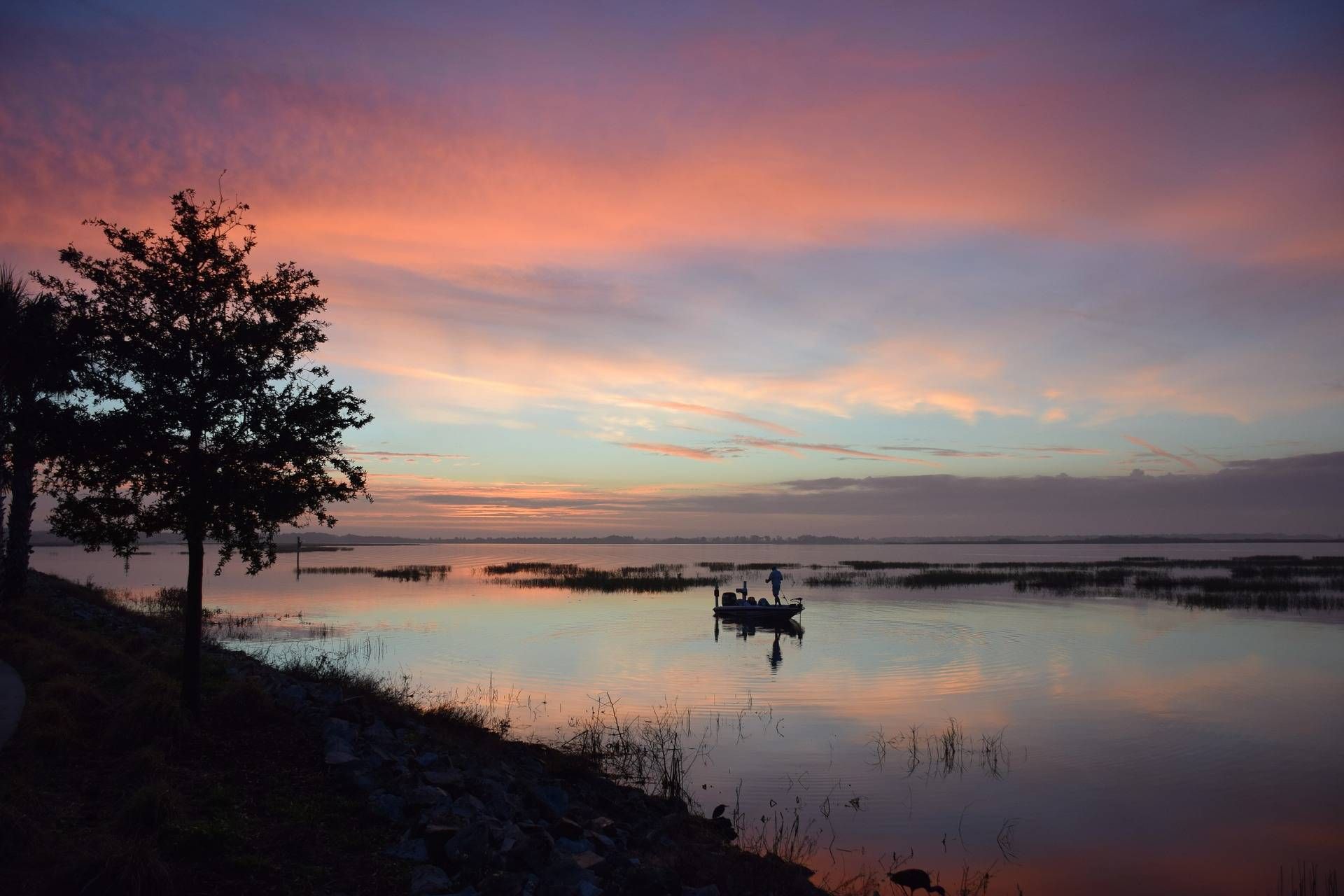 8. Stick Marsh / Farm 13
Right to the west of Vero Beach, Stick Marsh is too small to host a tournament at only 6,500 acres, but acre for acre it is home to some of the largest numbers of big bass in all of Florida. While boaters are advised to be cautious due to the large amounts of underwater structure in shallow water, this structure is crucial to the bass' habitat and part of what makes Stick Marsh such a fantastic fishery. Due to locals' outstanding reports on the fishing, Stick Marsh came in at number sixteen on Bassmaster's list of the top twenty-five lakes in the southeastern United States.
9. Fellsmere Reservoir
A 10,000 acre water management lake, it is located right near Stick Marsh. One of Florida's hidden gems, Fellsmere Reservoir receives much less publicity as other destination bass fishing waters for one reason: there's no boat access. However, anyone who fishes it by kayak or canoe will affirm the fact that this is a phenomenal lake for numbers. Thousands of bass fry were stocked in the 2010s, and these fish are beginning to reach good size, with bass in the three pound range the average size, and 6+ pound bass becoming much more common.
10. Orange Lake
This shallow water lake covers 12,500 acres. Along with the neighboring Lochloosa Lake, Orange Lake provides very consistent largemouth fishing. While not as large or with as flashy a reputation as many of the other lakes on this list, Orange Lake remains one of Florida's best bets for trophy bass. When the water levels rise and tussocks form, this vegetation is more than just an obstacle for boaters: it's also a habitat for big bass. There have been thirty-three 8+ pound largemouth bass caught on Orange Lake in 2020, and just last year Brian Hammett caught and released a fifteen pound 13 ounce giant while on a trip with his young son.
Of course, there are a number of great bass fishing lakes I couldn't fit on this list. Here are two honorable mentions: Suwannee Lake and Lake Eloise