Daly City Fishing
Daly City is part of the San Francisco Bay area and shares half of its border with San Francisco's southern boundary. San Francisco Bay, or simply "the Bay", is a shallow estuary in the US that drains water from almost half of California. It is also surrounded by the Sacramento and San Joaquin rivers that flow into Suisun Bay and eventually the Carquinez Strait, then Napa River. The system connects to the Pacific Ocean through the Golden Gate Strait. This entire group of interconnected bays makes up the highly-renowned San Francisco Bay.
Due to its exceptional water system that is home to an abundant population of diverse fish species, San Francisco Bay was designated as a Ramsar Wetland of International Importance in 2012.
Apart from the Bay, Daly City is also known for Lake Merced, a freshwater lake in the southwest corner of San Francisco. This body of water is known for recreational fishing due to its rich and healthy ecosystem that fish species love.
Apart from these two major waters, Daly City is also known for several fishing hotspots. If you love bass, then the Sacramento River is perfect for you. The impoundments and lakes throughout the state are also filled with bass. If your game is trout fishing, you can explore the Trinity River.
Mussel Rock Beach Park is known for its seafood and magnificent sunset view. Next, Pacifica Pier is the major place for catching crabs which is almost a common part of the locals' diet. Mori Point offers not only some fishing but also a hiking experience. West Coast Nautical is visited by tourists for offering private tours that include fishing along the way. Lastly, Brisbane Marina is a captivating 300-foot public fishing pier where various fish species can be caught from the shoreline. These and more only serve to show how vast the menu Daly City is offering for all anglers out there.
Daly City boasts of many fish species of considerable sizes; in fact, it has set some world records, including a bass weighing 18 pounds, 11 ounces caught off San Pablo Reservoir in 2011 by Victor Barfield.
The best species to catch from Daly are striped bass, white sturgeon, chinook salmon, California halibut, and redtail surfperch.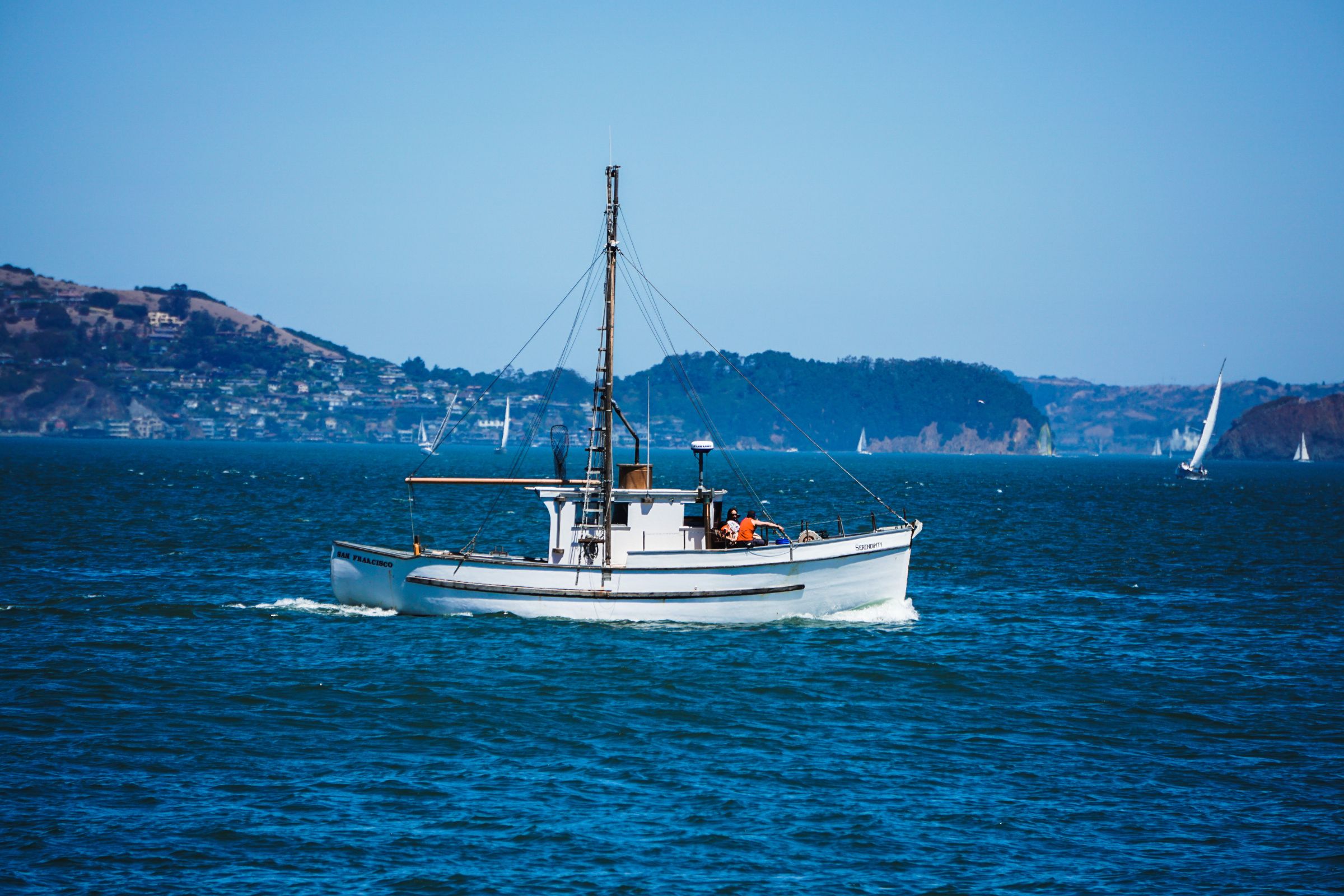 Striped bass are rather finicky predators who are picky about bait to bite. Still, this freshwater fish is popular among anglers because they are powerful swimmers that are still fairly easy to catch. Striped bass is not only an excellent table fare, but also an impressive game fish; most striped bass caught weigh up to forty pounds.
Unlike striped bass, white sturgeon are not as picky when it comes to bait. This species is widely distributed in different bodies of water including streams, estuaries, and rivers. This anadromous freshwater fish lives up to a century and can weigh up to 1,100 pounds, making it an exceptional game fish.
Chinook salmon is a large, anadromous fish usually found in freshwater estuaries. This fish is popular among commercial anglers not only for being fun to catch but also for its first-rate meat. Interestingly, this is also the biggest species of Pacific salmon that can weigh up to 30 pounds.
California halibut are remarkable for changing its color based on its environment. This atypical flatfish is not particularly as popular as the other fish species in this list since it is not a fierce fighter. However, it is noted for the fun methods of catching it, including gigging and drift fishing.
Redtail surfperch are commonly caught by fly fishing. Usually found in rows of breakers, deep holes, and areas with a high tendency for soil erosions, this game fish is famous among anglers. As a bonus, the meat of this fish is also delicious as the meat of its distant relatives Sea Bass, Rockfish, and Snapper.
Top 10 Fish Species in Daly City
The top 10 fish species you can catch in Daly City, California are brown rockfish, chinook salmon, jacksmelt, California halibut, white croaker, white sturgeon, redtail surfperch, striped bass, sharks, and dogfish.