New Smyrna Beach Fishing
Mosquito Lagoon is one of the top inshore fishing destinations in the world. It provides a unique opportunity to catch world-class redfish and spotted sea trout every month of the year. Ponce Inlet and the creeks around New Smyrna Beach hold tarpon, snook, jacks, flounder, and sharks. Further south, the 150 mile Indian River Lagoon holds redfish, tarpon, black drum, and more. The abundance of game fish makes New Smyrna Beach charter fishing a booming industry that attracts tourists from around the world. A prime location for experienced anglers hunting for trophies and brand new fishermen looking for their first catch, New Smyrna Beach fishing charters have something for everyone. New Smyrna Beach is also within driving distance of the great freshwater fishing on the St. Johns River and Lake Kissimmee.
The Indian River Lagoon system, including Mosquito Lagoon, is actually known as the "Redfish Capital of the World." In fact, it's one of the only spots in the world where redfish live their whole lives inshore. Everywhere else, when redfish reach maturity, they migrate to the open ocean. Here, however, you can catch full-grown bull reds throughout the entire year. Twenty-pound fish are relatively common, and some bull reds top forty pounds every year. This unique, year-round redfish habitat in the Indian River and Mosquito Lagoon draws some of the world's best captains to New Smyrna Beach charter fishing. It's tough to resist the opportunity to sight fish for the hundreds of redfish tailing on the flats… and the potential for a world record every time you fish!
Speaking of world records, numerous world record redfish have come out of the Indian River Lagoon system. Dr. Greg Braunstein caught the heaviest ever redfish on a fly (IGFA fly fishing World Record) in 1995, just south in the Banana River Lagoon. It weighed in at 43 lbs. Light tackle expert George Hogan caught the 4-lb line class record in 1996 in the Indian River Lagoon. He landed the 52 lb 5 oz fish after a 21-minute fight! There have even been rumors of a 60 lb beast caught on the fly in 2014, but the IGFA has not officially confirmed.
Lots of captains at New Smyrna Beach fishing charters specialize in trout, too. New Smyrna Beach has standout sea trout fishing. Mosquito lagoon holds lots of gator trout over eight pounds, which are always a thrill to catch. The most effective bait for speckled sea trout can be freelined finger mullet, but topwater lures and soft plastic jerkbaits work well, too. You can also catch snook and tarpon in the Indian and Halifax Rivers. Tarpon fishing is always a fan favorite.
In addition to flats fishing in the lagoon system, the nearshore fishing out of the Ponce de Leon Inlet provides access to a variety of sought-after game fish. Anglers can target tarpon, sharks, kingfish, jacks, cobia, and tripletail, all within a mile from shore. New Smyrna Beach shark fishing is remarkably consistent, and it's always an exciting way to spend the day. Sportfishing boats venture 20+ miles offshore to the gulf stream, too. New Smyrna Beach deep sea fishing yields snapper, grouper, mahi-mahi, sailfish, tuna, wahoo, and other pelagics. New Smyrna Beach deep sea fishing charters boast experienced captains who will ensure you have a safe and enjoyable trip.
In New Smyrna Beach, pier fishing is also an option. It's possible to catch trout, snook, black drum, and sheepshead. The Buena Vista Park Fishing Piers and the Indian River Lagoon Preserve Fishing Pier are popular spots, as well as the Riverside Park Fishing Pier. It can be great fun to fish on foot, but for the best chances at a successful day on the water and a true shot at a trophy fish, it's best to go out with an experienced fishing guide from a New Smyrna Beach fishing charter.
The St. Johns River and Lake Kissimmee are two of the top freshwater fishing locations in Florida. Bassmaster ranked the St. Johns River the number four bass lake in the southeastern United States, while Kissimmee gained lots of publicity recently when David Ochs caught and released a 19 lb 2 oz largemouth bass there. That fish would have been a state record if he had a certified scale!
New Smyrna Beach Weather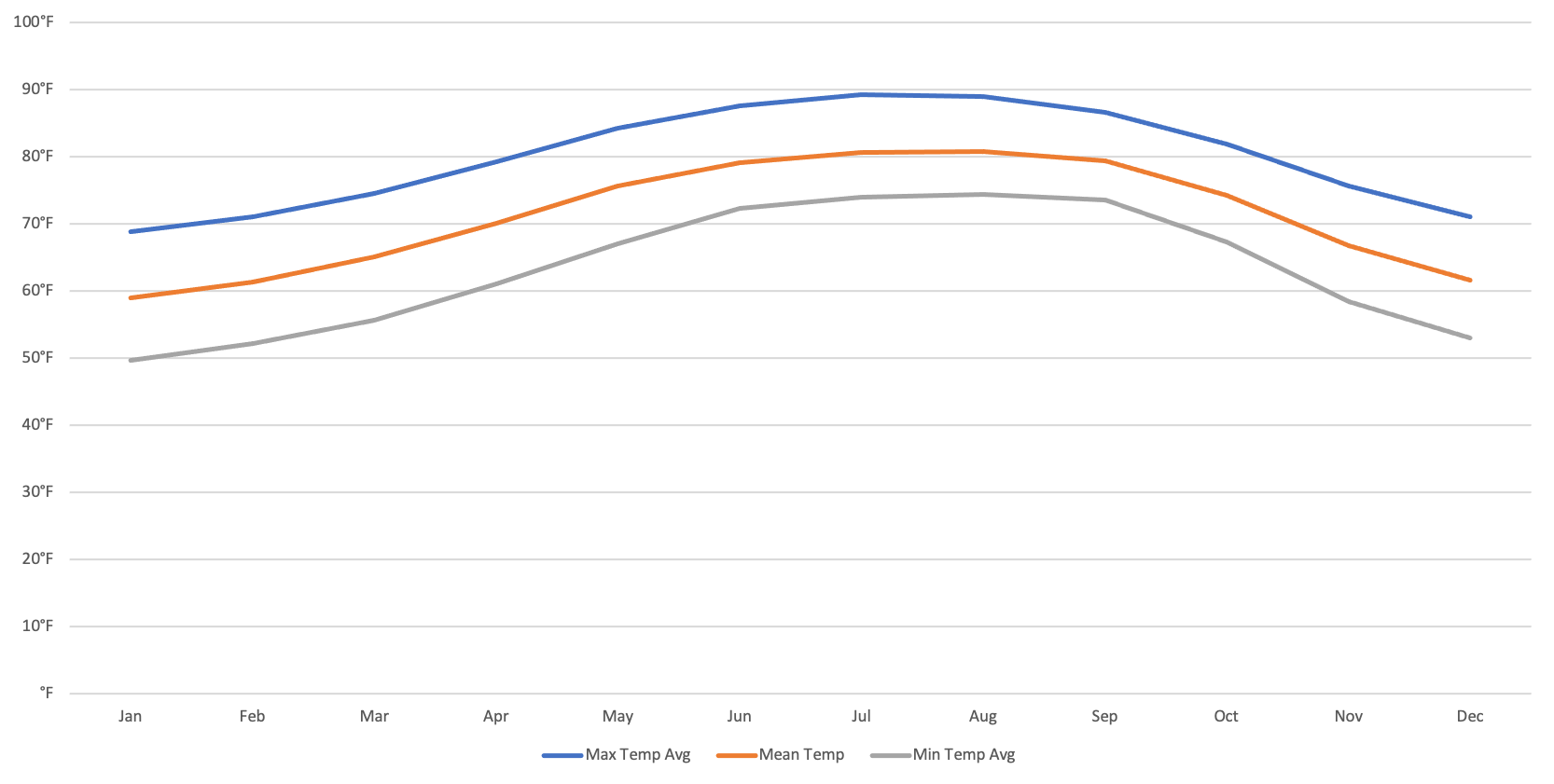 Top 10 Fish Species in New Smyrna Beach
The top 10 fish species you can catch in New Smyrna Beach are redfish, spotted sea trout, sharks, tarpon, snook, cobia, snapper, marlin, sheepshead, and black drum.
New Smyrna Beach Seasonal Fishing
The fishing is always great in New Smyrna Beach. Trophy redfish and trout bite year-round. The best time to catch cobia and snook is the winter, while the marlin bite is best in the spring and summer. You can catch various species of snapper and grouper throughout the year. There's never a bad time for a fisherman to visit New Smyrna Beach; New Smyrna Beach fishing guides and charters are always running because the fish are always biting.
New Smyrna Beach Fishing Spots:
Indian River North
Mosquito Lagoon
Callalisa Creek
Indian River
Halifax River
Ponce de Leon Inlet
Ponce de Leon Cut
New Smyrna Beach Fish Species Seasonality