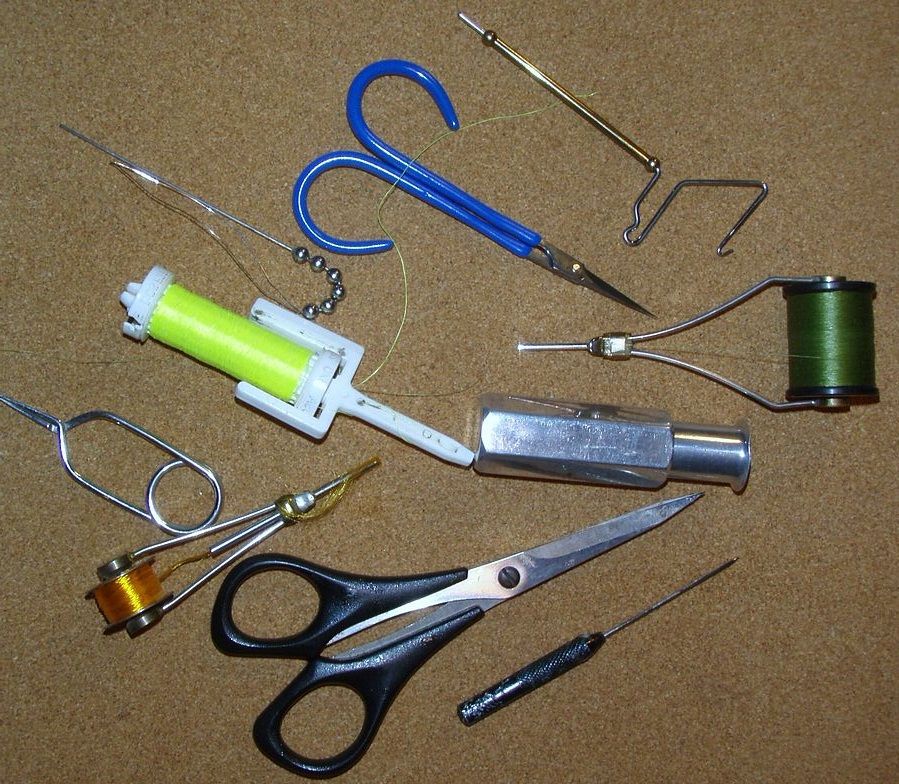 A fly tying kit is useful for anglers of all levels because you can set up a station to adjust or create your own flies to help you gain an advantage against the species you're targeting. These ready-made solutions cater to any fly angler's skill level, whether a beginner or a seasoned veteran.
Yes, many flytiers vehemently oppose getting a pre-made kit because of the sub-standard quality of tools and materials, but purchasing one offers its own pros and cons. A kit is a great launching pad for beginners who, quite simply put, don't know where to begin or what to start buying. Purchasing fly tying tools and materials individually can be confusing and expensive, especially for a novice. A kit can be a budget-friendly alternative and a quick way to start tying. One important question to ask yourself before purchasing your kit is what type of fish you are targeting. Kits come with various tools and materials and cater to different needs. Some kits provide a vise that can support larger hooks, while others vary in the hook sizes included. If a fly-tying kit comes with materials, this can also determine what kinds of patterns you can craft.
Another factor to consider is you have a fly shop in your area that carries quality tools and materials. If you do, more often than not, the shop will give recommendations on patterns that work well in the waters of your local environment.
Flying kits come in a range of prices and offer different options for the fly-fisherman. There are tools-only kits, materials-only kits, and complete kits with both tools and materials. If you're a beginner, you'll want to look for a complete kit that contains all or most of the following:
Vise - holds your hook as you tie patterns
Hooks - can come in a range of sizes
Bobbin - holds the thread in place as you tie
Bodkin - needle with a handle that applies a final touch of head cement
Hackle Pliers - allows you to handle delicate hackles
Threads and Wire - used for tying
Half-Hitch or Whip-Finish Tool - used for tying your final knot
Adhesive (Head Cement or UV resin) - to secure the final knot from unraveling
Beads, feathers, dubbin - materials for your fly
If you're just starting, the list of tools and materials can seem overwhelming, and you may wonder how you can have space or manage all of it. Luckily, most beginner kits help you with all those concerns while remaining friendly to your wallet.

The Top Five Fly Tying Kits

1. Colorado Anglers Z797 Wooden Fly-tying Standard Tool Kit
This kit is the best bang for the buck and includes a built-in base for your vise so that you can get tying anywhere you go. It has a wooden, lightweight case that you can set up virtually anywhere and is compact enough to fit in a backpack. It includes all the essentials: a bobbin, threader, bodkin, dubbing twister, hackle pliers, scissors, and whip finisher.
It includes size 8, 12, and 14 hooks which make it versatile. Some of the included materials are Grey Dubbing, Olive Dubbing, Medium Green Chenille, Marabou, Olive Grizzly Hackle, Brown Hackle, Black Thread, Fine Copper Wire, Peacock Herl, Pheasant Tail, Elk Hair, White Poly Yarn, Head Cement, and Lead Wire.

2. Wetfly Deluxe Fly Tying Kit
This is a great, budget-friendly starter kit for those just getting to know the world of fly-tying and can help you figure out if you want to pursue tying your own flies. It comes with a handy case that organizes and stores all your tools and materials together. It includes almost everything except a whip finisher and bodkin, but for the price, it's a great all-in-one solution that's perfect for discovering the world of fly-tying.
3. Dr. Slick Fly Tyer Set
Maybe you're looking for just a complete set of tools and want to purchase all the hackles, beads, and dubbing on your own. If that's the case, this set by Dr. Slick is a great set of tools. It includes a ceramic bobbin, hair stacker, straight 4-inch all-purpose scissors, rotating whip finisher, and hackle pliers. You can even choose if you want a stainless steel or bamboo-tipped finish. All of the tools come in a handy foam-lined case that can make it a great portable set to bring anywhere you go.
​
4. Creative Angler Wooden Fly Tying Station
For those looking to have a stationary set up in their home or their cabin, this fly-tying station is for you. A lightweight wooden tabletop form factor is fitted with a pull-out drawer to help keep all your materials neat and organized. The desk also features a built-in socket for the rotary vise to keep it sturdy, and indentations in the table are provided for your hair stacker and bobbins. It includes 11 tools, fly-tying materials, and an instruction manual.
5. Orvis Premium Fly-Tying Kit
If money is no object, this is the kit to purchase. This premium fly-tying kit is complete with all the essentials and includes plenty of materials for crafting 16 patterns from beginner-level designs to "guide-proven" patterns. It includes one of the best kit-included vises, tool sets, and a sturdy carrying case. Some of the unique patterns you can tie immediately include the Wooly Bugger, San Juan Worm, and Zebra Midge.

Go Fly!
This list comprises the best all-in-one solutions for the beginner fly tier. We factored in the quality of tools and materials and the most cost-effective for you to purchase so you can sit back and start tying. Whether you're a beginner, a seasoned angler, or are just looking for a gift; this list should help you get started on which fly-tying kit is best for you! Now you're ready for those striped bass, bonefish, snook, and redfish.