Fort Myers Fishing
World-class tarpon are truly a calling card for Fort Myers fishing. However, while tarpon might be the flashiest species in the area, Fort Myers has an incredibly diverse fishery offering a chance to target pretty much any Florida fish you can imagine. Its countless productive estuaries and rivers make for phenomenal inshore fishing. The mangrove islands, grass flats, and deep channels almost always hold fish. You can also fish offshore in the Gulf of Mexico if you're interested in deep sea fishing.
Fort Myers is a prime spot to complete a Florida Backcountry Slam. A Backcountry Slam consists of catching a tarpon, a redfish, and a snook on the same day. When you're fly fishing or even just throwing artificial lures, this is easier said than done. Tarpon are not only one of the most exciting fish to catch due to their aerial acrobatics and the fact that their size ranges up to 200 pounds, but they're also challenging to land for several reasons.
First of all, it's hard enough to entice a tarpon to bite without spooking it. In addition, tarpon have rock-hard mouths, so it can be difficult to get a solid hookset. Finally, their hefty size on relatively light tackle and their jumps up to ten feet up in the air allow them to spit any hook that isn't well set. The percentage of hooked tarpon that an angler might successfully battle to the side of the boat is low, and it's the experience of a lifetime even to get one on the hook. Tarpon are nicknamed the Silver King because of their tremendous size and coloration. For a fish of this magnitude that takes a high level of precision and skill to catch successfully, it's best to hire an experienced guide. Lots of Fort Myers fishing charters have captains with years fishing the area and tangling with tarpon. Tarpon fishing is an incredible experience, and Fort Myers is the perfect place for it!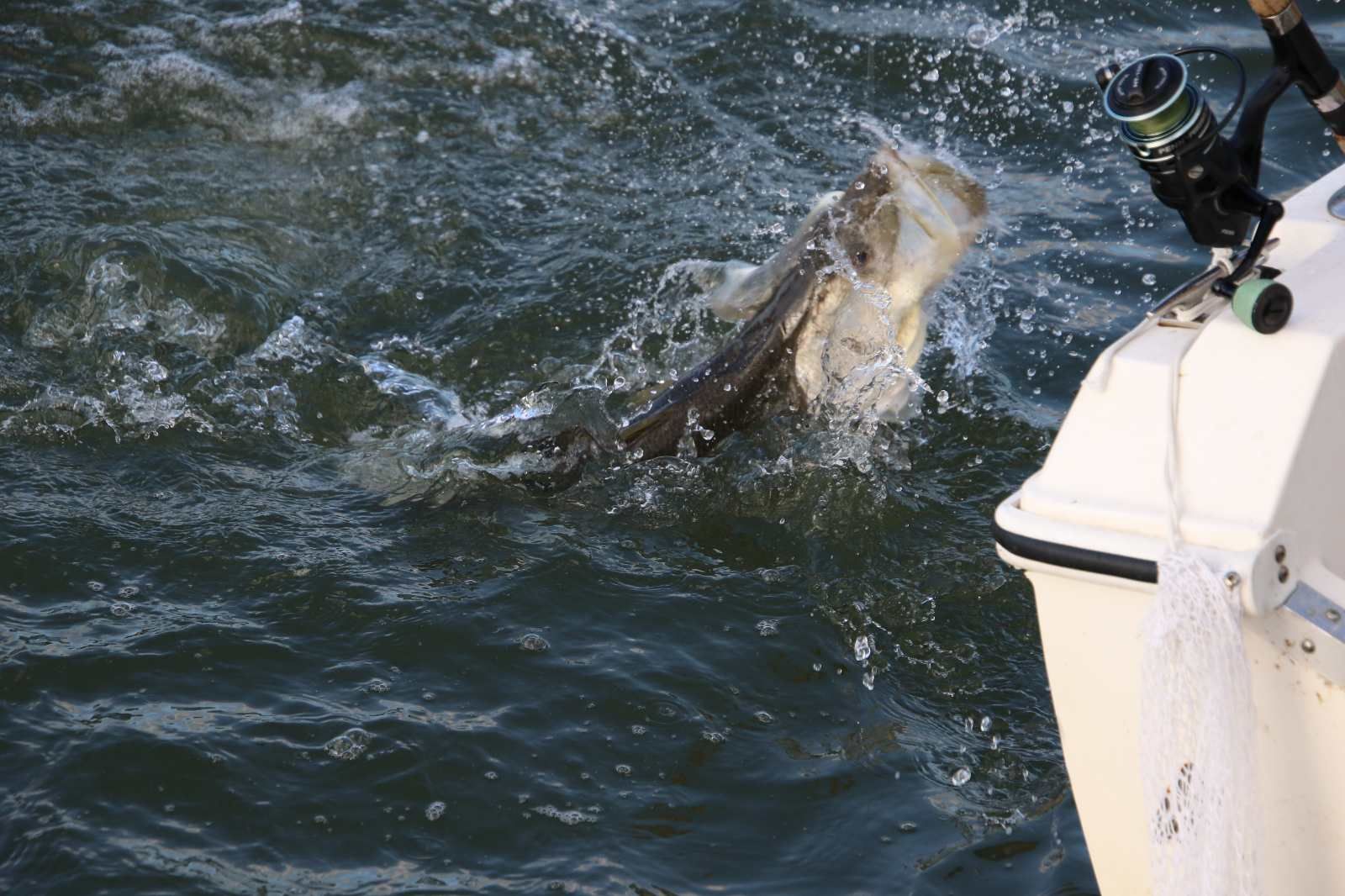 Redfish are one of the most popular Florida game fish because of their propensity to strike artificial lures. Anglers catch this iconic Florida fish year-round in Fort Myers, and they offer a feisty fight as well as good eating. Snook are another prized gamefish. Difficult to fool and tough to fight, a successful day catching snook always makes for great memories. You'll also find other saltwater species such as sea trout, cobia, sharks, kingfish, tripletail, grouper, and snapper. The Caloosahatchee River holds freshwater species, too: largemouth bass, peacock bass, and more. Fort Myers and Cape Coral fishing have lots to offer.
Fort Myers Weather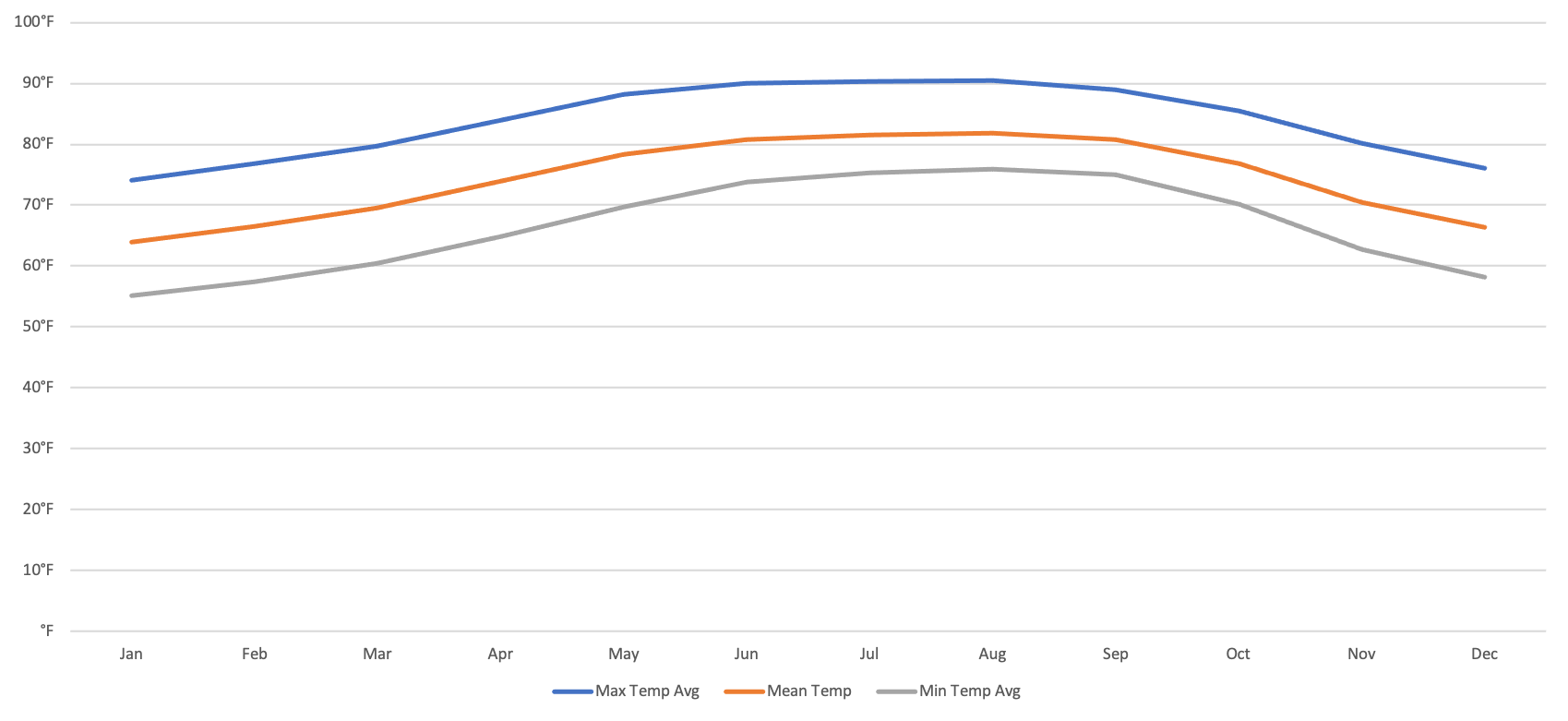 Top 10 Fish Species in Fort Myers:
The top ten fish species you'll catch in Fort Myers are tarpon, redfish, snook, trout, sharks, cobia, grouper, snapper, tripletail, and bass.
Fort Myers Fishing Tips
The location around Fort Myers and Cape Coral is a prime time hotspot for inshore fishing. San Carlos Bay and Matlacha Pass make up the inner fishing grounds bordering the mainland. Pine Island Sound is just west, between a series of islands including Sanibel Island, Captiva Island, and, of course, Pine Island.
The best time of year to catch redfish in the Fort Myers area is between October and March, but these fish are certainly active and worth targeting all year round. During these colder months, it's smart to take advantage of negative tides, during which the water level drops lower than usual. These abnormal tides provide incredible fishing for a couple of reasons. They uncover large swaths of flats, and they push redfish together in shallow water, where it's easier to sight cast when you have eyes on more fish. Negative tides force the reds out of their hiding spots in the trees and into the open, where they're easier to catch.
On a typical redfish trip, it's smart to pay attention to mangrove islands, especially at high and falling tides. Schools of fish often work the bars and flats at low tide. Sanibel Island, Fort Myers Beach, and Captiva Island are a great place to start. Chunks of ladyfish or live pilchards are a great bait to start. Another tip to remember is that if your engine is too loud or your boat is creating decent-sized waves, you will probably scare away the redfish. Experienced captains and local Fort Myers fishing guides have specialized boats, trolling motors, and equipment to deal with this.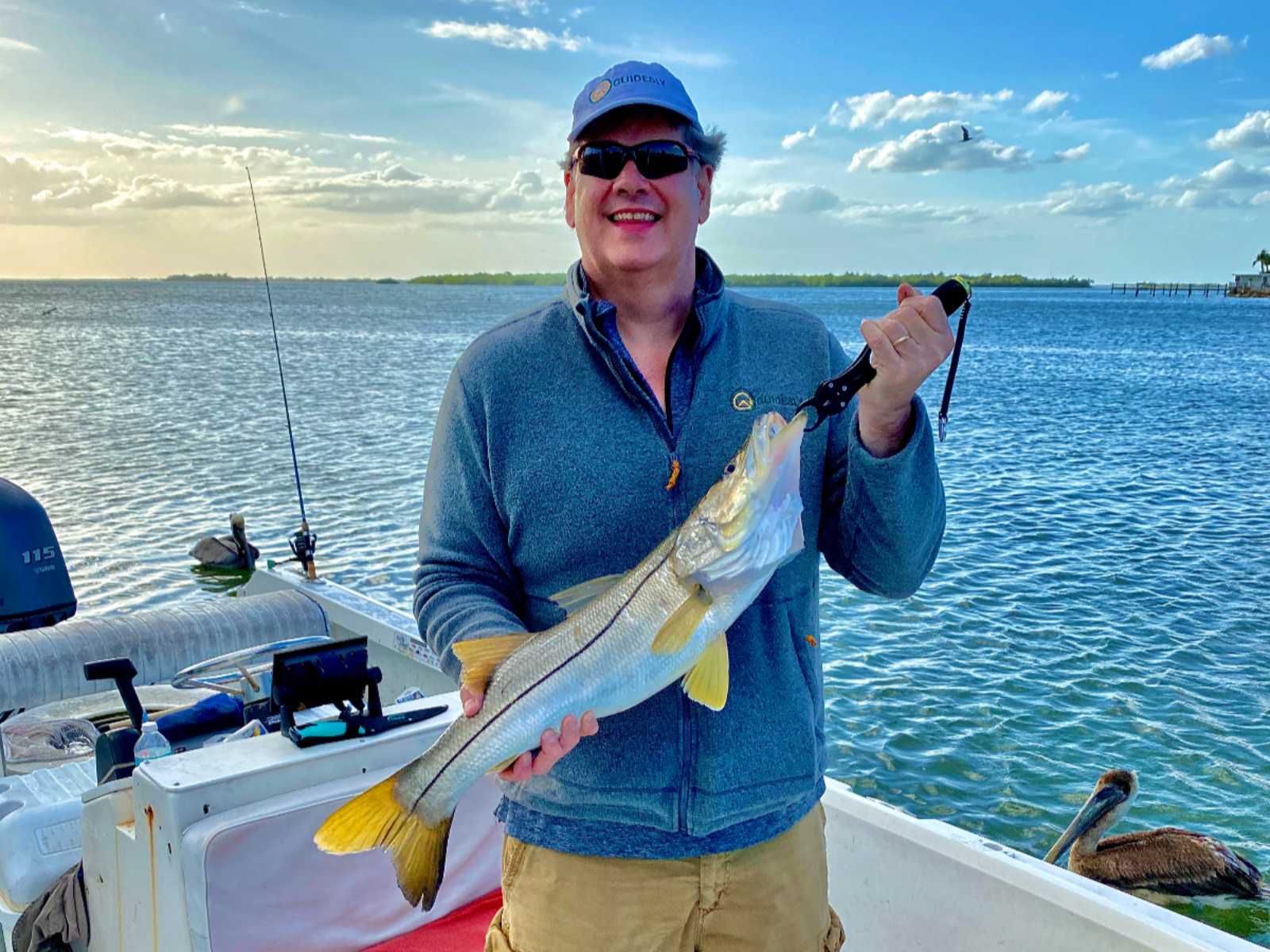 During the early spring, snook migrate from deepwater holes to the mouth of the Caloosahatchee, where they hunt bait. During the summertime, the entire Fort Myers area offers a chance at a trophy: the Caloosahatchee, Pine Island Sound, and Sanibel and Captiva Islands. This is where a Florida State Record snook was caught, weighing in at 44 pounds, 3 ounces. Fly fishing is especially popular for snook, and locals believe it outfishes other techniques by a significant margin. Popular snook flies include Clousers, Deceivers, or a Crystal Schminnow. When you see a snook, cast far enough in front that you won't spook it. For anglers using spinning or conventional tackle, when fishing for snook along the mangroves, you should make sure to use braided line because a big snook will often run into timber during the fight. Swimbaits and white bucktails are always a great starting point. Fort Myers is surrounded by great snook fishing.
At the beginning of April, when water temperatures start to rise, residential tarpon emerge from the Caloosahatchee. The Fort Myers area has some large residents, around one hundred pounds, that lay up in the backcountry. With the first migratory tarpon arriving in mid-April around Knapps Point off Sanibel Island, the tarpon migration is in full swing in Fort Myers by May. Thousands of tarpon school in about 20 ft of water. These giant fish up to 200 lbs are on their way to Boca Grande. When tarpon are schooling and you spook one or a few, this can create a domino effect and spook the entire school, so be careful. Crabs, shrimp, and live or dead sardines are the simplest tarpon bait. You can also use DOA Shrimp, MirrOlures, Pinfish, and Bagley Finger Mullet. On top of that, many Fort Myers fishing charters specialize in catching them on the fly, which is a once-in-a-lifetime experience.
It's a great time to catch tripletail during Florida's stone crab season from mid-October to mid-May. During this time, crabbers place hundreds of crab traps just off the Gulf beaches, which attracts tripletail. Use baitfish and shrimp patterns, and seek out older-looking pots with vegetation growth for the most success.
Fort Myers Seasonal Fishing
Fort Myers fishing is known for its year-round diversity of species and potential to catch a trophy fish all year round. Fishing for redfish in Fort Myers is hottest from October to March, but it's a world-class red drum fishery throughout the year. Tarpon fishing is best during the spring and summer, and the same goes for snook. Snapper and grouper fishing in Fort Myers is hot all year round, as is barracuda fishing. There are always Fort Myers fishing charters running, and the area has top-tier fishing guides and captains specializing in every trophy game fish.
Fort Myers Fishing Spots:
Estero Bay
San Carlos Bay
Matlacha Pass
Gasparilla Sound
Pine Island Sound
Big Carlos Pass
Boca Grande Pass
Tarpon Bay
Fort Myers Fish Species Seasonality