While not a native, I'm proud to have lived in Massachusetts for most of the last 40 years.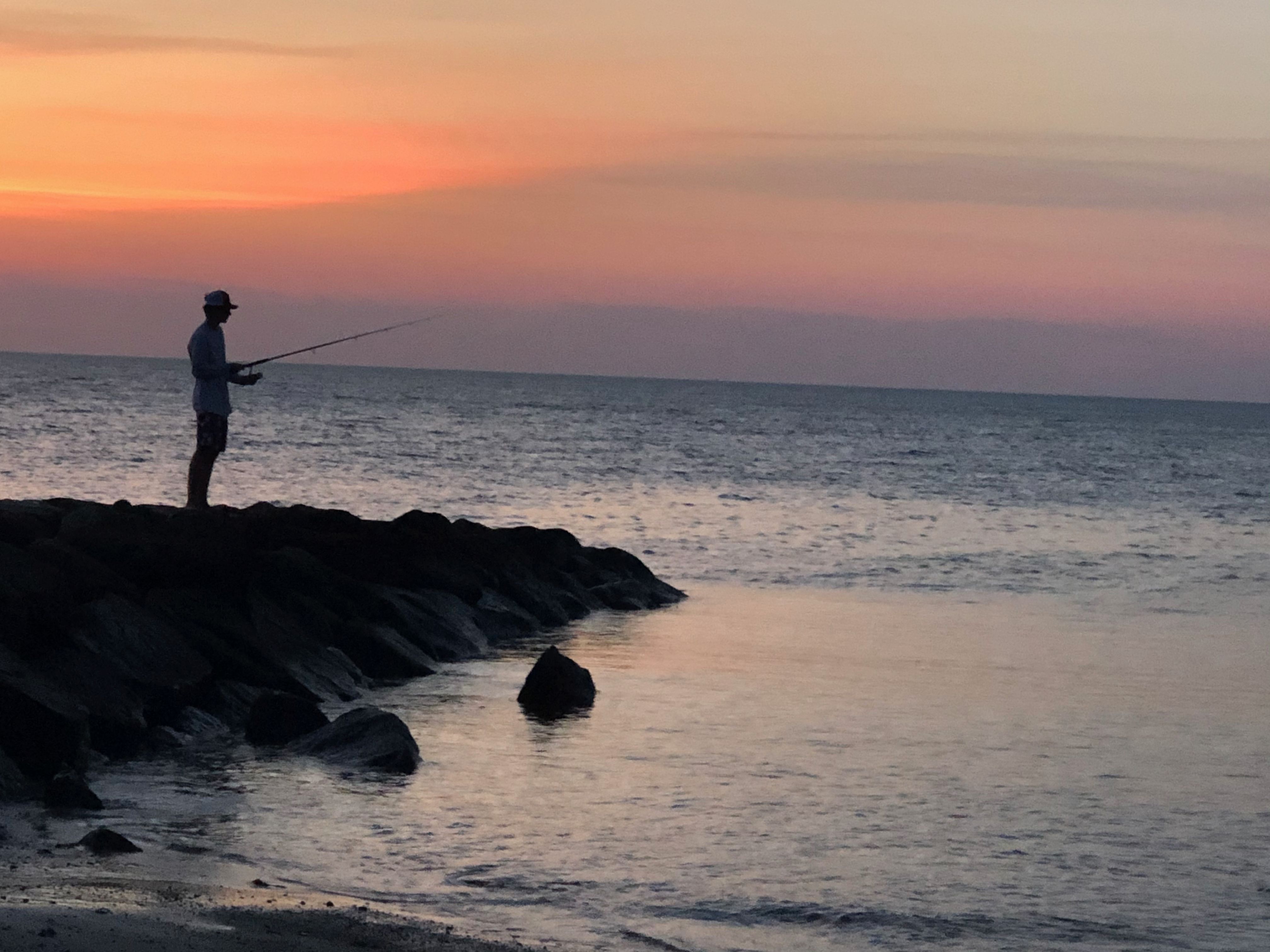 One of the many things that attracted me to the Commonwealth nicknamed "The Bay State" is its close connections to the Atlantic Ocean. While Massachusetts is only 110 miles long from north to south, the numerous curves along its coast translate to 1,500 miles of ocean shoreline – in short: an angler's paradise.
While other states tout strong maritime histories, as one of the first colonies: Massachusetts has long been a known as a national leader in commercial and recreational fishing, as well for aquatic best practices and sustainable marine fisheries, to protect and grow its diverse collection of ecologically and economically important saltwater species.
Daniel J. McKiernan, Director of the Division of Marine Fisheries of the Commonwealth of Massachusetts succinctly sums up fishing in the Bay State:
"Massachusetts has some of the best recreational fishing in the country with some at all-time highs (haddock, black sea bass, and scup), some in need of conservation (striped bass and bluefish), and one (cod) that needs all the help it can get."
Cape Cod-- Here I Come!
After months of shutdown because of the COVID-19 virus, I recently took a quick vacation to my favorite getaway location in my favorite state: to Cape Cod – the hook-shaped peninsula where Bostonians escape in the summertime to decompress and relax!
Having been vacationing on the Cape for decades, I know it well and decided to squeeze in a half-day charter fishing trip on during a 4-day visit last week (Late July 2020).
While I had lots of home ports to choose from I picked the Cape's largest harbor Hyannis bordering on Nantucket Sound, the historic waterway that stretches from the mid-Cape's southern shore out to the islands of Martha's Vineyard and Nantucket.
Having read good reviews and "thumbs up" input from friends, I chose to go fishing with Helen-H Deep Sea Fishing-Day Tours (one of Cape Cod's most experienced providers of fishing charters and day tours).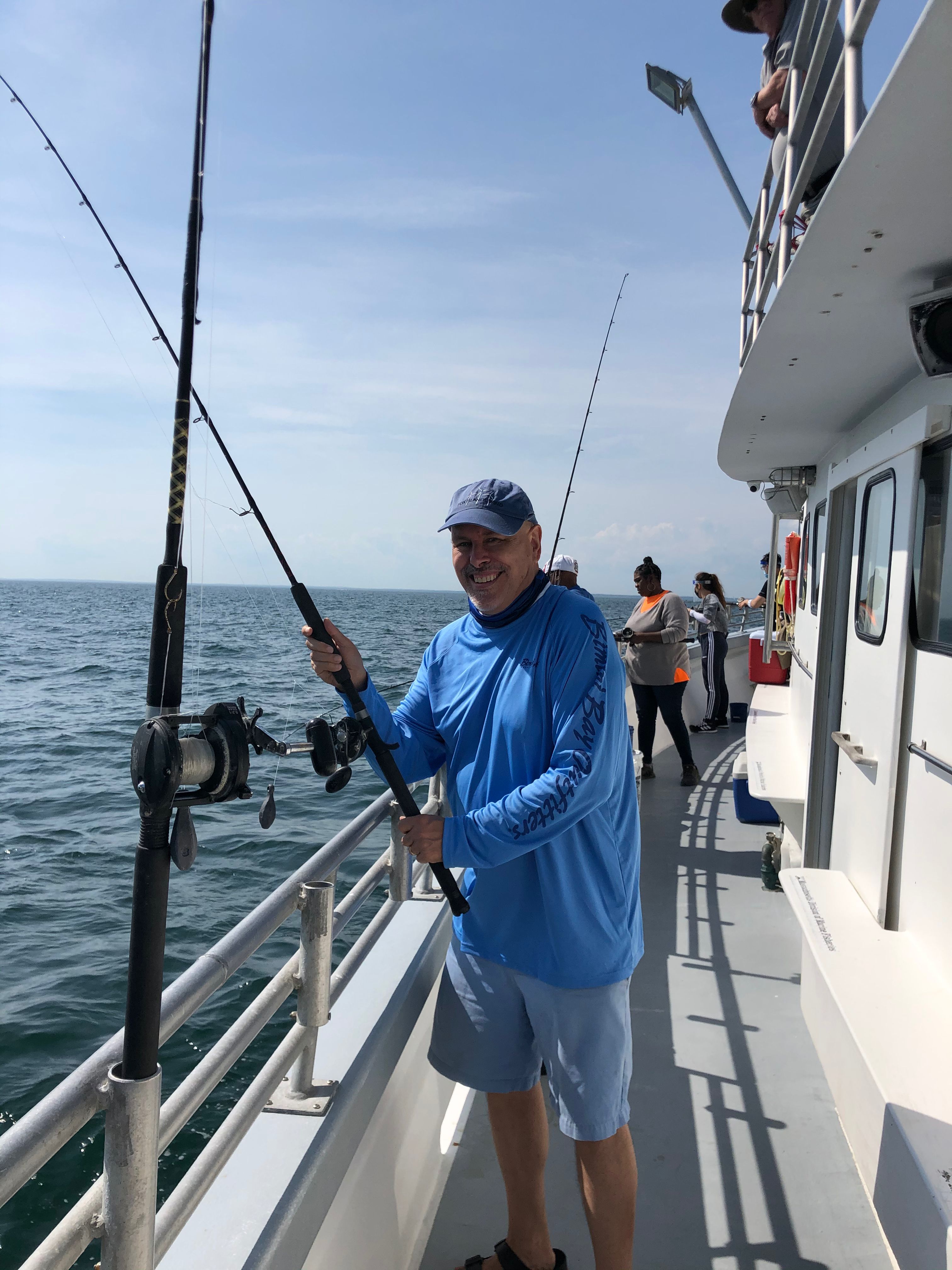 Based out of Hyannis harbor, Helen-H operates an armada of 5 vessels ranging in size from 30' to 100' feet long, accommodating groups of all sizes (from small parties, all the way up to a party boat with room for 100 people).
In order to provide a range of different fishing experiences, Helen-H offers a range of boating options (that range in duration, as well as fish species to catch. From half-day in-shore excursions to multi-day deep water voyages -- boats from the Helen-H fleet reliably ensure that customers can catch a variety of fish, including cod, haddock, fluke (also known as summer flounder), black sea bass, scup (also known as porgy), as well as long-range Tuna.
Because I had limited time available and wanted to practice #responsiblerecreation (through social distancing), I opted for a 4-hour trip to catch black sea bass and porgy on the Angler (the company's 75' charter boat). Designed to handle between 12 and 60 people for fishing, whale and seal watching, and "Sea-Faris," our group was comfortably small – just 20 anglers.
A modest total fee of $77.00 secured me a broad berth on the boat, rental of a 3-way rig fishing rod, a brimming bucket of bait (chopped clams), and an invigorating tour of the Sound, complete with stops at four different offshore fishing locations before our return to harbor four hours later. Conveniently, as I was fishing on a for-hire charter boat, I didn't have to purchase a $10 Saltwater Fishing License from the MassDMF.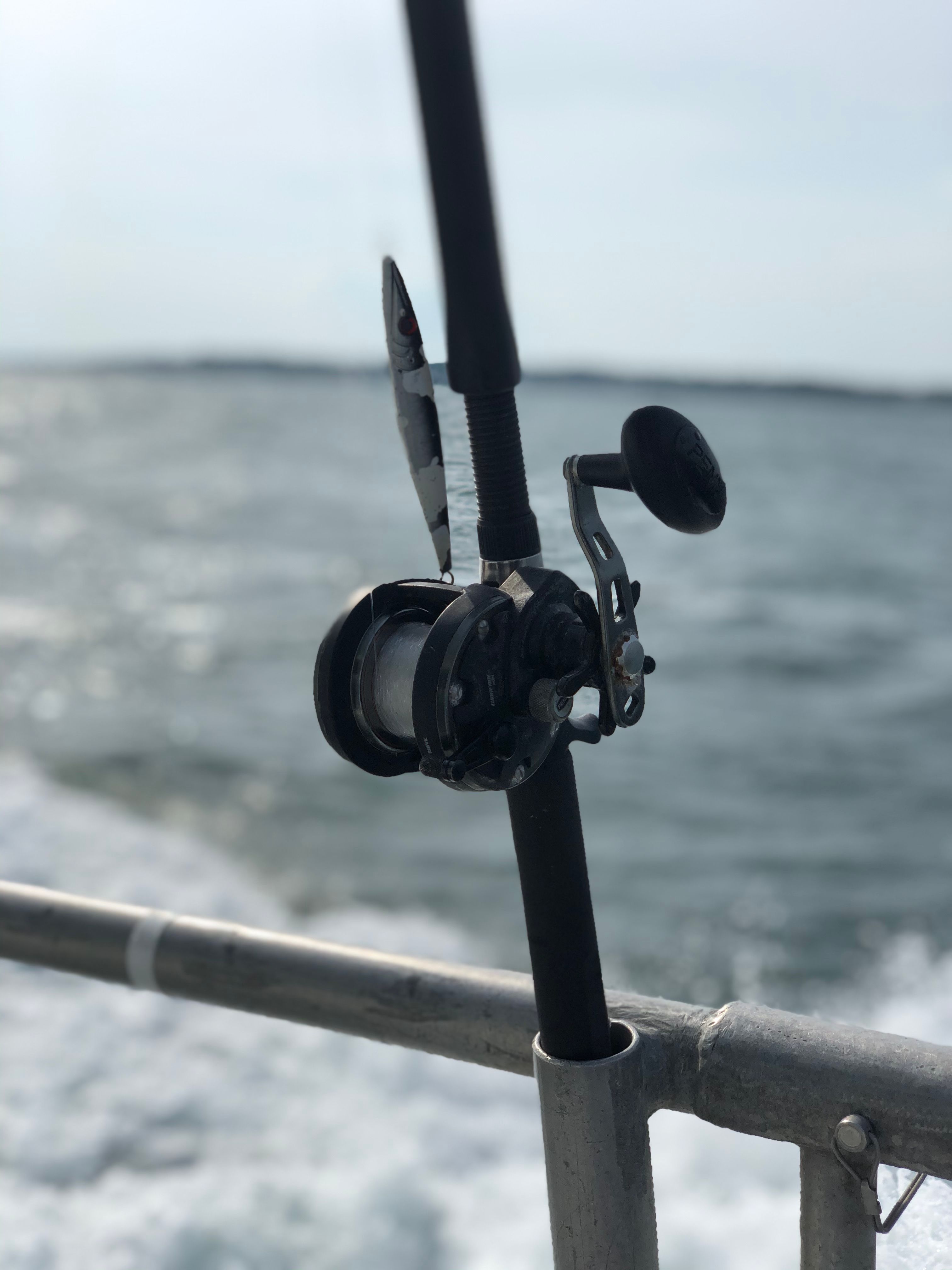 At the helm was jolly and knowledgeable Captain Steve and his two cheerful mates who were readily available and helpful. I was particularly impressed at how patient the mates were with first timers in teaching them how to bait their hooks, untangle and drop a line, retrieve and unhook their catches. As an added service, the mates will clean and filet what you catch and keep (for a reasonable fee of $2/fish).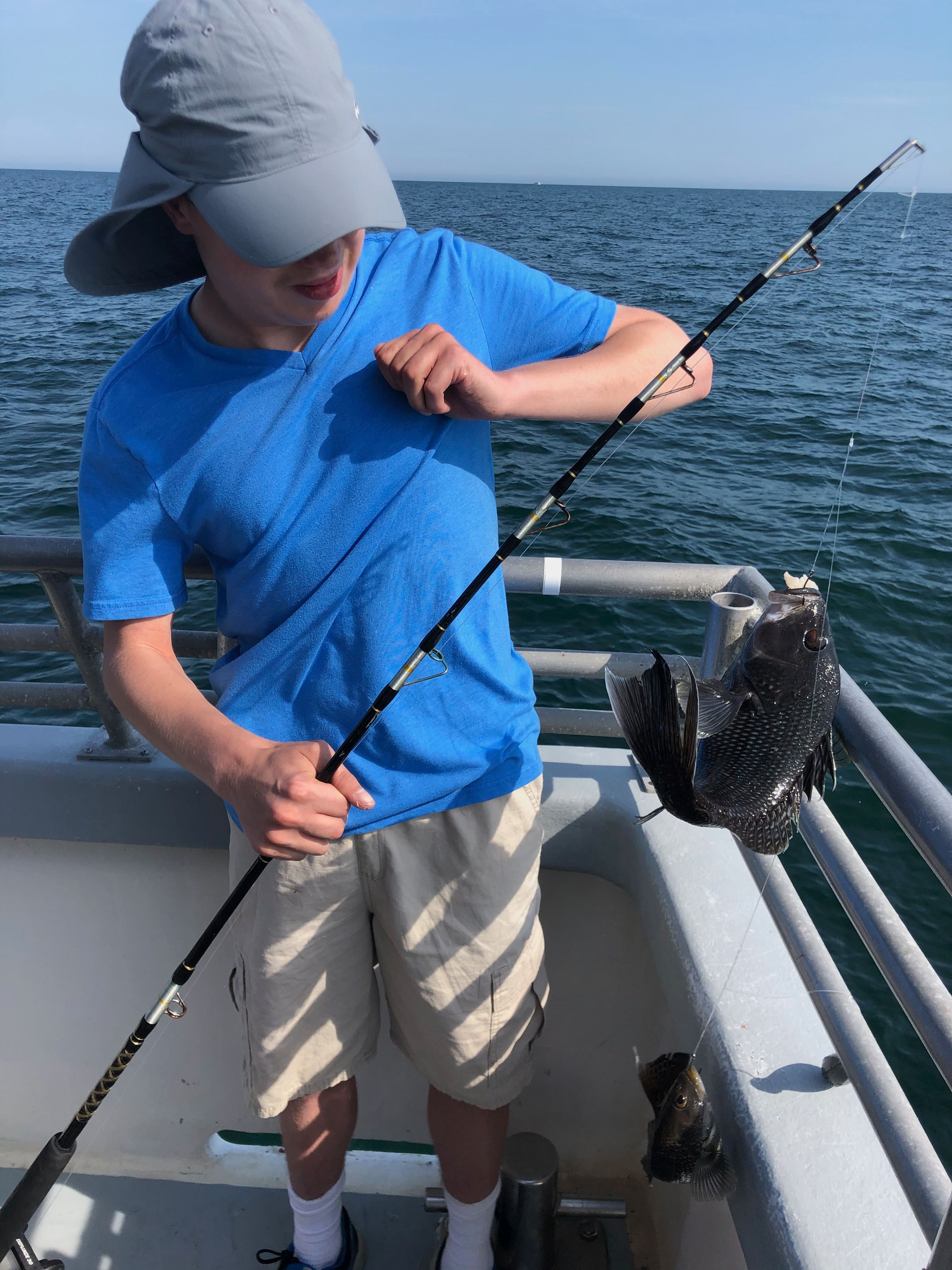 **Checklist: What to bring on a Cape Cod Saltwater Fishing Charter: **
Clothing: Since temperatures out on the water can vary depending on weather, time of day and season, it's a good idea to bring an assortment of clothes (so you can dress in layers if need be). I brought a long-sleeved fishing shirt with UV protection, a short-sleeved t-shirt, short and long pants, as well as a windbreaker).
Wide-brimmed hat or baseball cap, and sunglasses are must-haves to protect you from the sun
A towel to sit on, and a hand towel (to wipe your hands after you handle fish)
Sunscreen and lip balm
Large water bottle and canned cold drinks
Snacks
An empty 5-gallon All-Purpose Bucket (from Lowes or Home Depot) is perfect to contain fish you catch and take your catch off the boat when you disembark. If you're planning on catching lots of fish, you may want to bring a cooler filled with ice.
Last but not least: While you won't need your wallet, it's a good idea to bring some small bills ($5 and $10) as you'll want to tip the crew as you get off the boat.
What a Catch!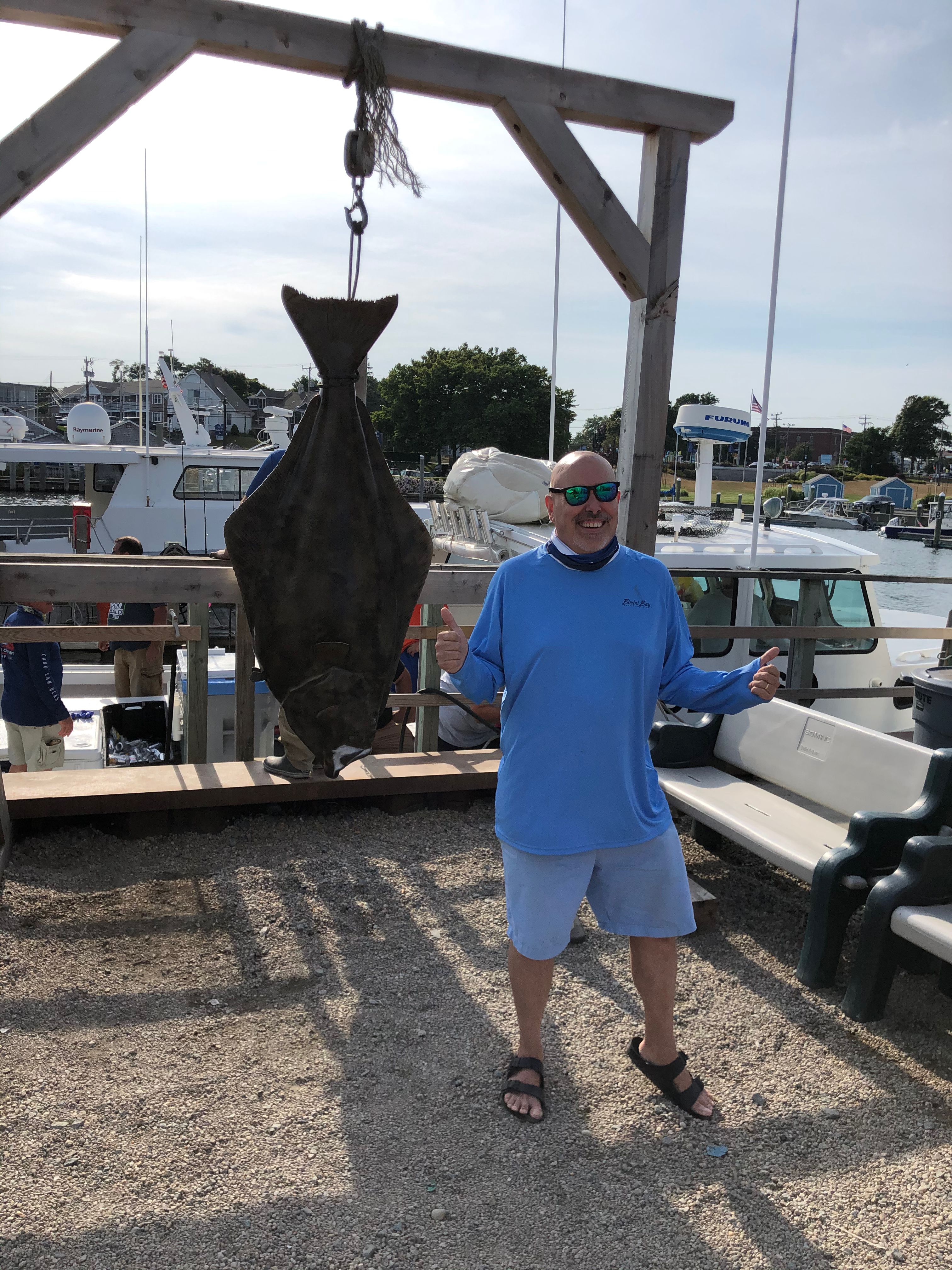 My summer Cape Cod fishing trip was one to to remember and judging by the huge haul that my fellow anglers caught and took off the boat – they'll be eating fish for weeks!
If you love saltwater fishing and are interested in catching a range of different species, I HIGHLY RECOMMEND Cape Cod as a place to go!
Be a Responsible and Informed Angler:
If you do travel to Massachusetts for a fishing adventure, please follow these guidelines from the Massachusetts Department of Marine Fisheries on "how to be responsible and informed angler":
Avoid catching fish out of season
Abide by the conservation rules
Release any fish you won't use
Improve your release methods (Avoiding J hooks in favor of Circle hooks with reduce injury and mortality rates of fish you throw back)
Report Poachers
Cooperate with recreational survey samples (including acoustic tagging)
Treat your keeper with the respect it deserves and become a better chef
While planning your pilgrimage to Massachusetts, be sure to visit this webpage on the MassDMF site for current Recreational Saltwater Fishing Regulations. The site is the definitive resource for up-to-date information on prohibited and permitted species you can catch, as well as size and possession limits.
If you are coming to the Commonwealth, let us know about your experience and tight lines!
Fish on!!