Choose Your Fishing Experience
Montauk is home to two kinds of fishing: heavy tackle fishing via boat fishing and surf casting. Depending on what kind of fishing you want to do, it will change your targets. Different fishing charters mean different specialties. Finding the right fishing charter in Montauk is crucial to make the most of your time there.
Montauk Point and the Montauk Marine Basin are the perfect places for you to practice surf casting. The two aforementioned areas are filled with stripers, false albacore, and some tautog. But if the conditions are right, you'll even have your chance to haul in a bluefish or a bluefin tuna. Anglers usually go surf casting from October to December since most of the fish retreat inshore when it gets cold. Like the sharks, however, you'll need a special permit to bring home some of the tuna. Bluefin tuna are considered vulnerable species.
Heavy tackle fishing might just be great in Montauk. These fish are the kinds that have an insane amount of stamina. You'll be taken to the open waters via boat and tango with the sharks. In Montauk, they have something known as the Big Three or the Triple Threat: the aggressive shortfin mako shark, the elusive thresher shark, and the beautiful blue shark. To get to them, however, you'll need to talk to some fishing charters that can take you out past Montauk Point. Unfortunately, you can't bring these sharks home. The shortfin mako shark is currently considered a vulnerable species, so only catch and release are allowed. If you're lucky, you'll have a chance to get a shot of the great white shark.
Best Time to Fish in Montauk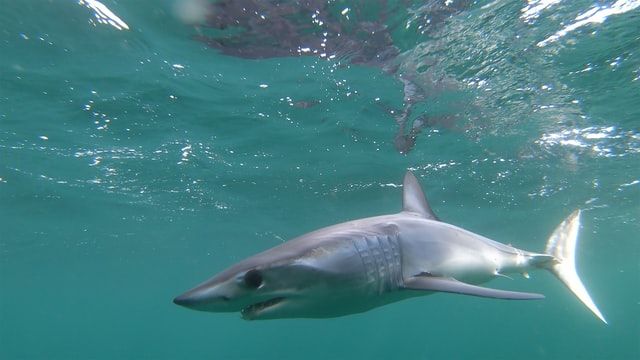 The kick-off for Montauk's fishing season is usually around June, especially since they're strict in following conservation rules. Many anglers would advise picking your targets before heading to Montauk so that the trip isn't wasted. Fishing isn't always available year-round in Montauk, especially if you aim for the big game fish.
Bluefin tuna: These fish usually pop around June to July. However, these are usually the smaller ones. But Montauk can be quite strict about these fish. If you plan to go fishing for bluefin tuna, make sure you either have a permit or abide by the catch-and-release policy of Montauk. Come around early July, and the sharks will come out to play.
Shortfin mako shark: The poster shark of Montauk, this aggressive shark comes out around August to September when the temperature is best for them. Although they're usually out as early as June and until October, August and September are the best times to fish for them. A hammerhead shark might even accompany them.
Thresher shark: This elusive shark comes out more from June to the middle of October. Usually, the thresher shark follows right behind the shortfin mako shark and the blue shark around those months. If you're planning to haul in one of these, anglers recommend using a mackerel found in Montauk waters. Make sure there's no hook. Slowly troll it along and when it comes to the kill, let it jump for it.
Striped bass: Just because it's cold doesn't mean fishing stops. All the fishing heads inshore. Gather up your gear for surf casting to catch a striped bass from an exciting stripers blitz from October to December.