Fishing in Montauk, New York
As one of the most historical fishing hamlets, Montauk is home to a large fishing fleet. People who aren't familiar with Montauk waters will have no problem finding fishing charters who are familiar with the Montauk waters. If you even want to go scout for Great White Sharks, there's probably a fishing charter that can help you go shark fishing and help you work your heavy tackle fishing technique. Because if you're planning to tango with those fish, the only way to do it is via Boat Fishing.
Heavy Tackle Fishing is what allows anglers to duel with the big fish that swim around Montauk waters. Bringing light tackle will have people crying over their precious rod because these fish put up a hard fight. Heavy Tackle Fishing requires industrial-grade equipment. You're going to need equipment that can take a beating and can last long fights. You'll need a reel that won't jam and a fishing rod that won't snap from the sheer weight of the fish. It's not just strength that's in question but their ferocity as a fighter.
If you're a big fan of Steven Spielberg's work in Jaws, now's your chance to relive it here in Montauk. Montauk waters are loaded with sharks. Among the locals of Montauk, they even have three species of sharks that form the Big Three or what some like to call the Triple Threat. The Mako Shark is the Triple Threat's poster shark. Gifted with human-like intelligence and superhuman acrobatics, the Mako Shark is one of the most aggressive shark species and spends almost 80% of their lives eating. If you don't want to be part of their buffet, do keep your bloody or chum-soaked body parts out of the water. They like feeding on Tuna, Squid, Billfish like Blue Marlin or Swordfish, and maybe an occasional dolphin.
The second member of the Triple Threat is the Blue Shark. Unlike the Mako Shark, the Blue Shark's fame doesn't come from its ferocity. Rather, its fame comes from its beauty. Considered one of the most beautiful among the sharks, the Blue Shark is a dazzling sight to behold especially because of its bright blue color and its well-defined fusiform (torpedo-shaped body). Anyone who goes shark fishing for the Blue Shark will be in for some eye-candy. Montauk takes pride in being home to the world's biggest Blue Shark which was last found on August 9, 2001, by Montauk's Joe Seidel.
The Thresher Shark is the third member of the Triple Threat, known for having a large tail. With a tail so large, it's no surprise the Thresher Shark earned the nickname the Swiveltail. Usually, in Montauk, people would go with a heavy tackle cast and reel. However, there are other ways to catch it such as via trolling. Unlike the other two sharks, the Thresher Shark is known for its rarity. Not many people have brought this fish up onto a boat or caught one. So, catching a Thresher Shark will have some members of the angling community turning their heads when they find out. In Montauk, catching a Thresher Shark takes a lot of time and practice that some fishing charters do specialize in catching them.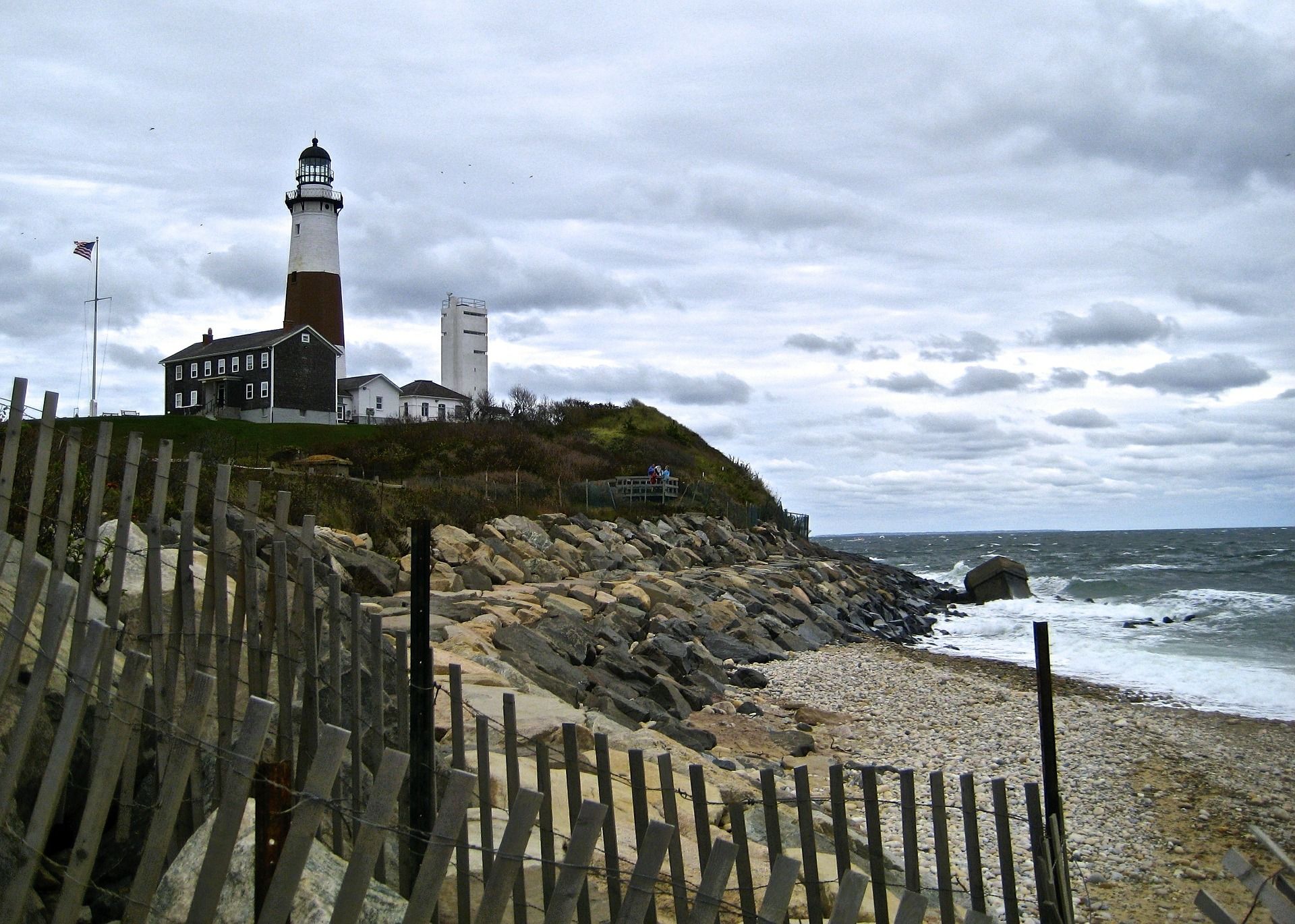 But those aren't the only sharks out there. Other sharks include the Hammerhead Shark or even the mighty Great White Shark. However, Great White Sharks are being strictly protected. Due to their existing reputation as voracious eaters and highly aggressive creatures (even though the Mako has a shorter temper than it does), some anglers enjoy the thrill of fishing them out a little too much. Sometimes, the Great White Sharks can become victim to finning which is why Montauk now has a strict regulation on them. While you can't fish them out of the water, you can do some photo fishing. Throw some chum in the water, let them come, and snap a photo of them the moment they emerge from the waves with their large jaws. Just, don't let any of your body parts hang away from the boat unless you're ready to lose one of your limbs.
Montauk takes pride in two kinds of fishing: boat fishing and surf fishing. Boat fishing is when anglers bring their equipment on the boat with a grand target in mind. If you're going to Montauk, most of the ones who avail of boat fishing are veteran anglers. These are the people who have competed in the Montauk Marine Basin Shark Tournament and find the thrill in tagging the biggest shark they can find. They are only allowed to keep one shark, however. The rest, people tag them and take down measurements to help research groups in Montauk promote awareness and conservation of sharks.
Surf Fishing is one of the most beloved inshore fishing activities for Montauk anglers. Head over to the Montauk Lighthouse and park there before heading down to the rocky areas. The Montauk Lighthouse is known as the home of America's favorite fish: the Striped Bass. Especially during what they call the Striper Blitz, anglers say that the water can become so thick with Striped Bass that they can walk on the water. For inshore fishing competitions, there's the Montauk Surf Fishing Classic for veteran Surf Casters. For boat fishing, there's the Montauk Mercury Grand Slam especially if you want to show off your skills catching Fluke and Striped Bass.
The Top 10 Fish in Montauk, New York
The top 10 fish in Montauk, New York include Striped Bass, Fluke, Mako Shark, Blue Shark, Bluefin Tuna, Tautog, Bluefish, Thresher Shark, Albacore Tuna, Bigeye Tuna.
Seasonality of Fishing in Montauk, New York
According to anglers, Montauk can be quite seasonal so planning ahead for your trip is a must. Deep-Sea Fishing opens up in late June, starting with the Bluefin Tuna. Catch some Bluefin Tuna but release them back to welcome the month of July. The month of July is the best time to go offshore. While there's tuna, that means the bigger sharks come out to play. Remember however that Montauk has a strict catch-and-release rule especially about some endangered species like the Mako Shark, the Bigeye Tuna, and the Thresher Shark.
Top 5 Fishing Locations in Montauk, New York
Block Canyon - Also known as the Fishtails, go there if you're looking for some action. The waters here have sharks that will give you a run for your money.
Montauk Point - Specifically, head to the place known as The Elbow. Striped Bass and Bluefin Tuna are more than happy to be your swimming partner. Just watch out for the strong currents.
Montauk Marine Basin - Known as the source of all marina in Montauk, Montauk Marine Basin. There's a good chance you'll see a Black Sea Bass, a Tautog, and a Striped Sea Bass from May to December.
Montauk Lighthouse - Looking for some Albacore Tuna and Striped Bass? Head down to Turtle Cove if you want to do some Surf Casting to catch them.
Camp Hero - According to anglers, if you want a good fight, this here is the best place to get it. Striped Bass and Bluefish are up there biting.