Port Isabel Seasonal Fishing
It is best to start the year fishing for redfish in Port Isabel. From January to February, Port Isabel waters are teeming with redfish. Trout are a common choice, especially if you use spoons and jigs as lures. Though March may no longer be the season for redfish, flounder and trout take their place. Anglers can have fun doing inshore fishing at this time of the year.
In April, anglers may target sea trout and redfish again around the flats. However, the best species to lure in at this time of year are the black drum and the blue marlin. This month is auspicious for anglers who love offshore action. May is in for some inshore challenges – at this point, Port Isabel's waters are teeming with redfish, sea trout, and tarpon. This marks the beginning of the tarpon season.
During June, the season for red snapper commences. This is the peak period for wahoo, yellowfin tuna, and mahi mahi. The season continues for these species until July. Moreover, this month brings in other species, including amberjack and tuna. Inshore fishing for tarpon becomes a huge activity at this time.
August is usually fully booked for the Texas International Fishing Tournament (TIFT). This fishing season is best for inshore and offshore fishing targeting amberjack, wahoo, mahi mahi, and tuna. September is the abundant month for flounder, snapper, redfish, tarpon, snook, and speckled trout.
October is a great month for offshore fishing. This period offers an unlimited catch for tuna. In November, it is yellowfin tuna for offshore and redfish for inshore fishing. Lastly, the year may end in cold December, but the fishing action remains with black drum, redfish, and trout aplenty in Port Isabel's waters.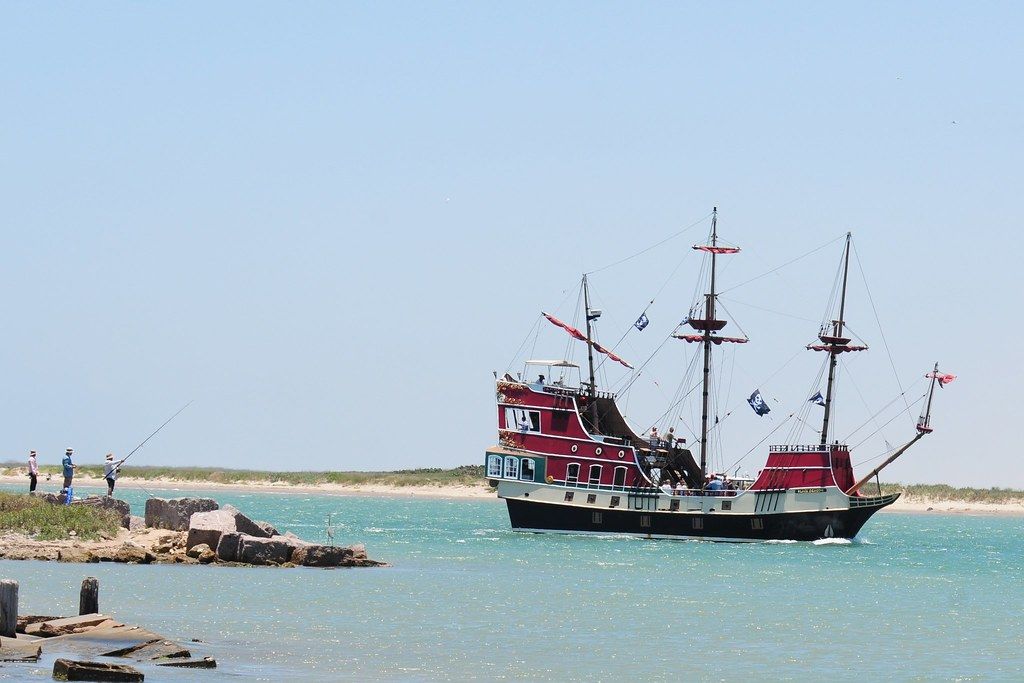 Port Isabel Fishing and Beyond
1.Fishing Charters
Port Isabel is one place where you will never run out of fishing charter options. They have anything - from anglers looking for an adventure at sea to charters catering to families with kids. Just take your pick!
2. Black Dragon Cruises
You should never leave the city without hopping on this pirate ship. The cruise includes face painting, mock cannon battles, water pistol fights, sword duels, and treasure raids. On top of all these, there will also be a dolphin-watching activity.
3. Historical Museums
Visit historical museums like the iconic Port Isabel Historical Museum. The face of this museum shows a sea creature and fish mural that was painted in 1906.
4. Port Isabel Lighthouse
Visitors to Port Isabel should not miss going to the Lighthouse; it has been acknowledged as a Texas Historical Commission State Historic Site. Constructed in 1852, this breathtaking landmark gives a beautiful view of the places around the city, including South Padre Island, Boca Chica, the Gulf of Mexico and SpaceX, and the Queen Isabella Causeway. Sadly, the Lighthouse is currently closed due to the pandemic.
5. Top Beaches
Topping the list is South Padre Island, known for its clean shores and crystal clear waters. Kitesurfers frequent Bayside beach, while Sons of the Beach is always full of beach lovers looking for all-day fun on the seaside.
6. Unique Shopping Experience
Shopping at Port Isabel can be quite an experience for tourists. Many shops offer chainsaw-cut wooden pelicans, handmade ceramics, customized t-shirts, jewelry, and even some fine art.