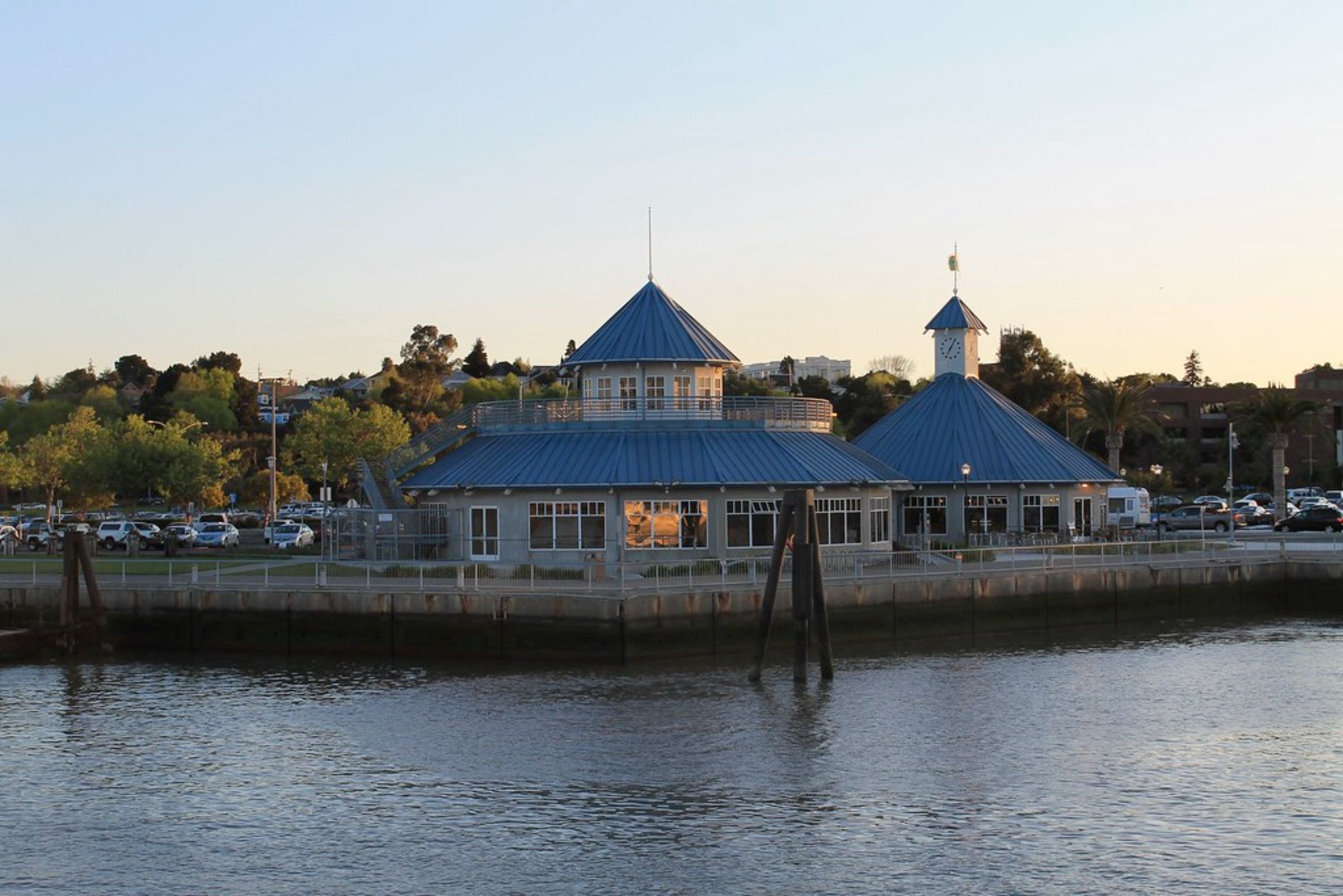 Vallejo Fishing
The Napa River watershed hosts thirty native fish species, of which some are considered endangered or threatened. These include popular game fish that anglers often seek including steelhead (rainbow trout), migrating chinook salmon chinook salmon, tule perch, and Sacramento splittail. It's been theorized that this river used to see thousands of steelhead and coho salmon do their migratory runs up until the 1960s. Today, silver salmon are nonexistent and rainbow trout have rapidly declined in number.
Various other factors have caused a change in the aquatic ecosystem in both Napa River and the waters surrounding the state of California. The introduction of non-native species and gradual modifications of the aquatic habitats have resulted in deeper waters, warmer temperatures, and slow currents. The species living in the area have gradually changed to favor predators, some of which are exotic to the area, such as largemouth bass.
Today, Vallejo Promenade or Vallejo Waterfront is the best place to post up for fishing in the thin stretch of the Napa River between Vallejo and Mare Island. This long stretch of paved walkway has multiple access points starting from Independence Park on the southern tip to River Park up north.
If you're looking for a spot and feel up to an invigorating walk, you can start at Independence Park and head northward along the Mare Island Straits. You'll come across a ferry building with a dock, and if you see some anglers, you may want to join them for a chance at some undersized striped bass, staghorn sculpins, and starry flounder. If you're lucky, you might be able to snag a few jacksmelt and bat rays as well.
Since the waterfront has been classified as a public fishing pier, no license is required to cast your line in the water. If you're here for the striped bass, we suggest using anchovies, grass shrimp, ghost shrimp, staghorn sculpin, or pile worms on a sliding leader. Although there has been talk that you can land a white sturgeon from the public fishing pier here, these instances are very rare. Regardless, it doesn't stop anglers from casting out and trying to land them.
San Pablo Bay, on the other hand, is more known for its white sturgeon fishing, especially in the infamous Sturgeon Triangle, which is just across Vallejo on the western side of the bay. The Triangle is unofficially marked by the "pumphouse" towards the north and east of Hamilton field; China Camp to the southwest and Buoy 5 to the southeast.
Vallejo provides an excellent starting point to head towards the Triangle or anywhere nearshore within the San Francisco Bay. In the spring, white sturgeon can also make their way up the channels of Suisun Bay or the shallows of San Pablo Bay nearby Vallejo. However, it's when the winter weather cools down the bodies of water and makes it turbid that attract these giant fish to hunt in the bay.
Most seasoned anglers use a variety of baits, but when in San Pablo Bay hunting for white sturgeon, the most commonly used are mud shrimp. Other baits such as grass shrimp, ghost shrimp, herring, salmon roe, worms, and lamprey eel can also be fantastic baits. Some patience is needed when on the lookout for white sturgeon as they are picky eaters, and very difficult to catch.
However, one thing to watch out for in San Pablo Bay is what has been referred to as the "mud walk of shame", while going out for sturgeon. Since sturgeon tend to feed at the start of a fading tide, anglers often try to catch them during this tricky time. And while it may prove to be very productive, if one stays out too long, you can be left pushing your kayak or vessel back to shore through the mud. It's important to not let the water depth reach any less than two feet, calling it a day before the tide becomes too shallow.
When fishing the shallows in San Pablo Bay, the fish are more selective and finicky and need light tackle to handle. Although you'll have better chances of landing striped bass in the warmer waters closer to Vallejo, you should be prepared for a fight if ever you accidentally snag a sturgeon since both fish are attracted to the same kinds of bait.
Now, while the San Pablo Bay and Napa River are familiar to most serious anglers, Lake Chabot at Dan Foley Park in Vallejo holds its own as a fishing destination. Lake Chabot Reservoir was constructed in 1874 – a 315-acre lake that was first used as a source of water for the East Bay and was closed to recreation until the 1960s. Today, the lake still acts as an emergency water supply and while open to the public, there are strict regulations in place to ensure water quality.
Every spring, there is an annual fishing derby where anglers from all around the region stop by these calm pristine waters that are stocked with rainbow trout and channel catfish during the season. You'll find trophy-sized largemouth bass and black crappie here as well. You can fish from any of the lake's numerous fishing piers or you can rent a canoe or boat but take note that powerboats are not allowed.
Out here, trout is the name of the game especially between Indian Cove and Raccoon Point. Trolling nightcrawlers with a set of flashers and a swivel with 18 to 20 inches of leader in between is a recommended tackle. Others have found that using an unweighted steelhead patterned lure while trolling is also effective. If you prefer bait fishing, a sliding-sinker-rig with a small-sized treble hook baited with nightcrawlers or dough works well. You can use the same bait for channel catfish although chicken liver, anchovies, or mackerel on a size 1 or size 2 hook have been known to be effective.
Top 10 Fish Species in Vallejo, CA
The top ​10 fish species in Vallejo, CA are striped bass, white sturgeon, rainbow trout, channel catfish, starry flounder, leopard shark, largemouth bass, black crappie, Chinook salmon.