South Padre Island: The State's Mecca of Fishing
Aside from the fun activities mentioned above, another way to enjoy the island is through fishing. As any Texan angler would tell you, SPI is truly an angler's paradise as the island offers many fishing opportunities that a novice or expert would certainly appreciate. Well, it's an island—so it's not that hard to imagine why Texans see SPI as the state's mecca of fishing. In fact, late in the summer, the Texas International Fishing Tournament happens here every year where lucky anglers could take home cash prizes that total close to a quarter-million dollars. Other fishing tournaments are held on the island every year including Ladies Kingfish Tournament, the Hooters Tournament, and the Redfish Rodeo.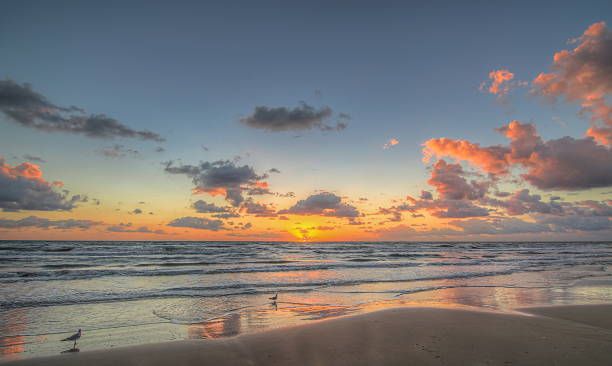 Because it's an island, of course, there are many ways for you to go fishing. One of the simplest ways is via shore fishing where you can target Tarpon, Snook, Redfish, Speckled Trout, and Flounder. You can also choose to fish on the sandy beaches, on piers, or jetties—either way, it's perfect for those who simply want to satisfy their fishing itch without having to go all out.
If you're looking for a bit of adventure or you want to experience the waters around the island without the crowd, you can also try kayak fishing. Yes, even if you don't own a kayak, a South Padre Island fishing guide will be more than happy to point you in the right direction of where you can rent one and where you can paddle out and catch Redfish, Trout, Flounder, Snook, Spanish mackerel, and Sheepshead. If you want your kayak fishing more challenging, you can paddle farther out the Gulf and target a Cobia, Red Snapper, or Kingfish.
Now, if you want a REAL challenge, a South Padre fishing charter may very well be your cup of tea. There are two fishing charter options—one is to join a party boat where you can fish alongside other visitors; while a private fishing charter lets you experience deep-sea fishing with just the captain and crew for company. Of course, the first option will be much cheaper. Either way, fishing charters can open up all the possibilities for you as seasoned fishing boat captains will not only provide you with all the equipment you will need, but they will also take you to where real Gulf monsters like Amberjack, Dorado, Tuna, Marlin, and even sharks can be caught.
South Padre Island's Top Fishing Locations
For you to be able to enjoy South Padre Island fishing the best possible way, we highly recommend getting either a fishing guide or charter a fishing boat. Why? Because how else can you experience hassle-free fishing on the island? Yes, they'll help you get the right equipment, give you helpful tips and techniques on how to catch certain species, and, of course, show you where you can catch them.
Just to give you an idea, here are some of the top fishing locations in the area:
Inshore Fishing can be done three ways—you can do it on the beach, on a pier, or jetties. The following are just some of the most popular inshore fishing locations:
Holly Beach – located just north of Laguna Vista on the mainland, you can do some wade fishing and catch some Speckled Trout, Flounder, or Redfish along its grass beds. Just be careful though as it can also be dangerous, especially for the inexperienced angler as there are holes, drop-offs, soft bottoms, oyster shells, and stingrays here.
Pirate's Landing Pier – situated on State Highway 100 beside the Queen Isabel Causeway, it's the longest fishing pier in Texas where you can catch a variety of inshore fishes such as Trout, Croaker, Sheepshead, Flounder, Catfish, and a lot more. You can also buy or rent fishing gears and supplies at the numerous tackle and bait shops located by the pier.
SPI Jetties – this location is the perfect fishing spot if you're targeting bigger Tarpon, Sheephead, Trout, or

Redfish

without having to set foot on a boat. You can find it at the southernmost end of the island, within Isla Blanca Park. You can also rent or buy all your fishing must-haves on the tackle and bait shops at the entrance.
Nearshore Fishing can be done while on a kayak. With the help of a South Padre Island fishing guide, you can get to these fishing spots while experiencing Mother Nature in all her glory:
South Bay – within its enclave is an eight to nine-mile paddling trail where you'll get the chance to fish for some Redfish, Trout, Snook, Jack Crevalle, Snapper, and Ladyfish along its flats while, of course, having the best views.
Brazos Santiago Pass – sure, you can catch Tarpon, Sheephead, Trout, or Redfish on the jetties beside the pass but doing so in a kayak is a totally different experience as you'll feel like you're one with nature here. Just a word of warning, though: this location, most of the time, is a busy pass that gets a lot of traffic so always be wary of your surroundings when you fish here.
Laguna Madre Bay – a long and shallow body of water at the western side of the island, the bay is home to many fish species including Catfish, Croaker, Alligator Gar, Kingfish, Crevalle Jack, and a lot more. Now, imagine casting your lines in its pristine waters while having the front seat view of a Peregrine Falcon doing a high-speed dive into its waters to catch its lunch; or maybe friendly dolphins keeping you company while you paddle along its waters. Yup, all these are possible while kayak fishing in the bay.
Offshore Fishing can be done via South Padre Island fishing charters. If you want to head far out into the Gulf of Mexico and land some real monsters like Amberjack, Kingfish, Barracuda, Dorado, Tuna, and Marlin, then this is the surefire way to go! Top offshore fishing spots include Port Isabel Reef, Brownsville Ship Channel, Texas Clipper, and some deep-water oil rigs.
When's the Best Time to Go Fishing in South Padre Island
South Padre Island boasts warm weather all year round thanks to the region's mid to semi-arid weather, with average annual temps of 74 degrees. This only means that it's pretty much sunny here most of the time and yes, you can fish here throughout the year. But if you're targeting a particular fish, here are the months when to best catch them:
Tarpon – May to November

Snook, Sailfish, and Bonito – April to December

White Bass – February and May

Red Snapper – June and July

Dorado, Striped Bass – May to June

Catfish – all year except May to August

Crevalle Jack, Kingfish, and Wahoo – from May to September

Yellowfin Tuna – December to February

Blue Marlin – they're abundant in the open waters all year long

Spanish Mackerel – March to September
Top Ten Fish You Can Catch in South Padre Island, TX
The top ten fish species you'll catch in South Padre Island, TX is Tarpon, Snook, Bass, Snapper, Dorado, Catfish, Crevalle Jack, Tuna, Marlin, and Spanish Mackerel.