Martha's Vineyard Fishing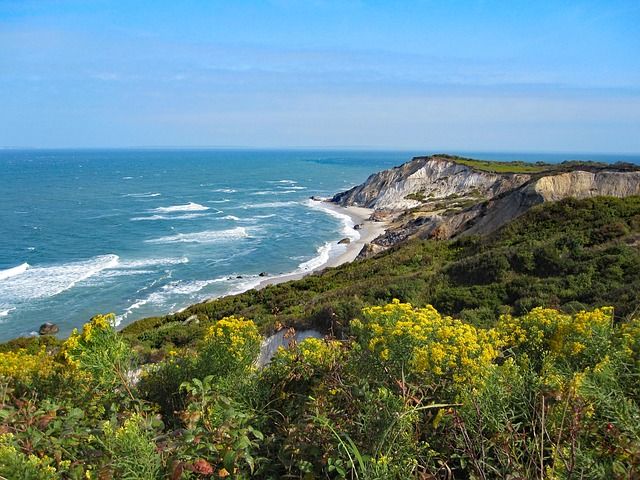 Saltwater fishing is a way of life here on the Vineyard. It is, after all, an island surrounded by the Atlantic Ocean. Here you can just pick up a rod, head to public access beach, cast a line, and hope for and expect the best. Many of the fishing spots here that have public access to the visiting angler are owned by The Trustees of Reservation and The Land Bank so before heading out, you would do well to check with either of these non-profit organizations to find out which spots you can fish. Many locals and summer residents divide the towns of Martha's Vineyard into two: the Up Island and the Down Island. These terms date back to the island's whaling era: going up takes you west, and going down takes you east, nautically speaking.
The Up Island consists of the towns of Aquinnah, Chilmark, and West Tisbury. Aquinnah, on the westernmost part of Martha's Vineyard, is popular for the iconic Gay Head Cliffs and the historic and beautiful Gay Head Lighthouse. It offers access to the famous Lobsterville Beach which is a favorite among fly fishers, and Dogfish Bar, a shore fishing highlight on Aquinnah where you can target striped bass and fluke during the warmer months and false albacore during the fall.
In the town of Chilmark, you will find the quaint village of Menemsha, home to the record-breaking Menemsha Jetty where you can target striped bass, bluefish, bonito, and false albacore during the fall. Offshore from Menemsha, you can target prized bluefin tuna, makos, white marlin, and common dolphinfish or mahi mahi.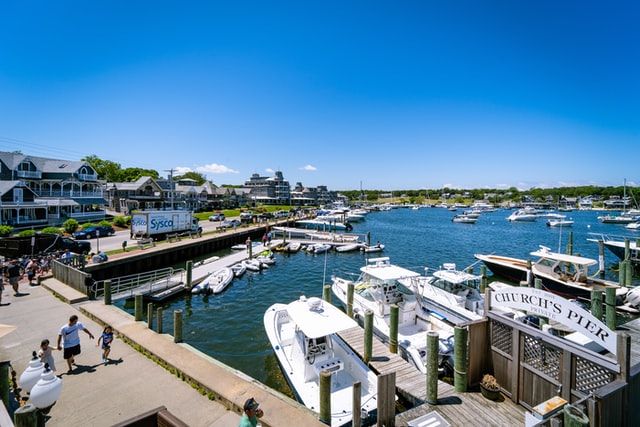 Another Chilmark spot that's popular with anglers and surfers alike is the Squibnocket. With over 2 miles of beach and huge surf coming from the Atlantic Ocean, Squibnocket is a dream for surf casters. Its strong waves and huge boulders have produced plenty of trophy tautog, striped bass, and bluefish.
Once you head out to the east on the Down Island, you will find the Vineyard's resident downtown area. It's a little more cosmopolitan in this area, but it offers access to tremendous fishing. Via Edgartown, anglers can get to Chappaquidick Island, home to various fishing spots such as the Wasque Point and the East Beach. Wasque Point is notable for the strong tides and miles of sand which bring in prized bluefish, bonito, striped bass, scups, and false albacore. On East Beach, you can fish along spots such as the Jetties, the Cape Poge Lighthouse, and the Dike Bridge.
Off on Vineyard Sound, you will find a worthy fishing area in Oak Bluffs, which has the largest marina on the island. Needless to say, it has many fantastic offshore fishing charters specializing in white marlin, blue marlin, swordfish, wahoo, albacore tuna, yellow and bluefin tuna, and common dolphinfish. It has an equally fantastic fishing pier. Come here during the end of spring and early summer and follow the schools of squid that come to the waters of Vineyard Sound and you will surely find plenty of striped bass and bluefish on their tail.
Being a fishing island, Martha's Vineyard has its fair share of big fishing tournaments. The most popular is perhaps the Martha's Vineyard Striped Bass and Bluefish Derby. It happens for a few days during the fall, and has been around for decades. It is considered one of the oldest and grandest in the country. Another classic is the Oak Bluffs Bluewater Classic which happens during the summer offshore from the Oak Bluffs Marina. The qualifying fish species for this tournament are blue and white marlin, roundscale spearfish, a variety of tuna species, as well as wahoo, swordfish, and mahi mahi.
Top 10 Fish Species in Martha's Vineyard, MA
The top fish species to catch in Martha's Vineyard are striped bass, bonito, bluefish, false albacore, summer flounder, yellowfin tuna, white marlin, tautog, scups, and common dolphinfish.